The perfect ski resort, with snow that never stops falling | Niseko Hanazono Resort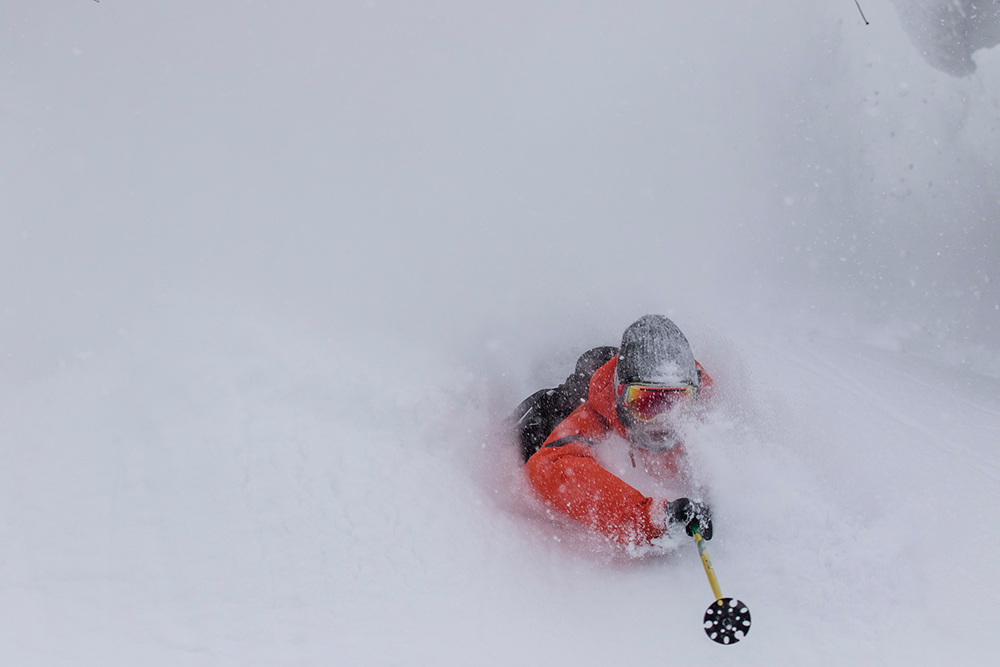 ---
DEEP Powder – the reason to be here
You could say that Niseko United is the cradle of "Japow" – Japanese powder snow. Niseko Hanazono Resort faces the northeast of Niseko Annupuri Mountain, and in this area stable powder snow falls all day.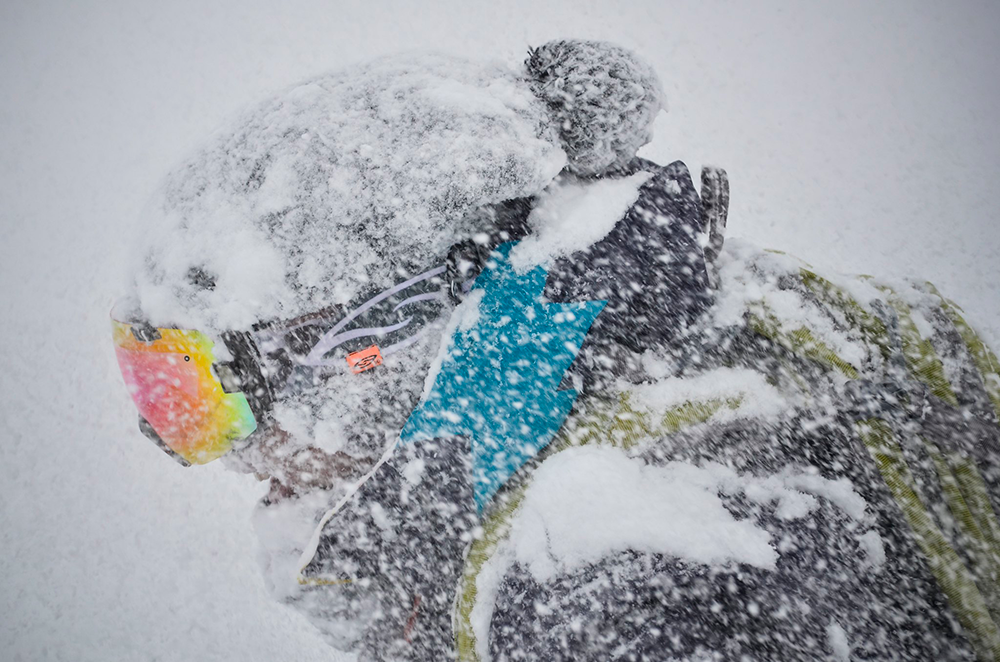 The first thing that first-time skiers and snowboarders in Niseko do is make a bee-line for the shop to buy some goggles. To be able to see the slope through the wind and snow, high-contrast goggles are a must-have item in Niseko.
The idea that the snow just doesn't stop falling from January to March is unbelievable to most overseas visitors. But this is Niseko. There are very few places in the world like this. The powder snow is so awesome that many skiers who have skied at the world's top resorts come to live in Niseko!
Jimi Oertli, who works in the rental and retail shop "Niseko Sports" advising people the best gear and the maintenance for the area in winter, is one of them. We chatted to him to hear his story.
All while he can snowboard on the wide-open, off-piste areas of the French Alps, he is now here all year long. The reason is of course the famous powder of the area.
Despite the snowfall, the truth is that there are no mountains in Niseko over 1,308 meters, the only exception being the Mt. Yotei, which is 1,898 meters. It has so much to offer terrain wise, the slopes are more mellow than Europe but still adequate for all types of riders, the snowfall is never ending which makes any day on the mountain the best day ever.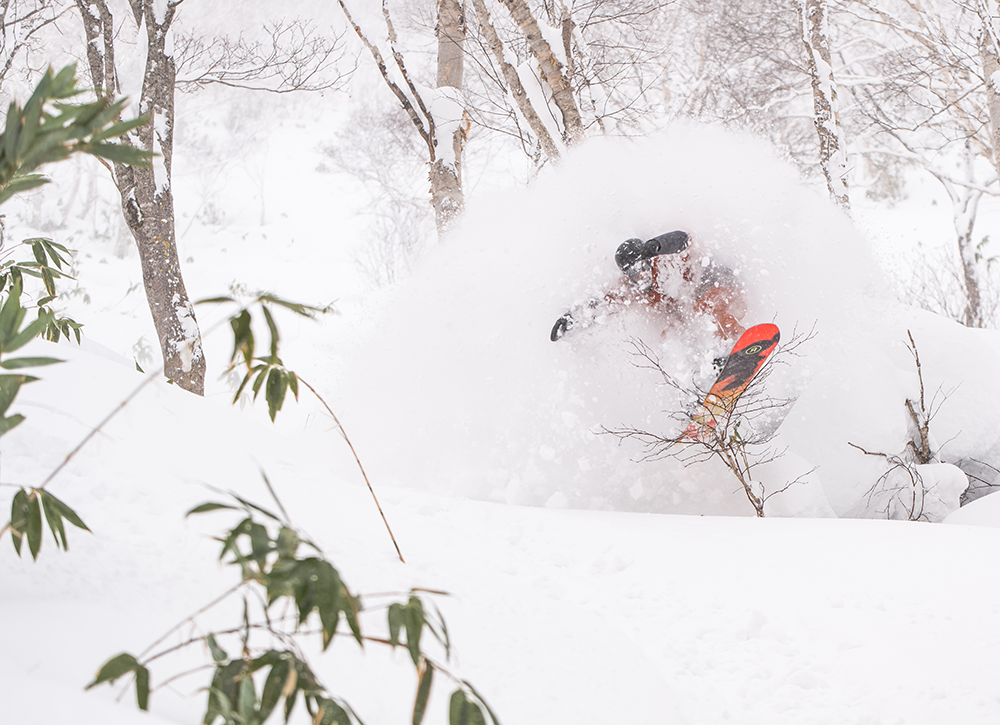 "I love riding in Hanazono on a fresh powder day, there is literally pow everywhere from the top to the very bottom of the mountain."
Jimi usually rides the side country or the groomed slopes very early in the morning. In spring life is more relaxed and he enjoys the groomers on nice sunny days before heading to the park for a couple of stunts. His favorite place is Hana 3, the top lift, that's where he goes to find the best and deepest snow in Hanazono.
Satoru Sugano, aka Joe, says the same thing. I was an instructor guide for seven years in Whistler and had been on lots of slopes around the world, but I'd always heard people say "The powder snow at Niseko is amazing." When I came back to Japan from Canada, I came to Niseko and the powder snow really blew me away, so much so that I started looking for work here.
He now introduces people to the joy of skiing and snowboarding around Niseko United, through the Back Country Guide (HPG) service, run by Hanazono since 2011-12 season. This has led skiing and snowboarding lovers, who have been to some of the best slopes around the world, to choose Niseko as their favorite. And the great attraction of Niseko is the powder snow.
Get to know the real and absolute mountain – Back-country guiding
Hanazono Powder Guides (HPG)
One thing that, even in Niseko United, can only be found in Hanazono, is HPG, the back country guide service started in 2012. We asked the director Joe Sugano about the service.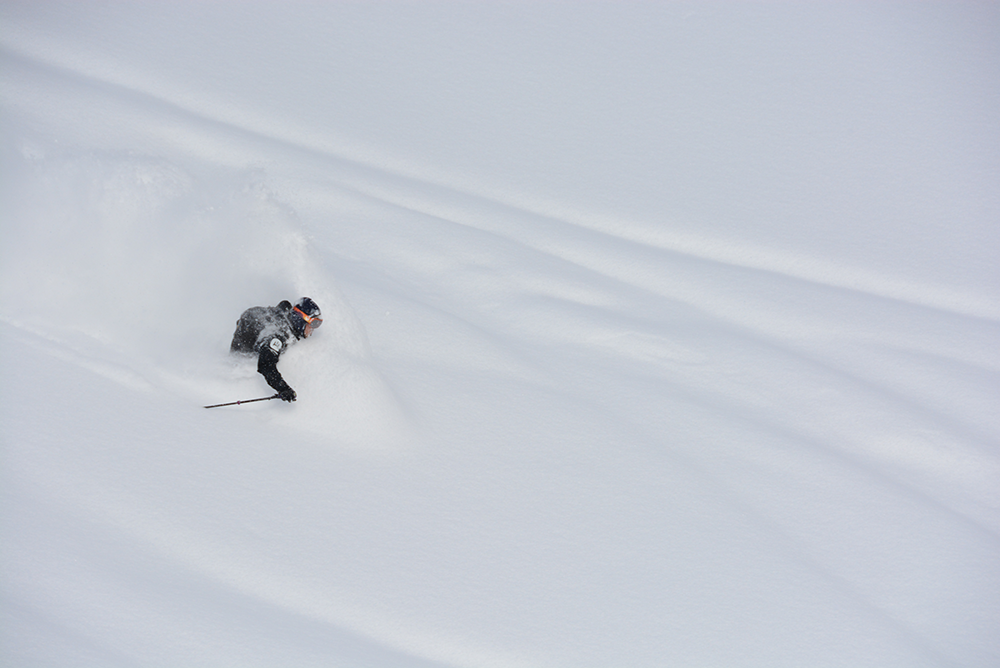 "I think it's hard for overseas guests to believe at first. The amount of top–quality powder snow, the beautiful broad–leaf tree runs, the lovely grooming burns – you can do it all as much as you like using the lifts and gondola. Niseko United is an incredible mountain for the variety of skiing you can do in a compact area.

With Niseko United as our base, we at HPG have a lot of confidence in introducing people to the lovely back country fields of NIseko powder snow, through 11 entry points set up according to Niseko rules. Our team of guides is made up of local veterans with at least ten years' experience of skiing here, which gives them the skill to pinpoint exactly the right pristine areas according to guests' capabilities.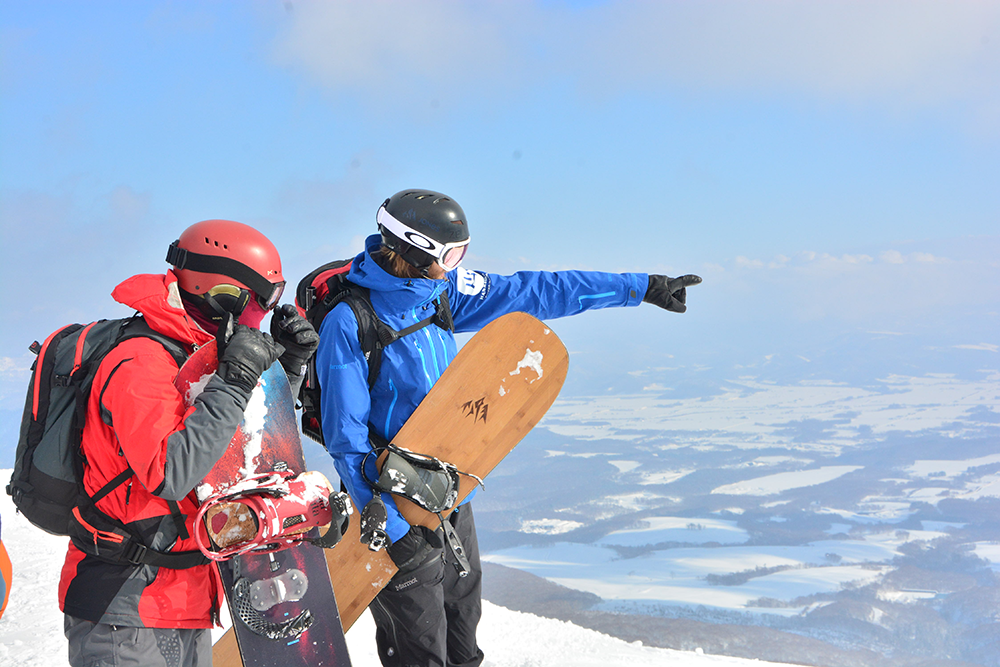 Further demonstrating the strength of HPG is the "First Track" service. Whereas the ski area officially opens each morning at 8:30 a.m., if you use HPG you can get priority access to the lifts at 7:40 a.m. (In the 2022 season this will be from 8:00 a.m.). A bus picks you up at your accommodation in the morning. This means the slope is all yours for a good two or three runs. What's more, because you arrive on the mountain before anyone else, you can pretty much guarantee that the slopes will be in a pristine condition.(Should you require this service, you must book before 16:00 p.m. the day before)
There are two tours available, half day (4 and a half hours) and full day (6 hours). Both tours start at 7:40, and with the convenience of lift access, you can ski without limits throughout Niseko United, including in back country areas beyond the gates. Using the lifts means there is no need to hike up the slopes before skiing, so you can minimize transfer times and maximize skiing time on the powder. Tours finish at either 12 noon or 1:30 p.m., giving you the afternoon free to carry on enjoying the slopes, or come off the mountain and head to the hot springs for some well-earned relaxation. You can really make the most of your day.

Before now the tours were always fully booked, but, like last season, this season you might have a better chance of getting on the tours. You can use an IKON pass. Anyone who wants to ski or snowboard on the best powder snow in the world should definitely come to Niseko!"
---
INFO
Start times: Half day 7:40 a.m. – 9:30 a.m., Full day 7:40 a.m.– 8:30 a.m. exact start times depending on guests' request
Up to four people per guide・Up to one person can be added for an additional charge of ¥10,000
Back country safety gear included free of charge
Fees:¥62,000/Half day(4.5 hours) ¥68,000/Full day(6 hours) 
Powder 3dayz:¥192,000 (3 days, 6 hours per day)
Niseko Weiss Powder Cat (NWPC)

Hanazono also operates CAT tours. The Niseko Weisshorn Mountain, originally a ski resort, is the stage for the tour. Using a snow car fitted with a special cabin, up to twelve guests can effectively take over the mountain for themselves in this luxury CAT tour.

The upper reaches of the Niseko Weisshorn are wide open, while the lower slopes are covered with trees. The difference from top to bottom per run is 450m. Overall the slopes are gentle with plenty of powder snow, and surrounded by unspoiled nature, making for a deep and mellow skiing experience. It's perfect for powder ski first–timers and those who just love a relaxing run in beautiful broadleaf forests.
Due to the coronavirus pandemic, Hanazono is only planning to run private tours this season. Guides accompany the tours and can show you around this playground of powder snow while preserving your safety. The number of guides depends on the size of the group.
・Fee(Private tour):¥480,000/Group(1-12 people)
---
❖ Comments from overseas guests using HPG
Sean, America
On the day of the tour, the transfer from the hotel to Hanazono・the guide who took me to the best powder spots, the kind of powder snow I had never been on until then…I think it's an excellent service. It was a special privilege to be able to get on the lifts before they'd opened to the public. It was a day I'll never forget!
Tim, Australia
I joined the HPG tour the day after a big blizzard in Niseko. The quality of the snow was so good I couldn't believe it, it was really deep. We could use the lifts an hour before they normally opened, so I felt like a VIP. It was the best day's skiing in my life!
Terence, Hong Kong
Being able to ski on such deep snow made it really worth it. From when I made my reservation with NISS to right before the tour started, everyone answered all my questions really quickly and politely. The door-to-door service was excellent.
Hanazono's PRIDE – Powder is not all
Finally, the long-awaited gondola has been installed, and the Hanazono Hooded Quad Lift#1 has been renovated too! This winter, step into a dream world!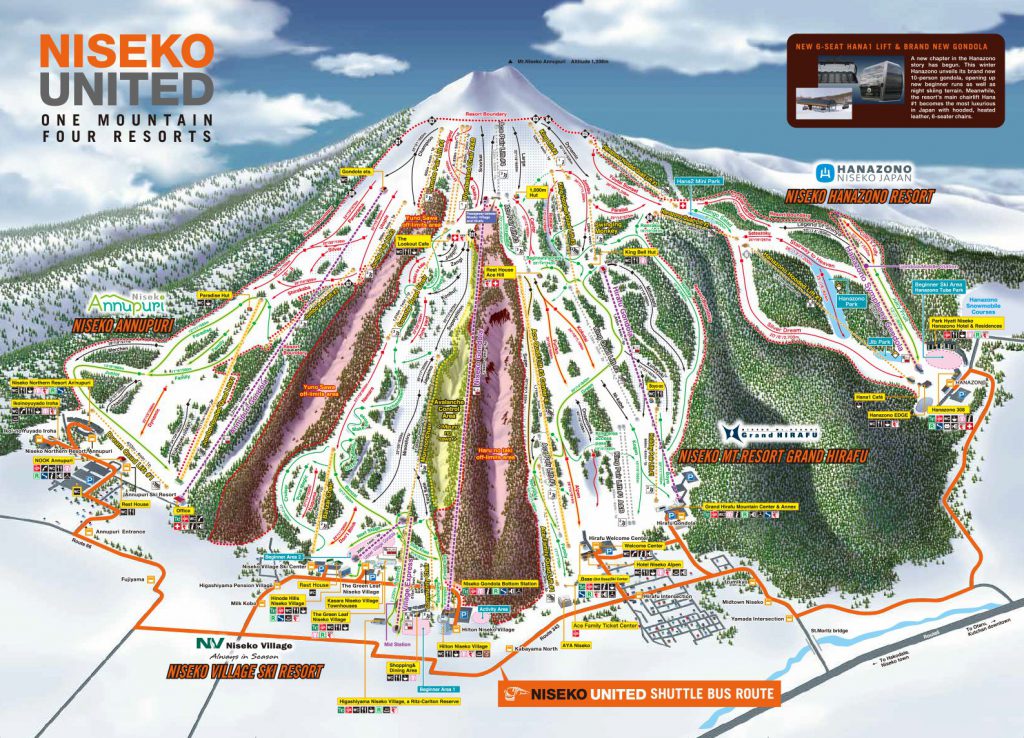 The "Hanazono Symphony Gondola" takes you 1,362 meters to the Summit station at the eastern end of the resort in only 5 minutes. The French–made 10–seater cabins are fitted with individual leather seats to give you a comfortable ride. To go with the new gondola, a new course, "Colly's Folly", has been created on the eastern side of the mountain. This is a medium–level run of 550 meters to the Intermediate station. From the Intermediate station to the bottom there is a new beginner's course, "Juicy Fruit". This course is really easy for beginners to enjoy.
What's more, the main lift, Hanazono Hooded Quad Lift#1, has been replaced with the latest POMA six-seater lift. With leather seats, heaters, and foot rests, this is a whole new level of comfort! No matter how much snow is blowing around, or how much powder snow is stuck to your legs, one ride on Lift#1 will have you recovered. Hanazono continues to evolve into your dream powder snow resort.
No language barrier at Hanazono
English-supporting environment makes your stay smooth and comfortable. It is well-known that all Niseko's resorts have a lot of overseas visitors, but Hanazono really stands out among them. This is because 95% of or guests are from overseas, and almost 80% of our staff are from overseas too. All services in the resort are offered in English, so you can be assured of a smooth experience without any difficulties, from booking activities to using facilities.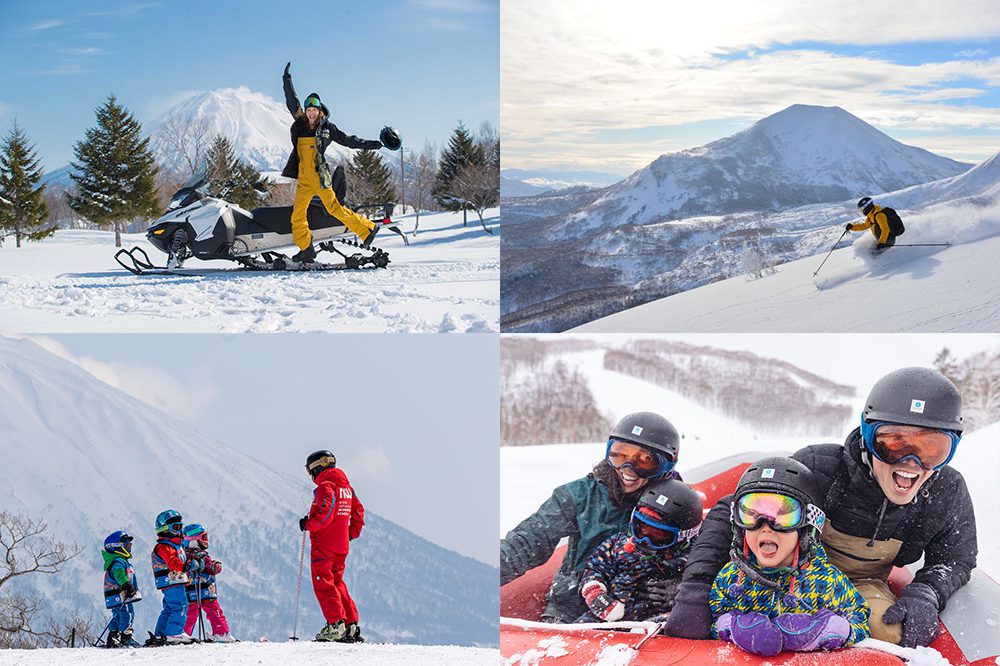 More than just POWDER
Everyone who comes to Hanazono says this. "I came here for the powder snow, but I found much more." That's right, Hanazono has much more going for it than just the powder.
At Niseko International Snow Sports School (NISS), operated by the resort, instructors teach in a variety of languages under the motto "Have fun and learn". Kids can take lessons from three years old.
There are a lot of snow-based activities available apart from skiing and snowboarding. You can enjoy a whole variety of activities in our fun program, including exciting snowmobile tours, relaxing snow shoe tours, horse riding, snowtubing for kids, and snowrafting for whole families.
At the in-resort "Park Hyatt Niseko Hanazono", you can stay in a luxury hotel and enjoy gourmet cooking, while in the Niseko Onsen Kyo you can relax and take it easy. Something to put a smile on the face of every visitor – that's Hanazono.