Ski resort data
Open Season

November 27, 2021-April 3, 2022 (as of current schedule)

Opening hours

Open: 9:00am
Close: 8:00pm ( 5:00pm during early-season and April)

Lift Ticket

One-day pass
When bought at ticket counter
Adult: 6,500 yen
Child: 3,500 yen
When bought online
Adult: 6,200 yen
Child: 3,200 yen
Epic Pass usage: available
Users with the Epic Pass, Epic Local Pass, or Epic Australia Pass can ski and snowboard for free for 5 consecutive days


Spec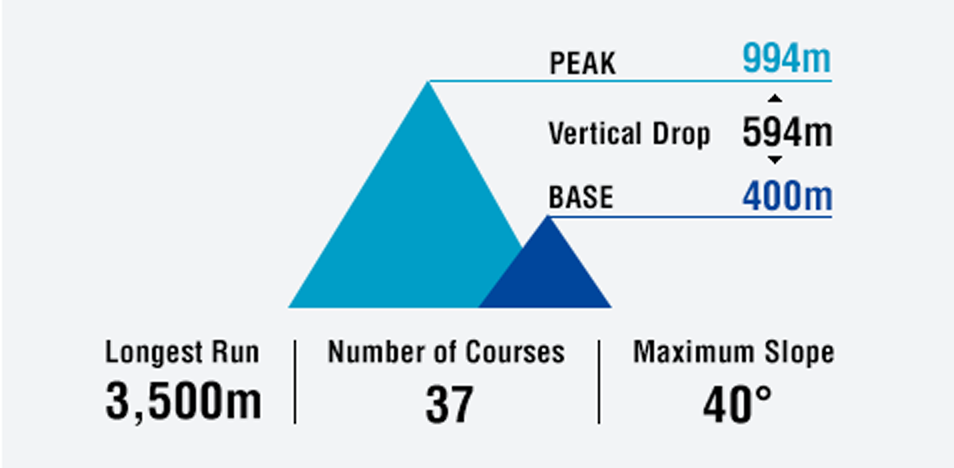 Monthly snow accumulation in-season
※Average over the last 3years
Dec.

200cm

Jan.

250cm

Feb.

285cm

Mar.

170cm

Apr.

80cm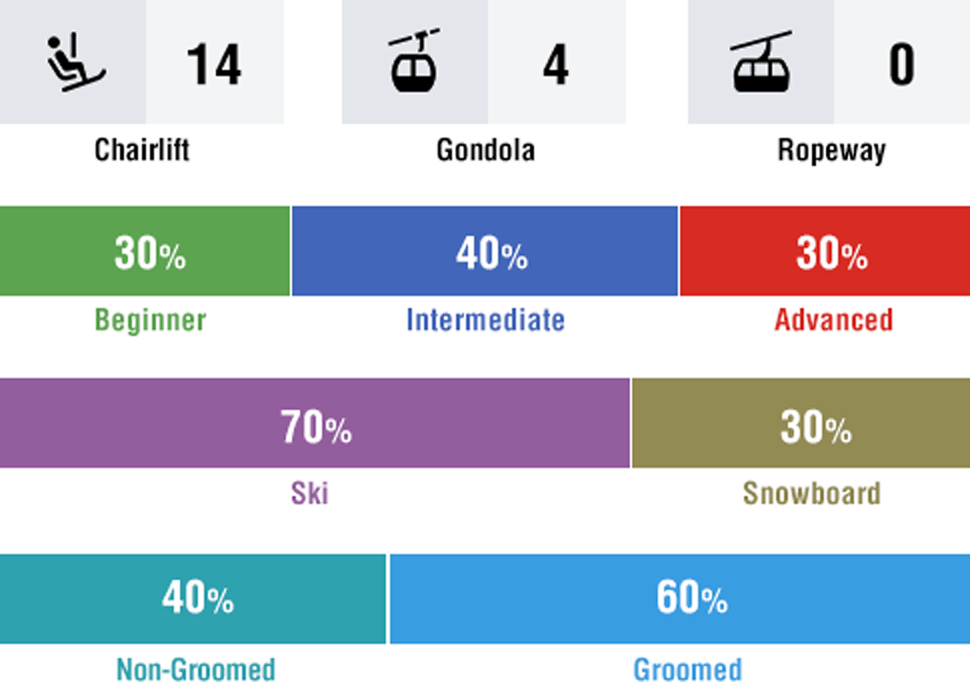 Resort Feature
37 courses, adding up to 42km- the most you can ride in any single resort in Japan
Enormous scale and high-quality service
Rusutsu has a stunning 32 courses with a total length of 42km-the longest in entire Japan- distributed among 3 peaks: West Mt., East Mt., and Mt. Isola. The resort is extremely user-friendly, with hooded chairlifts and gondolas that let you get around the huge resort comfortably, and the most affordable ticket prices in the industry with the total trail distance taken into account.
What makes Rusutsu an even better place is that there's more to the resort than just riding in the vast mountain. The resort houses on its grounds accommodations that all have something to offer: The Vale Rusutsu, a condominium-style hotel great for long stays, Westin Rusutsu Resort, a luxury hotel with everything you could ask for, and Rusutsu Resort Hotel & Convention, a hotel right in front of the slopes that lets you ski in & out.
Powder, tree skiing, and sidecountry
The perfect mountains that have it all
Rusutsu's 37 courses have every kind of terrain you could hope for: ungroomed courses with plenty of powder, mystical forests open for tree skiing, park that made with natural landforms, beautifully groomed surfaces, long courses that make your knees buckle, and courses open for night skiing. Rusutsu is the perfect place that has everything a resort in Japan could possibly offer.
Tree skiing: a way to enjoy even better JAPOW
The snow in Rusutsu, like that in any other place in Hokkaido, is JAPOW. What's more, it's even drier than the snow in most places thanks to the resort's inland location. It snows on and off from December to February, resetting the slopes, so you can enjoy powder riding on a near daily basis. In addition, the snow stays in great condition because the slopes in Mt. Isola and East Mt. face north and don't get too much sun. At places open for tree skiing, the hardwood trees block out a lot of the little sunlight, making the JAPOW even finer. Rusutsu could easily be the best place to go tree skiing.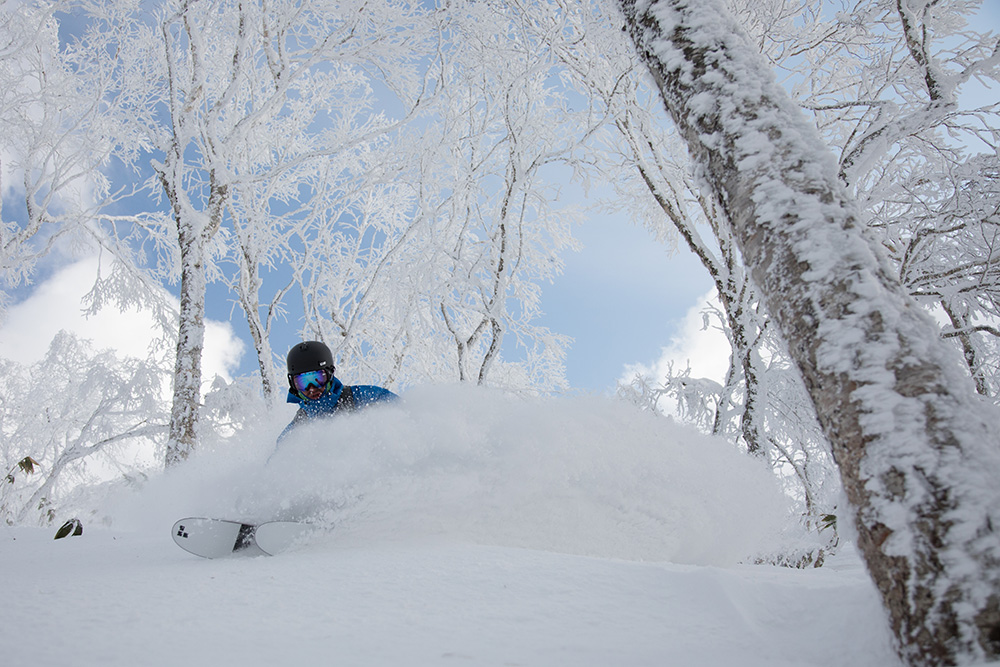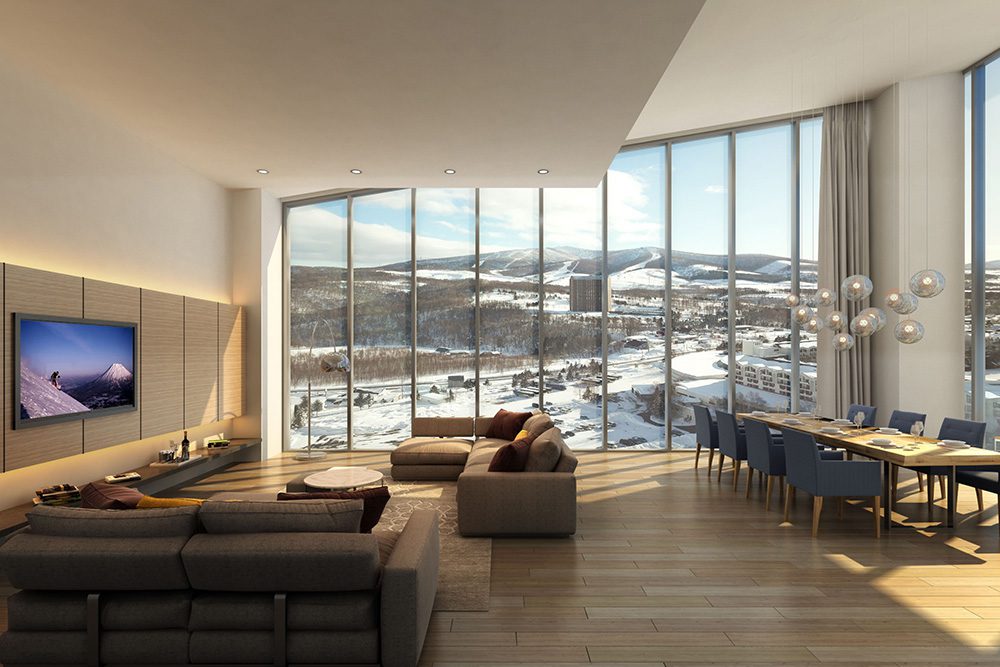 Resort information
Address
〒048-1711 13 Izumikawa, Rusutsu-mura, Abuta-gun, Hokkaido
Tel
0136-46-3111
Multilingual
Snowmobile rides, Snow Rafting, Dog Sledding, "Horse Riding, Toya Course," Nature Tours, Ice Fishing, heliskiing
Access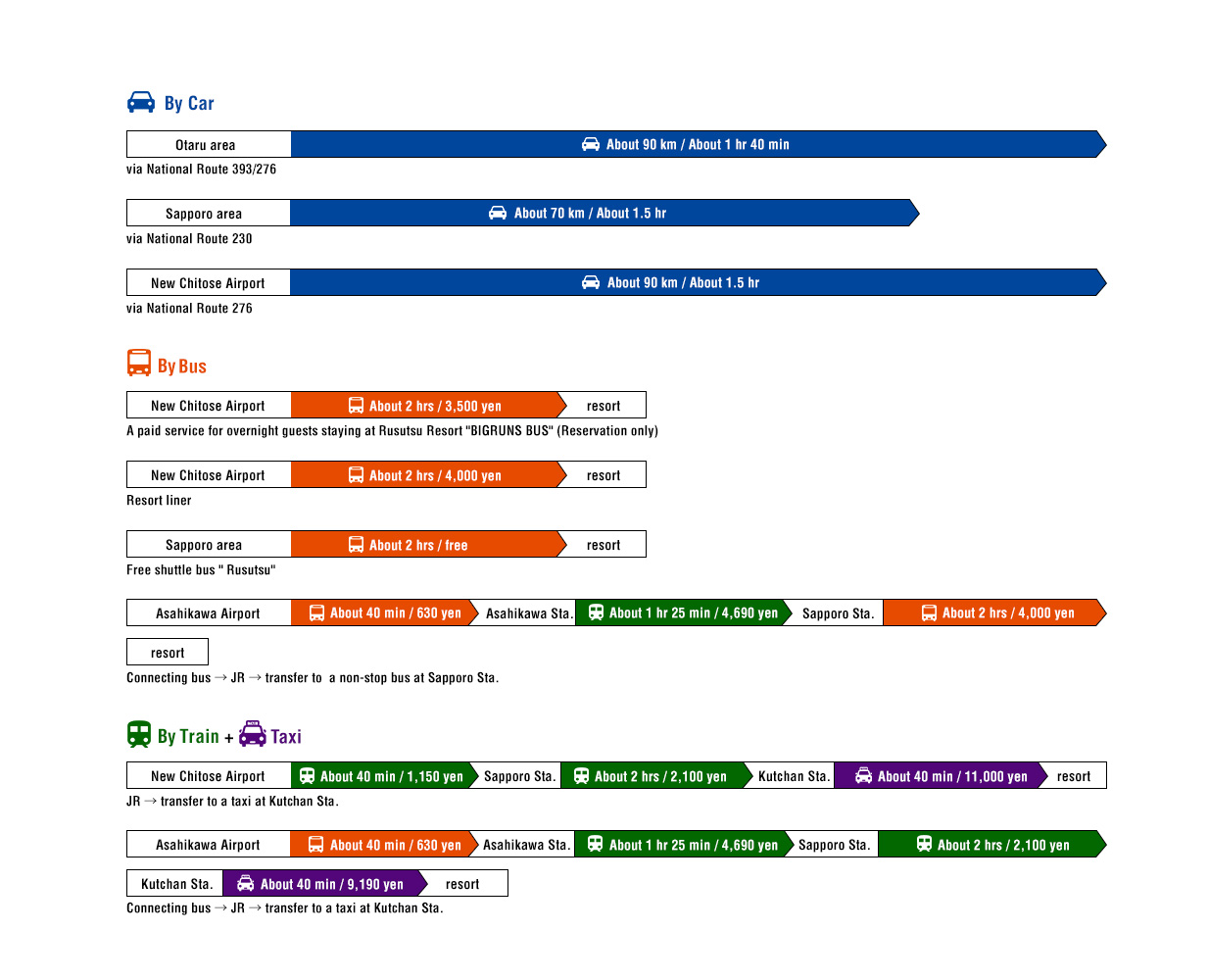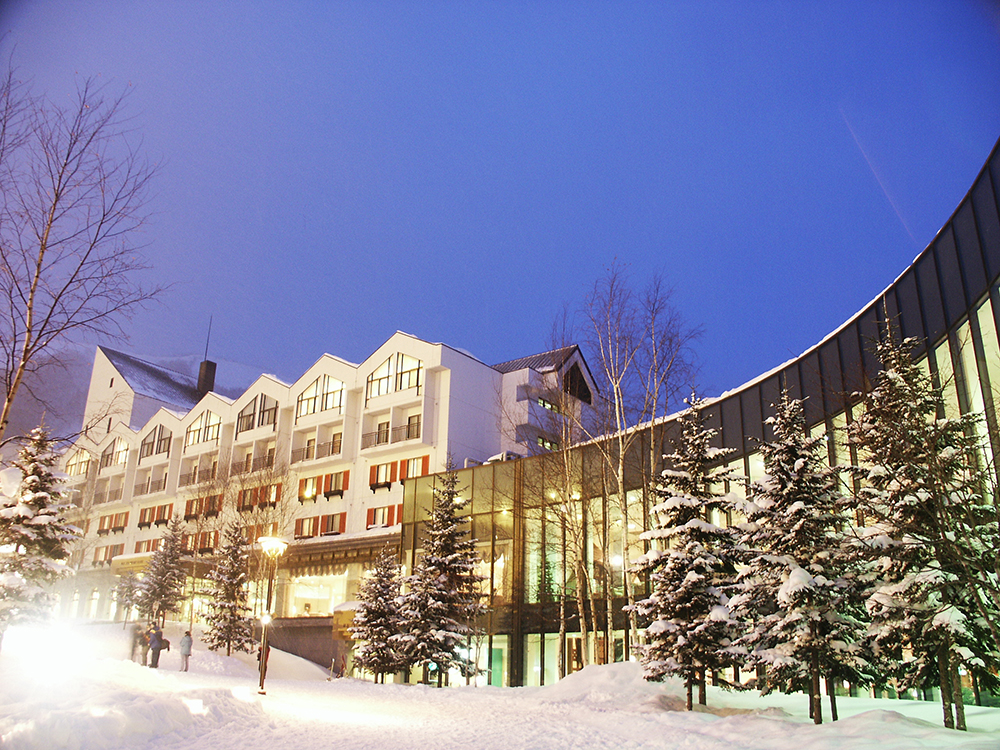 RUSUTSU RESORT HOTEL& CONVENTION
The convenience of the hotel that connects directly to the Mt. West area of the resort that allows guests to ski in & out is incredible. What's more, Rusutsu Hotel Resort & Convention houses over 30 restaurants and specialty shops- all in a single hotel. The hotel also has facilities such as hot springs, an indoor pool, and convention hall.
The hotel offers a variety of guest rooms- twin and triple rooms, junior suites perfect for relaxing, family type rooms, and Japanese style rooms that are convenient for those traveling with young children. After a day of riding, you can have a soak in Rusutsu Onsen Kotobuki, where you can relax both the mind and body. The open-air bath with a breadth of 20m offers guests a spectacular panoramic view of the snowy mountains by day, and a magnificent view of starry skies by night.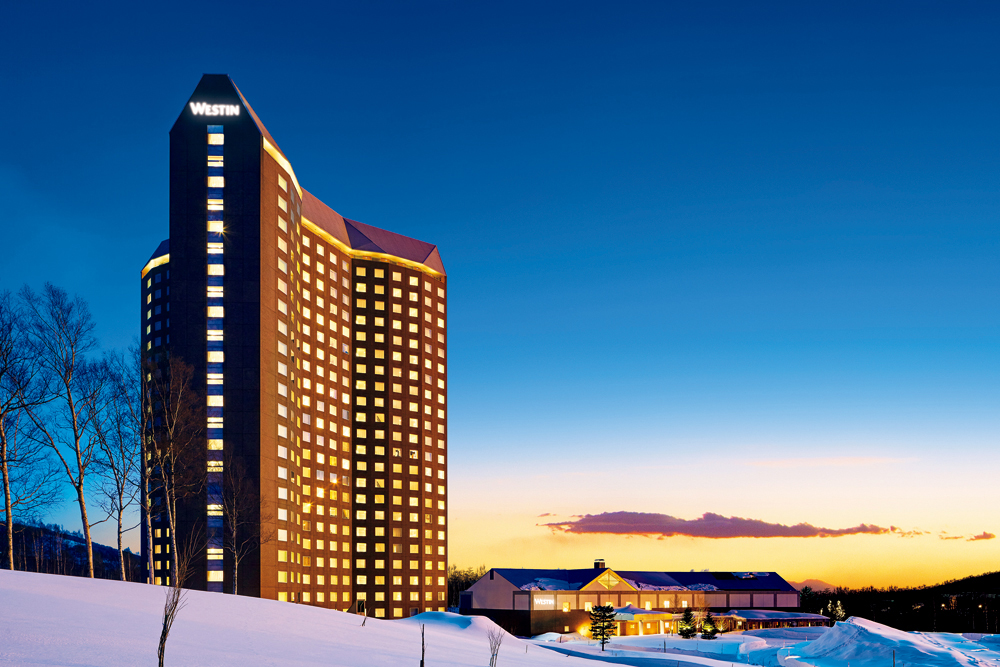 THE WESTIN RUSUTSU RESORT
The Westin Rusutsu Resort is hailed as a symbolic hotel in Rusutsu. Guests can reach the slopes of West Mountain in 5 minutes by monorail, and enjoy an even easier access to East Mountain using the high-speed pair lift from the front of the hotel.
All the guest rooms are maisonette types complete with a living room and bedroom(s). There are different room types available to fit 2-7 people, which make them ideal for families. The Westin Rusutsu Resort is home to four restaurants, where guests can enjoy gourmet delicacies from the mountains and seas of Hokkaido with vegetables that are picked from the farms and seafood that are freshly delivered from the fishery port nearby.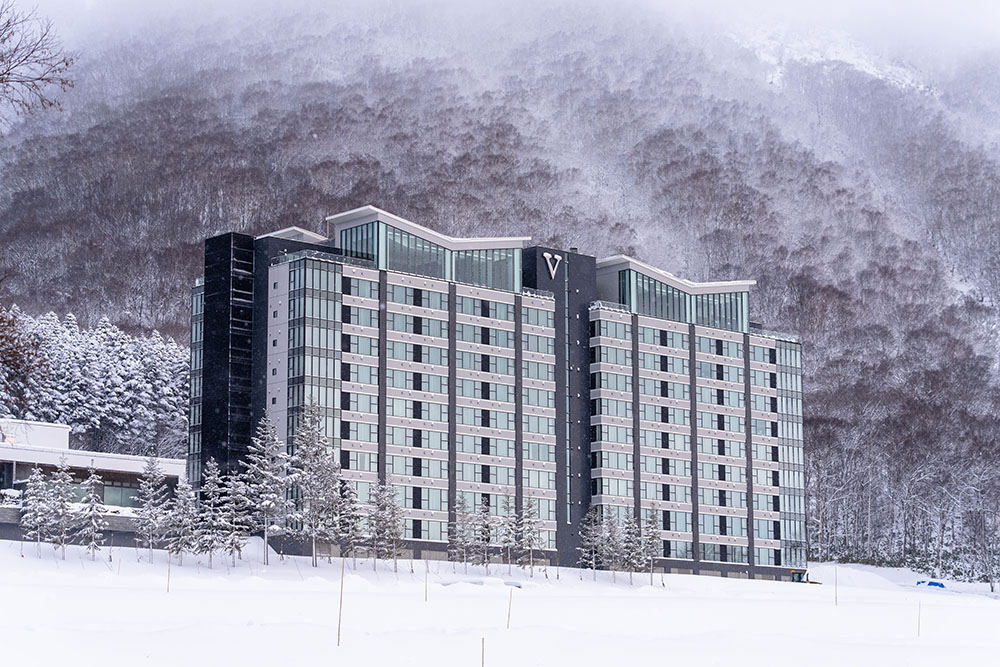 The Vale Rusutsu
Long-term stay with a view of the gorgeous landscape New condominium-style hotel
Opened in 2020, The Vale Rusutsu is done up like a condominium and is located near the West Mountain. It is directly connected to Rusutsu Onsen…Kotobuki no Yu, and is convenient as guests are able to ski in/out.
There are ten different types of rooms, but all are equipped with kitchens so guests can prepare their own meals. Guests from other countries who are more accustomed to condominiums may find this hotel more comfortable. This stunning view will make your dining and relaxing time an even more gorgeous one.