Fun skiing and recommended ski resorts by area | WEST HOKKAIDO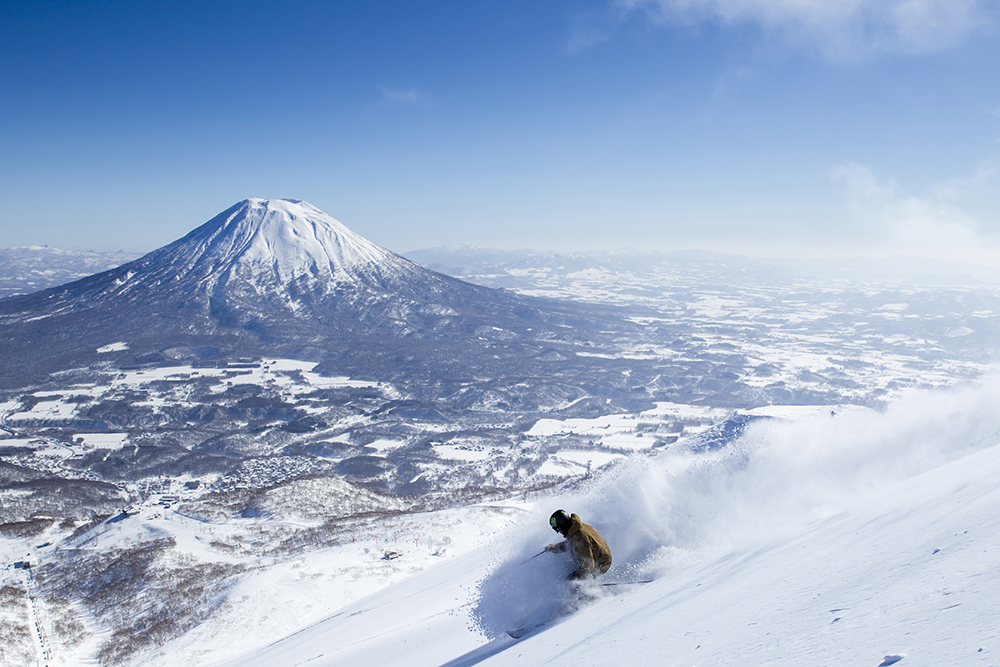 What kind of place is West Hokkaido?
It is said to be the birthplace of "JAPOW", and the world-famous powder sacred place, Niseko. Over the symbolic Mt Yotei, there is another Hokkaido No. 1 scale Rusutsu Resort. It receives a constant hugh amount of snowfalls and of finest quality. With these blessed conditions, an abundant freeride environment is created.
Spreading out at the foot of Niseko Annupuri Mountain (1,308m), there are four major ski resorts and they form a hugh ski area called "Niseko United". They are Niseko HANAZONO Resort, Niseko Mountain Resort Grand Hirafu, Niseko Village Ski Resort, and Niseko Annupuri International Ski Resort. They are interlinked at the top of the mountain and it is possible to move from one to another. On the same mountain, but all has its different uniqueness.
It is also said that no mountain is as easily accessible to the backcountry as Niseko. You can glide into the vast backcountry fields from the 11 gates on the slopes. There are quite a number of backcountry guide service companies and CAT ski operations in Niseko.
Rusutsu Resort, which is close to Niseko, is proudly known as the largest scale of a single resort in Hokkaido. Making use of its beautiful tree runs and rich natural terrain, skiers are able to enjoy a good side country. And there are attractive contents for overseas skiers and snowboarders, such as heli-skiing to Mt Shiribetsu and more.
Area mountain features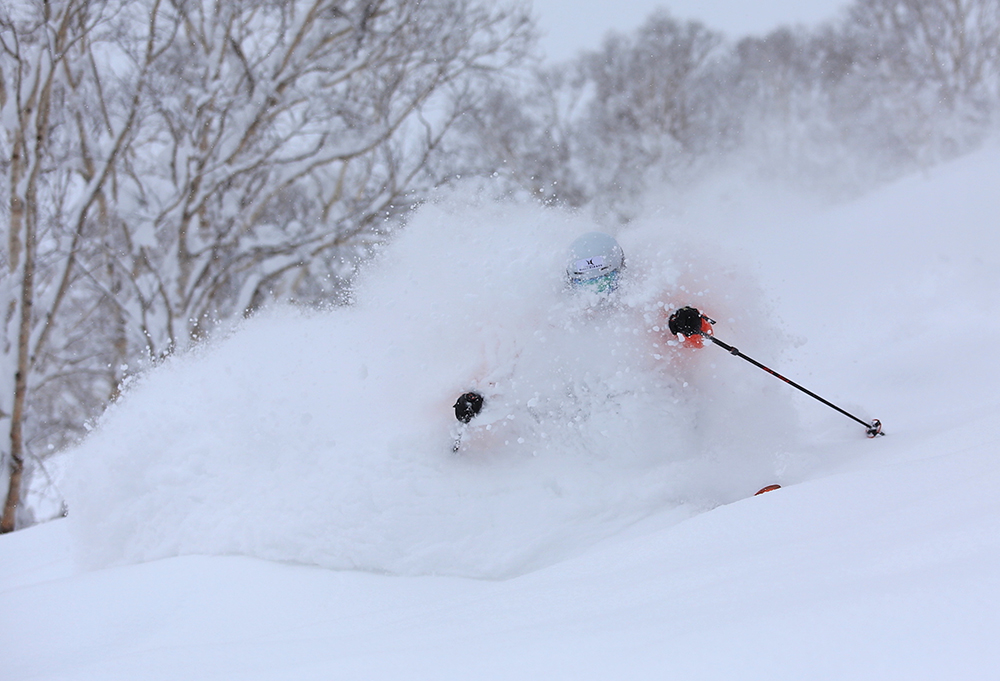 Niseko, is said to be the roots of JAPOW, a sacred place for powder. Niseko powder snow may be the most famous snow in the world.
The Niseko mountain range is a group of volcanoes on the western part of Hokkaido, extends from Niseko Annupuri (1,308m) on the Kutchan-cho side to about 25km east-west and 15km north-south, with 1,000m-class mountains connected. Niseko Annupuri, Weisshorn, Iwaonupuri and Chisenupuri, which are also names of ski resorts, most of them are possible for backcountry.
Mt. Yotei (1,898m), which is said to be Ezo Fuji in Japan, represents the Niseko mountain range. The beauty of its independent peak, as a symbol of Niseko, has attracted skiers and snowboarders from all over the world.
From the original "Niseko Rule" set by Niseko, to the yearly increasing number of powder courses where skiers can enjoy, kudos to the support and effort from the ski management and the locals, all have created an environment for the purpose of powder skiing and the awareness of powder lovers continues to rise.
Area weather and snow features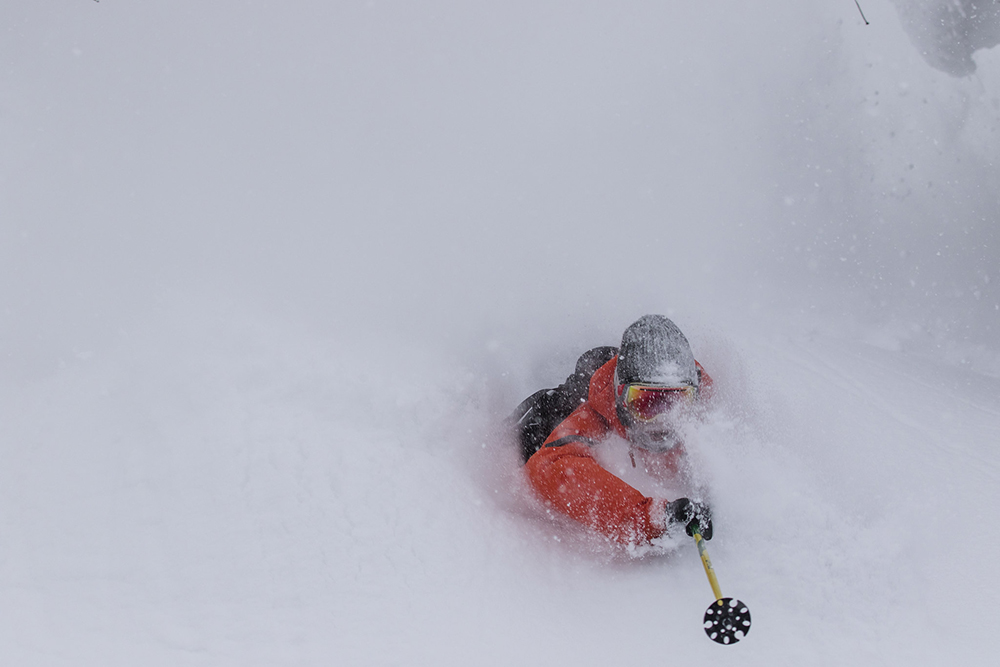 In Hokkaido, when the winter pressure pattern becomes stronger, moist air from the northwest enters the west coast area of Hokkaido. As it rises up the slopes of the Niseko Mountains facing the Sea of Japan, it becomes incredibly cold causing the air to form snow clouds again, resulting in heavy snowfall.
Not only the amount of snow falling in this area, but also the quality is exceptional. When the cold and dry air crosses the high mountains, it becomes dry powder in the inland area.
There is an observation data shows that during winter season in Niseko, it snows for 80 to 100 days. It is said that there is no other places in Hokkaido where powder reset rate is as high as Niseko. However, on the other hand, during top season at some areas with altitude above 1,000m, it is quite often lifts are closed due to strong winds. When spring comes in April to May, the weather is more stable but snowfall reduced significantly.
---
Recommended ski resorts in the area
Course variations and wonderful nighter
Niseko Mountain Resort Grand HIRAFU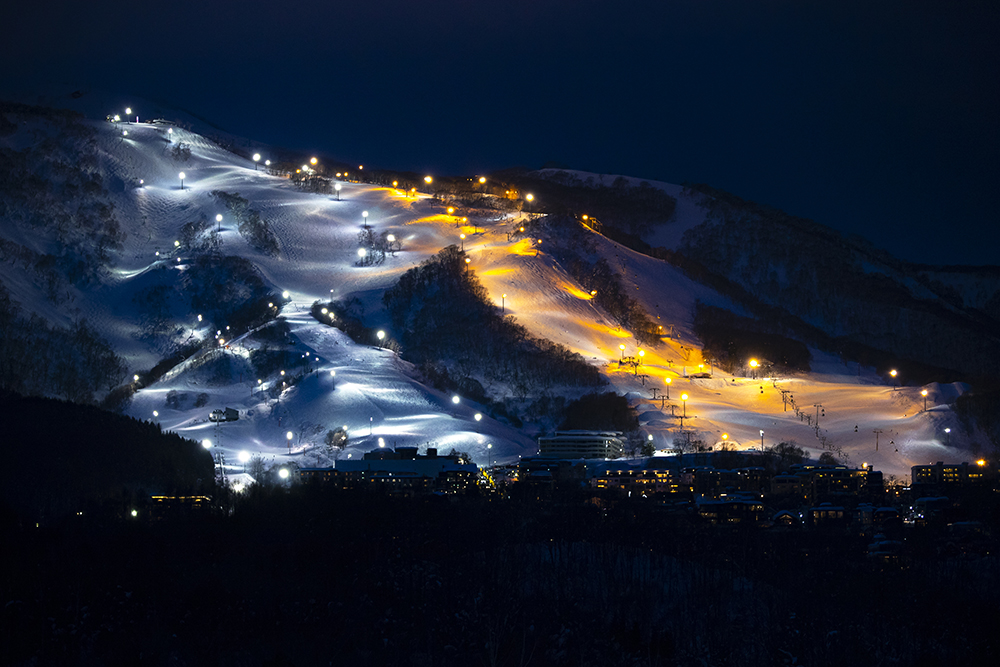 Grand Hirafu, the largest in Niseko United, is located in the center of Niseko.
It has a wide variety of courses, from Steep & Deep technical faces to beautifully groomed slopes. Also, one of the biggest attractions of Grand Hirafu is night skiing. Grand Hirafu boasts its 8 courses as the largest scale in Japan in terms of sliding areas and course variations.
There are two ski centers, a high-speed 8-seater gondola, a snow plaza and more. In addition to these excellent environment, the base town is packed with a variety of accommodations and restaurants, and there are also good natural hot springs in the surrounding area too. A great place to stay, eat and heal. English is used everywhere, so it's quite an amazing international village.
https://www.grand-hirafu.jp/winter/en/gelande/
---
JAPOW unbeatable longest ride
NISEKO VILLAGE Ski Resort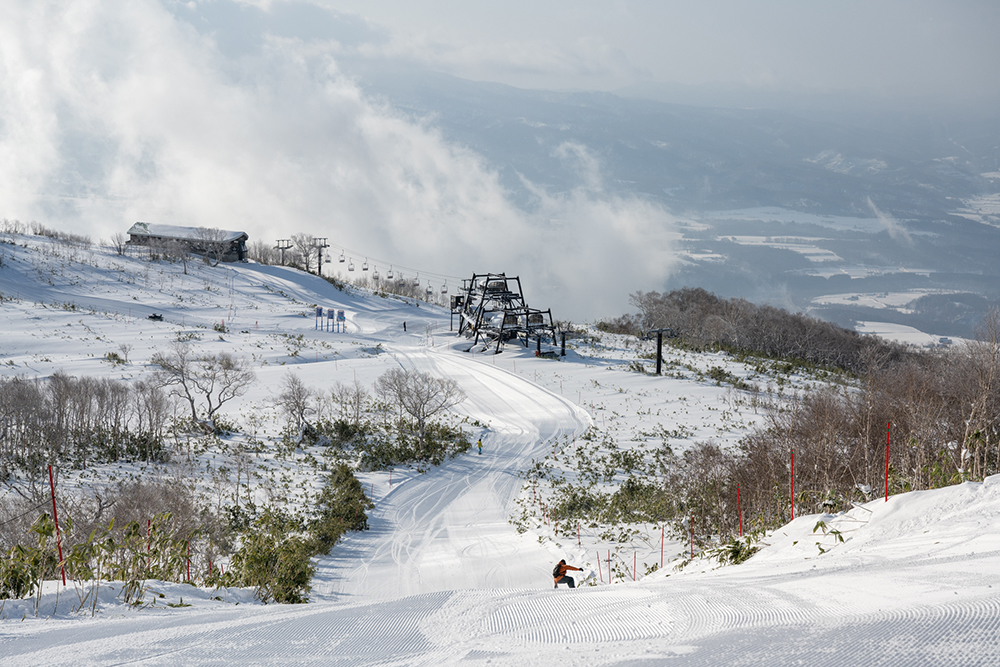 The number of courses is 30, which is the largest among Niseko United. 3 gondola rides with outstanding mobility. There are many gentle slopes at the bottom of the resort, so it's a perfect area for beginners to practise.
The upper part caters to the advanced skiers, is full of attractive courses which are steep slopes, non-compacted snow, and tree runs, all are long, undulating and varied.
At the foot of the mountain, there are accommodations such as The Green Leaf Niseko Village, Hinode Hills Niseko Village, Hilton Niseko Village, Higashiyama Niseko Village, Ritz-Carlton Reserve, and Kasara Niseko Village Townhouse. The complex "Shopping & Dining Area" and all these village accommodations are directly connected to the slopes, which make it very convenient.
https://www.niseko-village.com/en/
---
13 courses and outstanding scenery that meet all needs
Niseko Annupuri International Ski Resort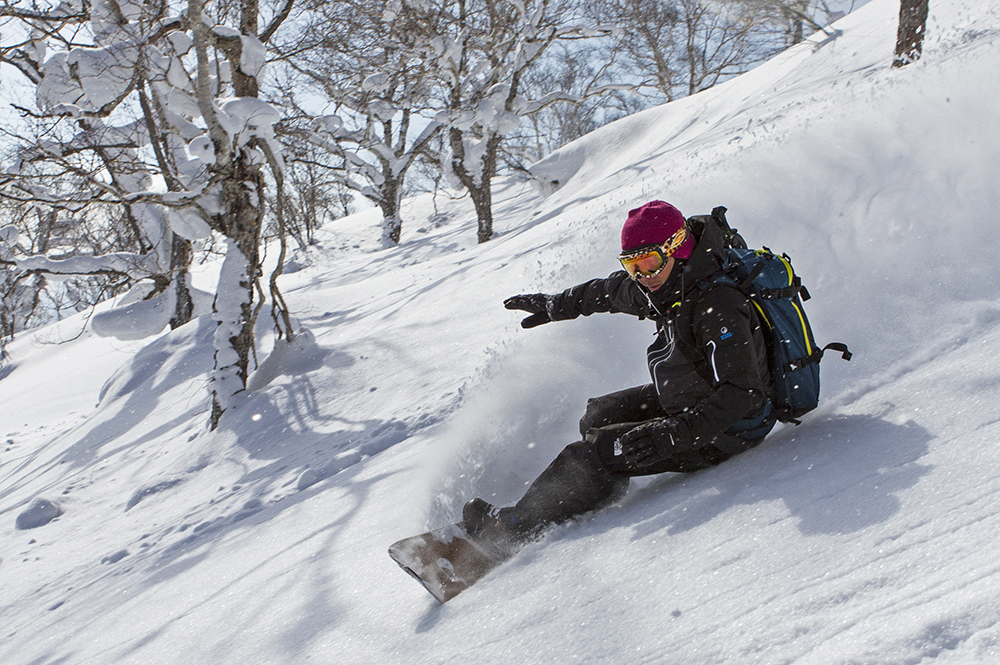 A total of 13 courses, ranging from gentle, wide-width beginner's course to groomed mid-slope, 4,000m long run, and powder tree run, which spreads southwest of Niseko Annupuri. It will satisfy skiers and snowboarders of any skiing level and orientation. The location has a superb view giving a sense of openness and scenery is so outstanding even in Niseko. Surprisingly it is not as crowded as Niseko Grand Hirafu, a hidden gem.
Among Niseko United, it also features the largest number of gates to the backcountry, and there is a backcountry gate where you can climb the summit of Annupuri.
https://annupuri.info/winter/english/
---
An almighty resort with everything
Niseko Hanazono Resort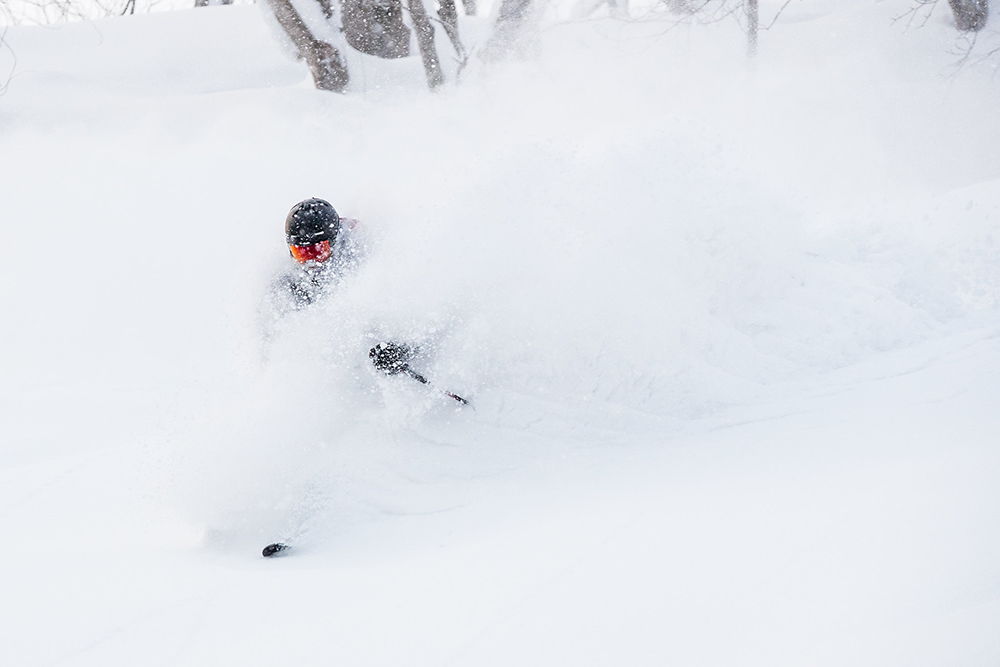 "Niseko HANAZONO Ski Resort" is located on the easternmost side, and in terms of location, it is the easiest to accumulate snow in the Niseko area, and it has the conditions to retain long-lasting powder snow.

JAPOW here spreads a beautiful tree run. It is easily accessible from Hirafu and is often used as a turn back to the slopes from the backcountry area. At the bottom, there is a high-speed lift in the park, and it is crowded with snowboarders who like jump and zip. There is also a tube park in front of the "HANAZONO Resort Center", and kids are also excited.
The backcountry guide team HPG, which is directly managed by the resort, is also very popular with overseas guests. It is a resort with a variety of courses and almighty with everything from powder to park. In the '21 ₋22 season, gondola and the First Quad Lift have been replaced, further improving mobility and comfort, and attracting more attention.
Niseko's hideaway, a must visit at least once
NISEKO MOIWA SKI RESORT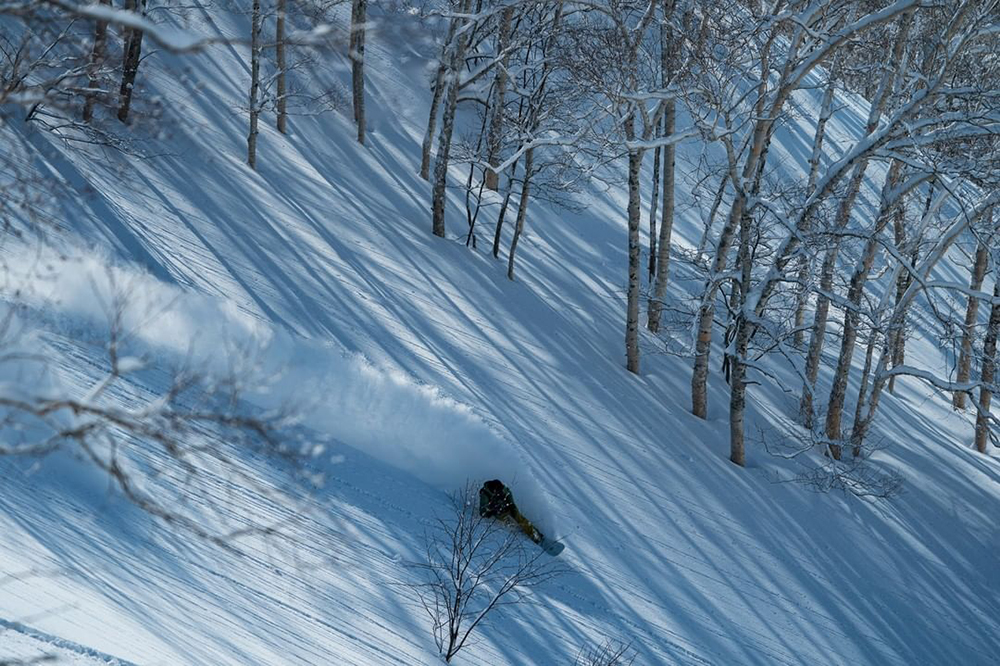 Due to its geographical conditions, it receives plentiful of snow even within Niseko, and sometimes it is so deep, powder can reach as high up to the chest.

Moiwa is small scale but has easy course with a spectacular view of Mt Yotei. Beside the slope course, a natural terrain where the beautiful forest spreads, is truly a natural park. Moiwa's "back bowl" is a very famous powder spot. Especially, the amount of snow that accumulates overnight is well-loved, and it's a common sight to see long lines in front of the main lift in the early morning in Moiwa.
Because it is a little far from the center of Niseko Village, it has a quiet and laid-back atmosphere and is popular as a "Niseko hideaway".
---
Overwhelming scale and service quality
RUSUTSU RESORT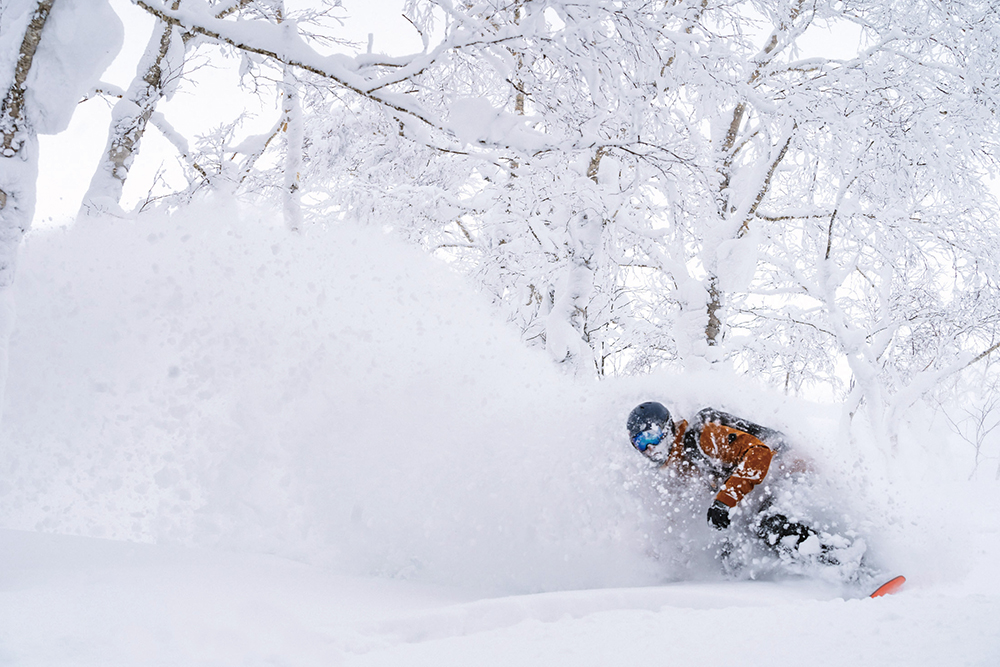 Rusutsu Resort is located between Niseko and Mt Yotei.
There are 32 courses laid out on the three peaks of "West Mt.", "East Mt." And "Mt. Isola", and the total gliding distance is 42km, which is the best single resort in Japan. It is an extremely user-friendly resort where you can comfortably move through the vast field with hooded lift and gondola, and the lift ticket price per gliding distance is the lowest.
Rusutsu is located inland from Niseko, so it has a good reputation for its outstanding dry snow quality. From December to February, you can enjoy a reset powder ride almost everyday. There are many non-compacted snow courses, beautiful forests of tree runs, side country parks that take good advantage of its natural terrain, beautifully groomed slopes, long courses, night skiing, and even heli-skiing. In addition, they have a full lineup of hotels and condominiums, as well as interesting snow activities. A perfect mountain with everything a ski resort can offer.
---
Let's try a tour of Niseko ⇔ Rusutsu
Niseko United and Rusutsu Resort are neighbours across Mt Yotei.
Both mountains are one of the largest scales in Hokkaido, and the snow quality is JAPOW itself. However, each has its own fun contents on mountains and skiing and of different characteristics.
Since Niseko is too crowded, overseas guests staying in Niseko may go to Rusutsu resort to ski. Or to have a change of mood feeling like a short trip to Rusutsu, it is very popular with overseas skiers. The other way round, it is also common to see father staying in Rusutsu with family to have a day of solo time to do day trip to Niseko to ski.
Access between Niseko and Rusutsu is about 1 hour. Rental cars, taxis, and public transport, you can use Donan Bus and various shuttle buses, all OK. Niseko gourmet spot where foreign guests enjoyed
---
Niseko gourmet recommended by Niseko locals
We asked Niseko locas, who is familiar with restaurants what and where to eat when a foreign guest is in Niseko.
KAMIMURA NISEKO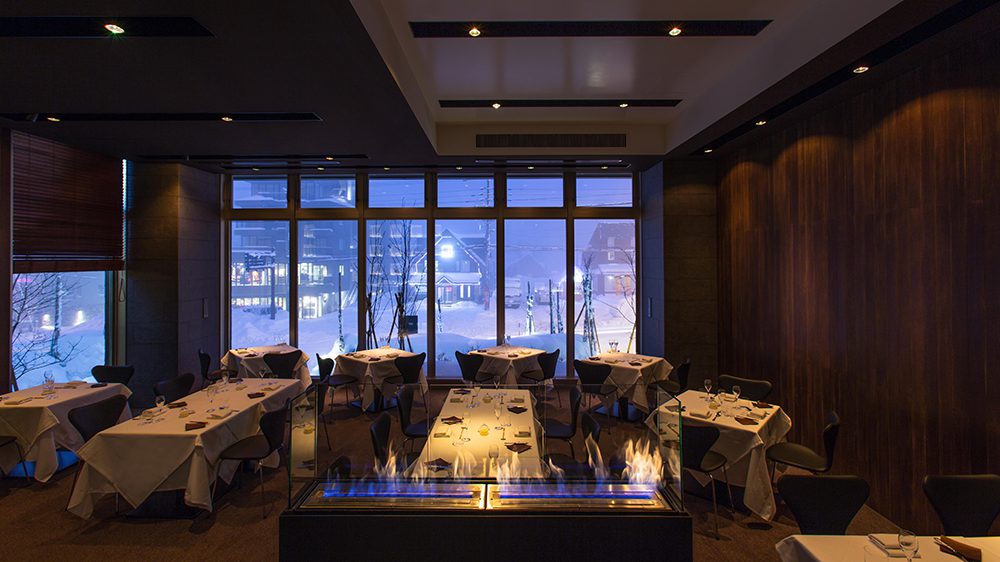 https://www.kamimura-niseko.com/
KAMIMURA – the iconic Michelin-starred French restaurant, defines exquisite dining in Niseko. Its intimate, elegant ambience together with stylish interiors offers guests a truly special experience.
Bang Bang

One of Niseko's most popular izakaya restaurants, run by locals for over 30 years. The mountain lodge-like atmosphere is very popular with overseas guests. They offer dishes that make use of seasonal ingredients such as fresh seafood from Hokkaido and vegetables from local Niseko.
RAKUICHI SOBA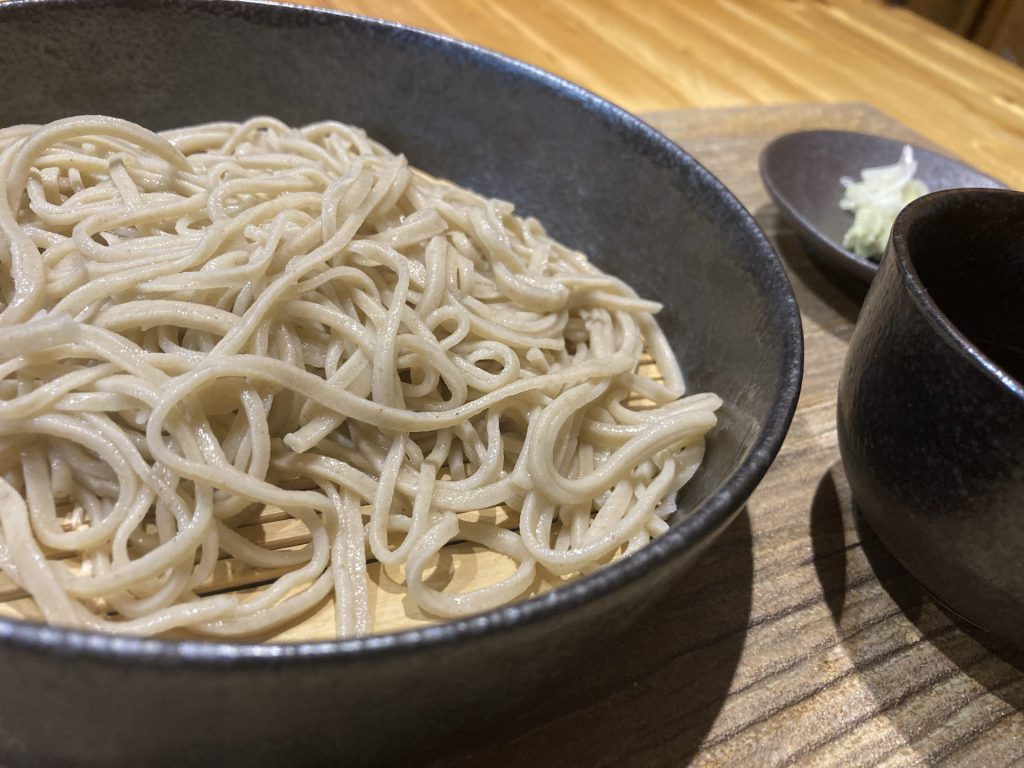 https://www.rakuichisoba.com/homejapanese
Niseko's famous soba restaurant. The owner's special handmade soba made from 100% locally produced buckwheat flour is exquisite. The "Soba Kaiseki Course", which incorporates plenty of Hokkaido seafood and vegetables, is popular. Reservations are required for lunch and dinner.
% ARABICA NISEKOHIRAFU 188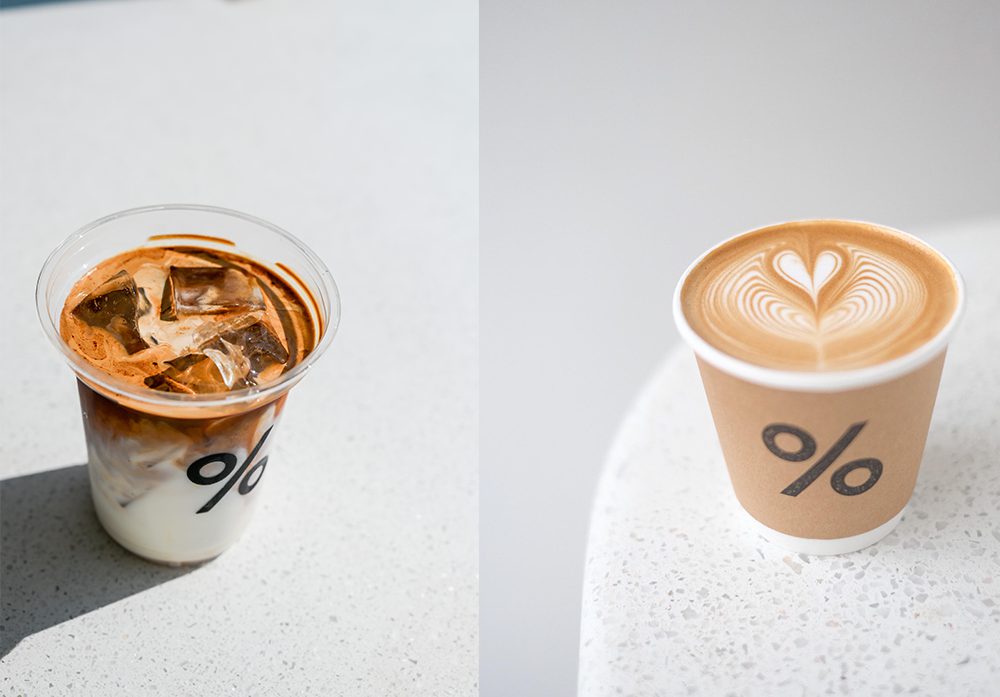 https://arabica.coffee/location/arabica-niseko-hirafu188-kiosk/
A high quality coffee shop on Hirafu's main street. Hong Kong is the first overseas store, and in Japan it is located in Kyoto and Niseko. It has a reputation for having a stylish appearance that looks great on SNS. The "signboard dog" is also as popular.
Musu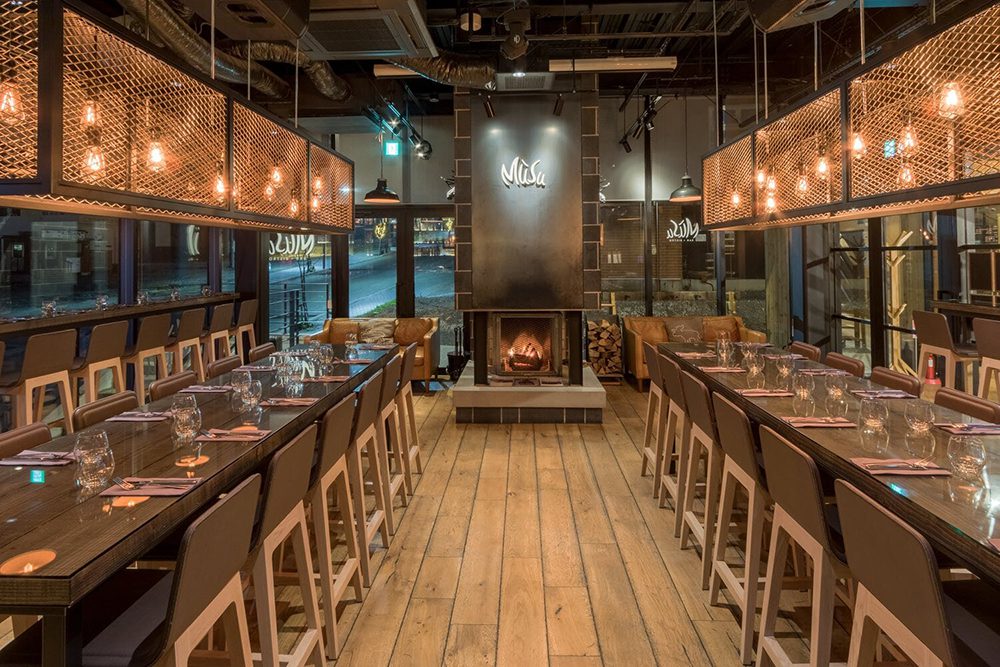 A stylish bistro and cocktail bar on the 2nd floor of Odin Place, located at Hirafu intersection. The relaxing, modern atmosphere and the casual menu that uses Hokkaido ingredients are popular with overseas guests. Check out Instagram for the menu.
Jojo's Café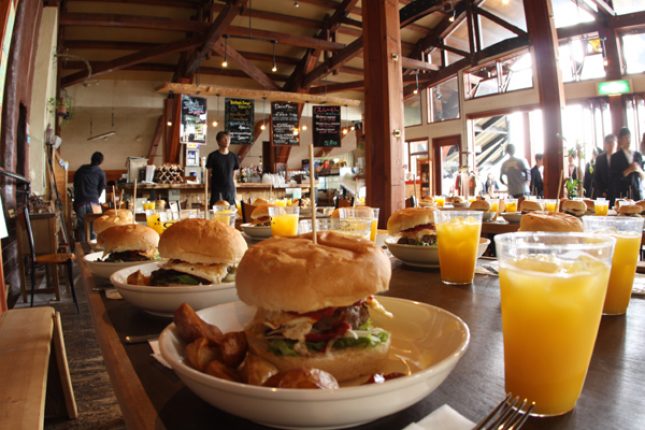 https://www.nacadventures.jp/jojos-restaurant
The owner is from Australia and opened NAC (Niseko Adventure Center), and is famous as the first person to attract foreign tourists to Niseko. On the 2nd floor of NAC, where you can enjoy the view of Mt Yotei on the open terrace and having their original burger is popular. Other Western dishes are also delicious.
Tsubara Tsubara
A famous store of Hokkaido's soul food "Soup Curry". They serve it with fresh local ingredients in Japanese dashi soup. You can choose the spiciness, and there are plenty of toppings such as vegetables, meat and cheese. Located in the Hirafu area with Japanese Wa-taste atmosphere.
Toshiro's Bar
A bar where you can enjoy a delightful cocktail while admiring the view of the Hirafu ski area. Original cocktails are very popular and there are many flavors that can only be found here. A collection of standard Japanese alcohols to rare whiskeys.
SUSHI KATO NISEKO
Hirafu's finest sushi restaurant offering authentic Edomae sushi, crab shabu, grilled king crab, fresh sea urchin and seafood. Chef introduces the menu in English. There is also a BAR with modern design. At the counter seats, you can take a closer look at the chef's grip.
Gyu Bar
The Coca-Cola's antique vending machines is the entrance of this hideaway bar, which has been in business since 1999. It is one of Niseko's most popular cocktail bars. A collection of alcohols and records from around the world. You can enjoy cocktails and single malt whiskey while looking at the lighted up snowy scenery outside