Must-go spots to enjoy powder in Hokkaido! 6 highly recommended resorts and 12 can't-miss courses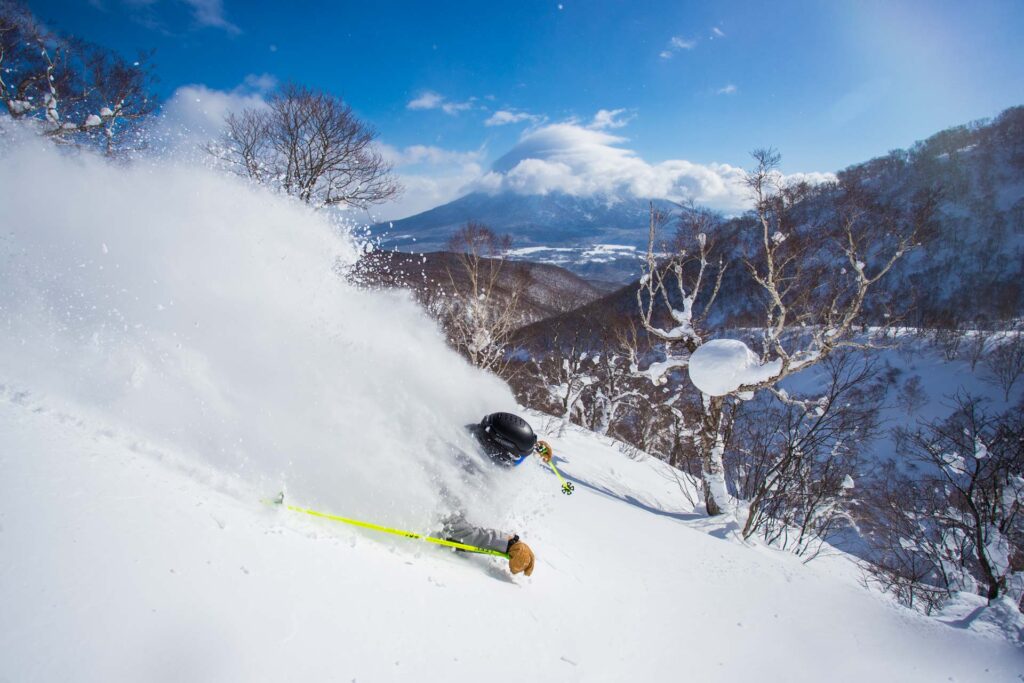 The all too beautiful powder of Japan, JAPOW, has become known all over the world. Powder freaks from all over the world are drawn to Hokkaido, dreaming of riding JAPOW even once in their lives and immersing themselves in the snow. Here, we list must-go resorts and courses perfect for enjoying JAPOW.
The best spot on Earth to enjoy JAPOW 
[Niseko HANAZONO Resort]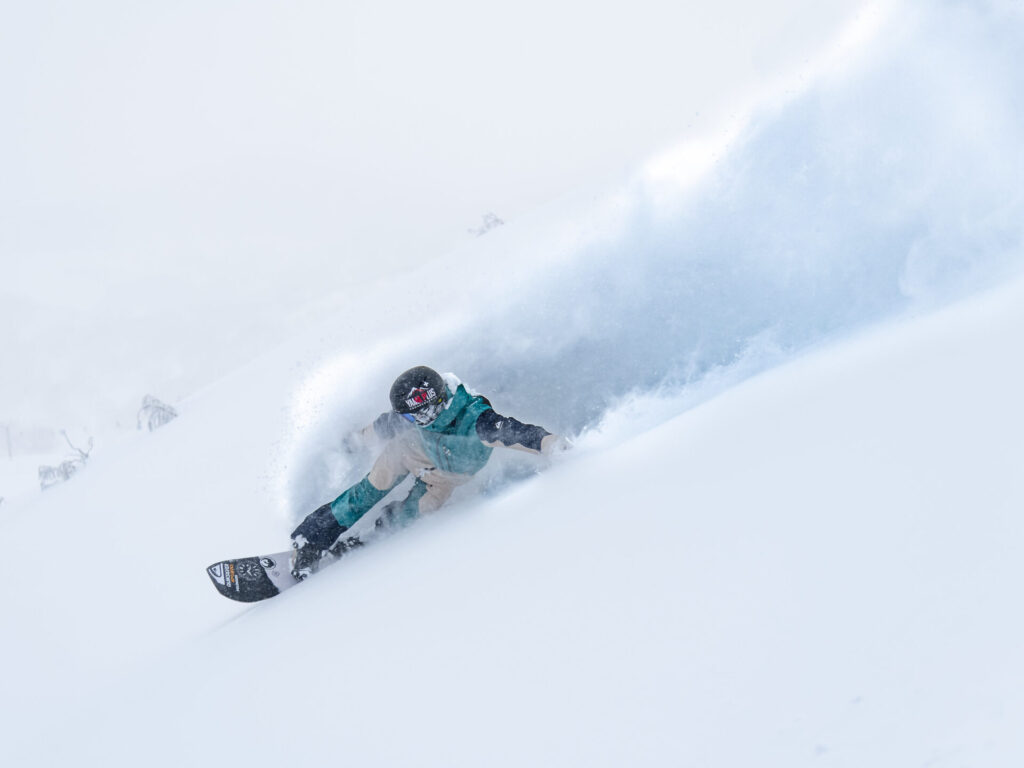 HANAZONO has it all: the most snow in Niseko United, top-tier powder reset times, and lasting amazing conditions. It is best known for its powder tree runs through mystical forests, but the fame of the ungroomed course "Legend of Shinya" takes it to a whole new level. With a maximum incline of 30 degrees, this course just might greet you with waist-deep powder in the morning after a night of snowfall. Here you can enjoy magazine cover-worthy steep and deep powder rides.
In addition, the '21-22 season saw the new 10-person "Hanazono Symphony Gondola" begin operation. The Hanazono Hooded Lift #1 also got a makeover to hold 6 people and heaters.
What's more, HANAZONO offers night skiing with park items. These are added throughout the season in accordance with the snowfall. If you're lucky and it snowed during the day, you can even ride the powder at the edges of groomed courses.
Another feature of HANAZONO is "Niseko Weiss Powder CATS," a service allowing snow cat-assisted rides for up to 12 guests. You can enjoy the powder of HANAZONO's private mountain, Mt. Weiss Horn, to the fullest without hiking.
[Must-try course]
●Legend of Shinya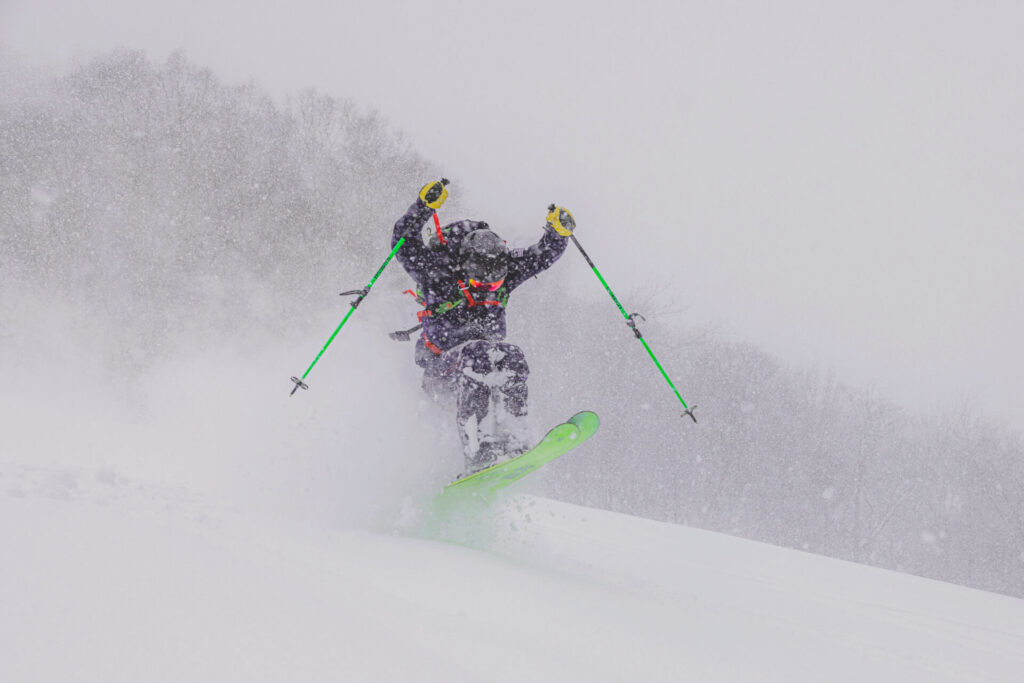 ●Niseko Weiss Powder CATS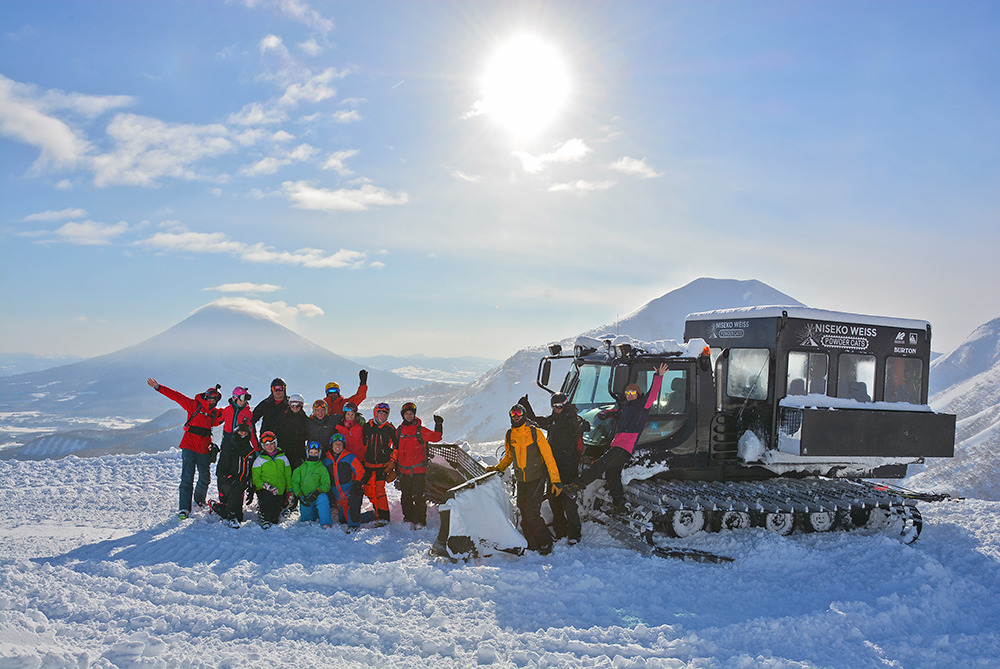 ---
The most night powder in one place on Earth 
[Niseko Tokyu Grand HIRAFU]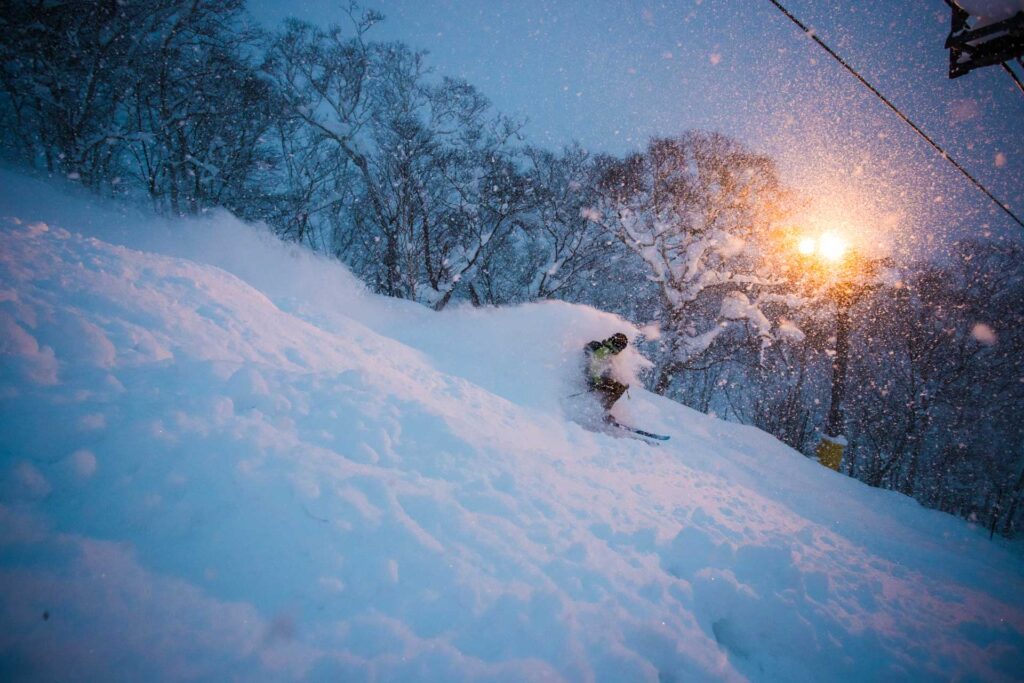 With over half the courses tailored for the seasoned rider, Grand HIRAFU has much to offer, from ungroomed courses perfect for powder rides to beautifully packed runs. It has a total of 22 runs with a variety of landforms, the most in Niseko. It also has many tree run spots at the edges of courses. In addition, Grand HIRAFU has some the largest skiable area and course variation for night skiing.
One of the best-known courses for powder is the "Miharashi Course." Accessible via a 5-minute hike from the HIRAFU Gondola, it is a satisfying run through woods with complex terrain. The "Konayuki Course," on the other hand, offers easy access being right under the HIRAFU Gondola and is renowned for competition over powder. The slope's curving bank also allows for a variety of courses.
[Must-try course]
●Miharashi Course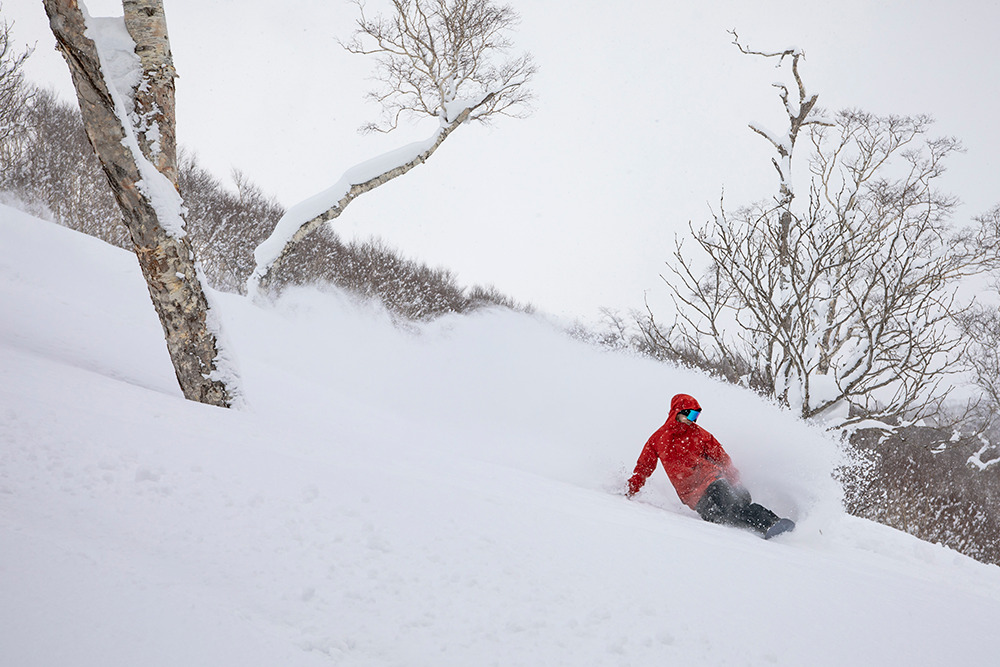 ●Konayuki Course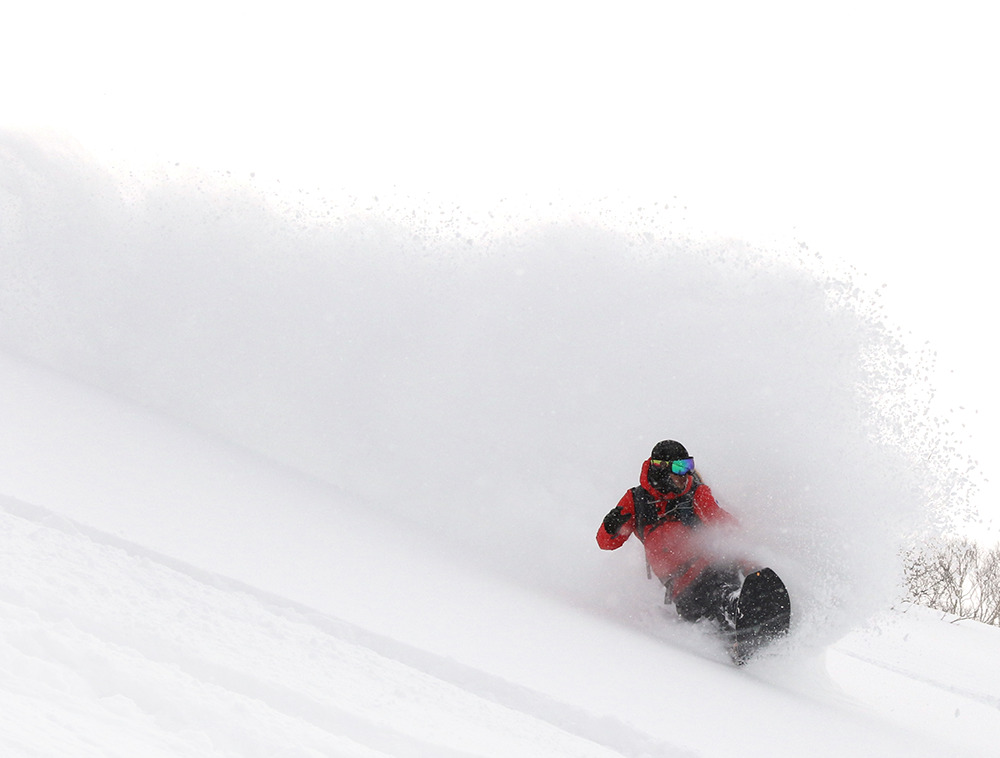 ---
Powder and majestic woods: snow-covered smiles and laughter to go around 
[Rusutsu Resort]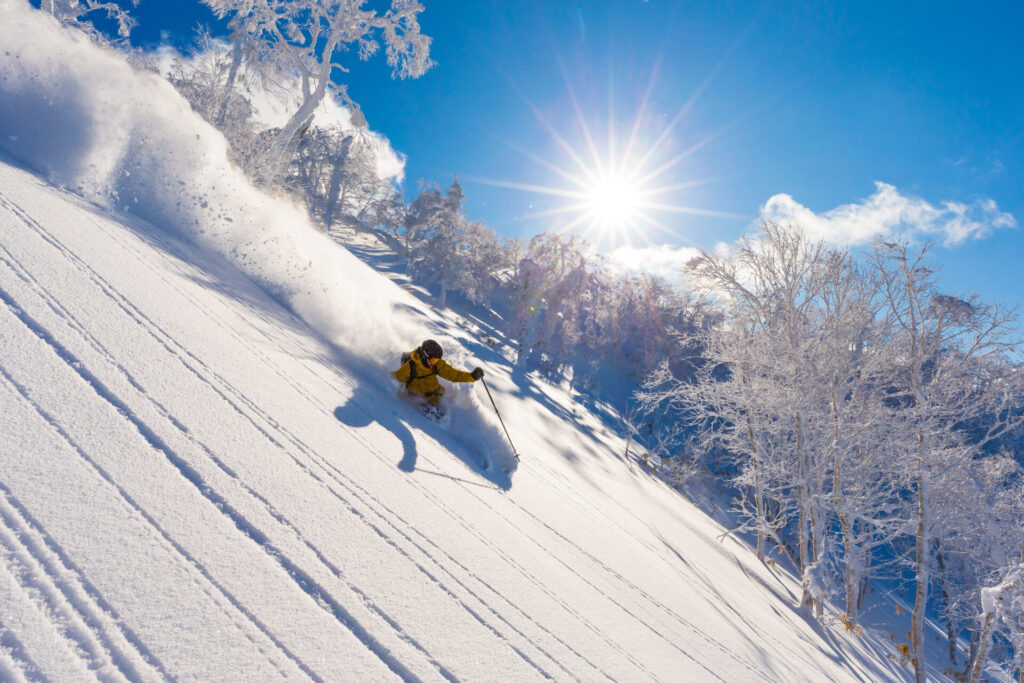 Many a ski movie crew has visited Rusutsu and found themselves cheering for its dreamy tree runs. The resort boasts high-quality snow, fun landforms, and ingeniously placed gondolas and chairlifts allowing for comfortable in-resort travel and efficient riding.
There are 37 courses spread across the 3 peaks of West Mt., East Mt., and Mt. Isola, adding up to a total of 42km of trail- the most you can find in a single resort in Japan. Mt. Yotei blocks the moisture flowing in from the Sea of Japan, making the powder drier. With intermittent snowfall, the likelihood of finding powder is amazingly high from December to February.
This is especially notable in the "Super East Course." An ungroomed run starting at the summit of Mt. Yotei with a maximum incline of 40 degrees, you can ride deep powder reminiscent of diving in the ocean after snowfall. "Heavenly Canyon Course" is a must-ride course nestled in the depths of Mt. Isola, sought after by many powder hunters. Snow blown in by the wind accumulates easily due to its stream-side location, and it offers an extra-long ride of 1,850m. The side country, known for its effective use of bumpy and various terrain, is also very popular.
[Must-try course]
●Super East Course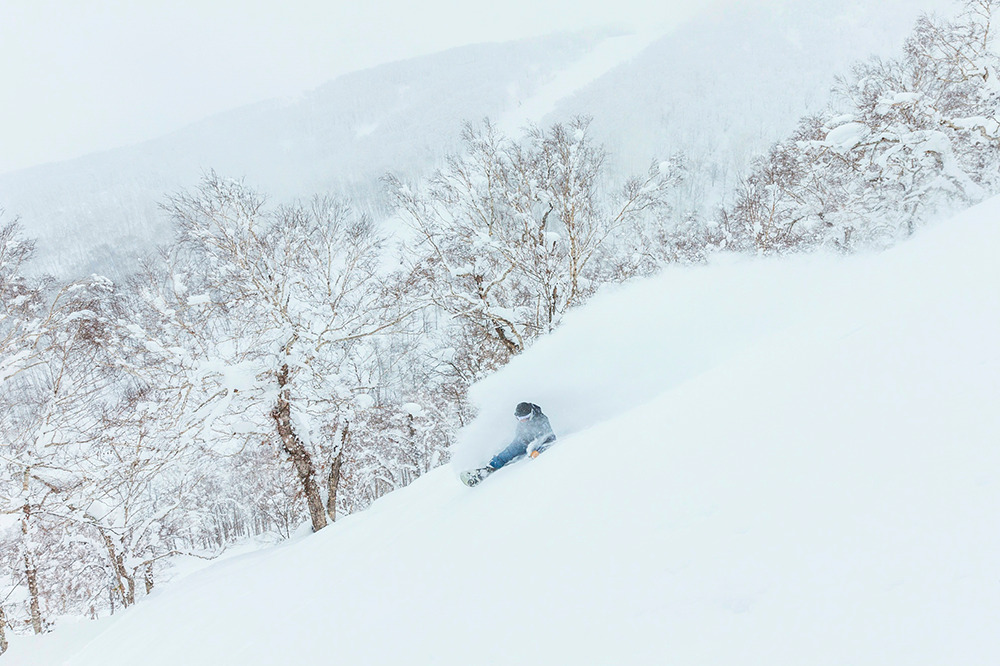 ●Heavenly Canyon Course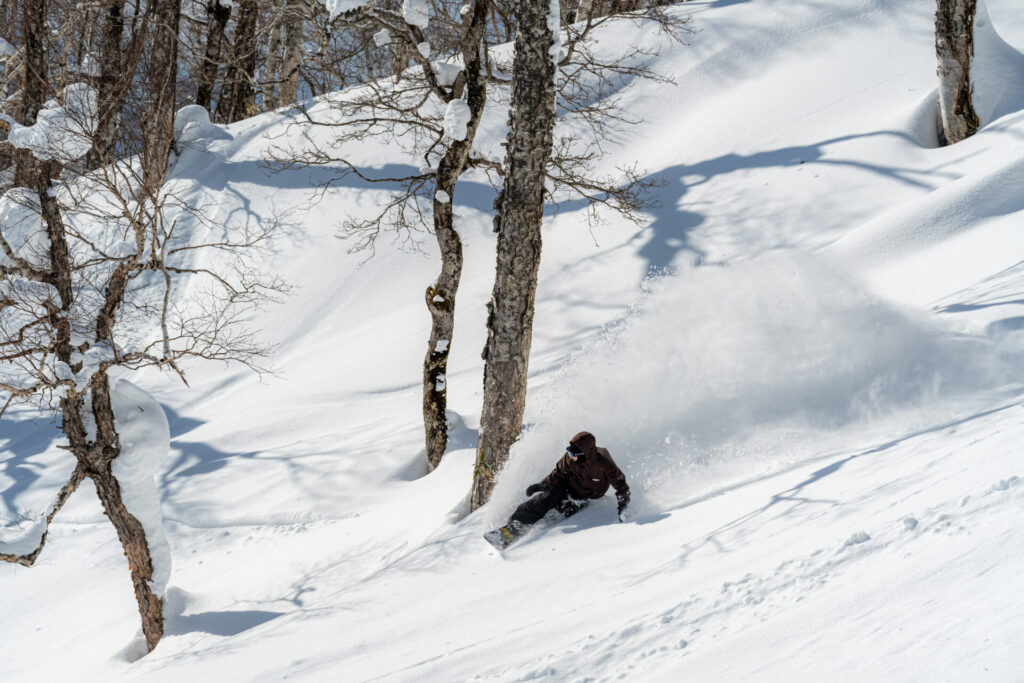 ---
Long powder rides 60 minutes from Sapporo by car 
[Sapporo Kokusai Ski Resort]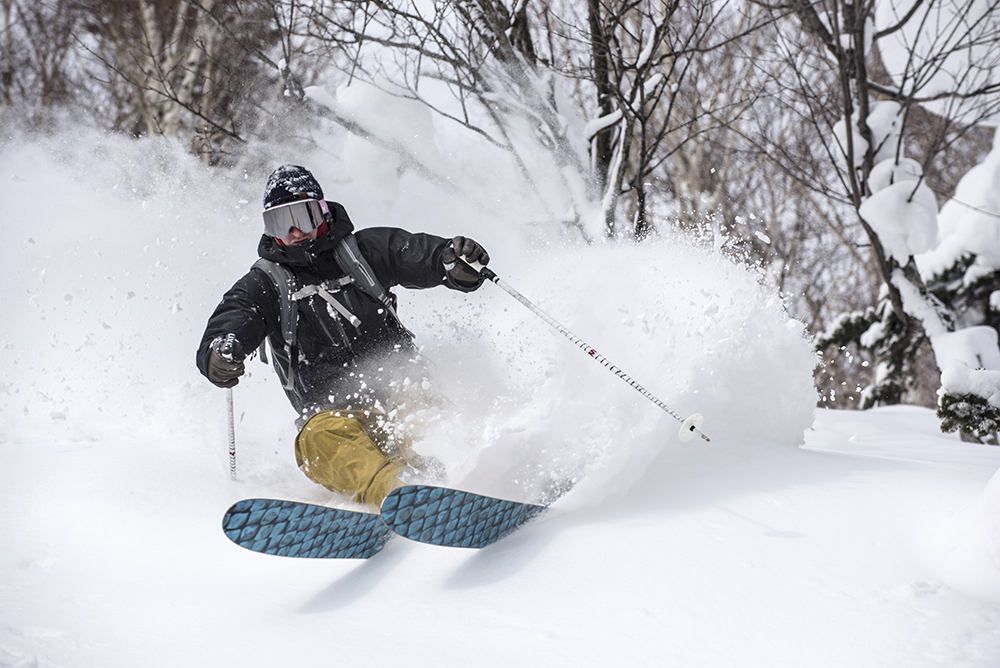 One of the quickest resorts with natural snow to open in Hokkaido, near 3 meters of snow at high season, and open until May- all with great access from Sapporo City. All courses are long, making for great powder rides after snowfall. the resort is great for immersing yourself in the great outdoors of Hokkaido, with the summit offering a beautiful panoramic view of the Sea of Japan, Ishikari Plain, and frost covered trees, otherwise known as "snow monsters."
The "Downhill Trail," an ungroomed run with a maximum incline of 30 degrees, is a must-try, boasting a smooth face of 2.2km from tip to base after snowfall. Accessible via the Sky cabin, it is also perfect for gaining riding distance. The "Echo Trail" is an amazing course towards the summit at an altitude of 1,100m, hard packed with top-quality powder. With comfortable access offered by a hooded quad and "SKS INTERNATIONAL," a nice café to take breaks at located at the summit, you could do as many runs as you please.
[Must-try course]
●Downhill Trail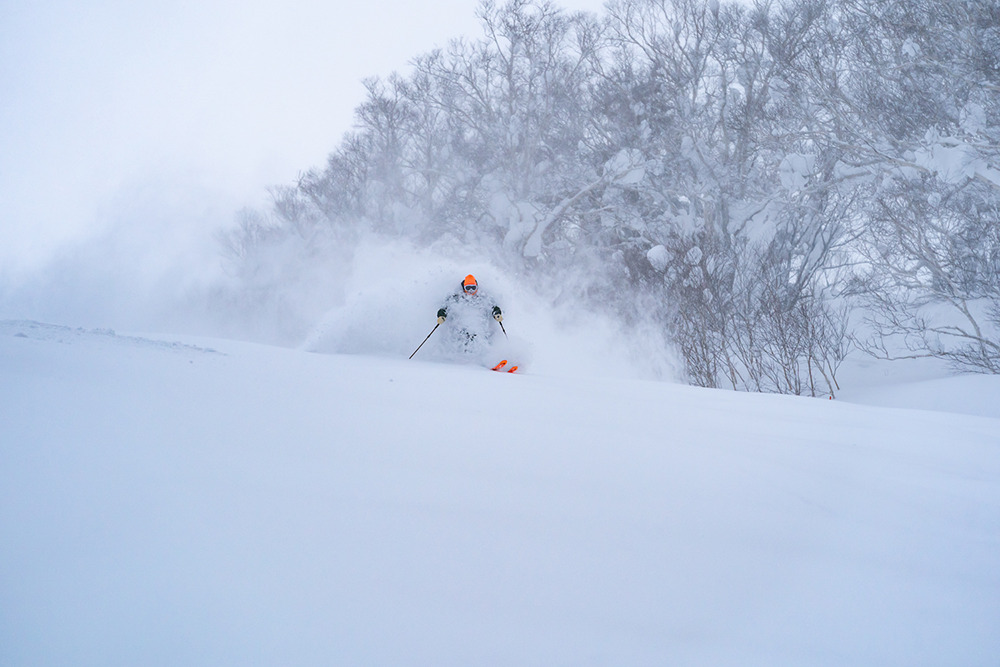 ●Echo Trail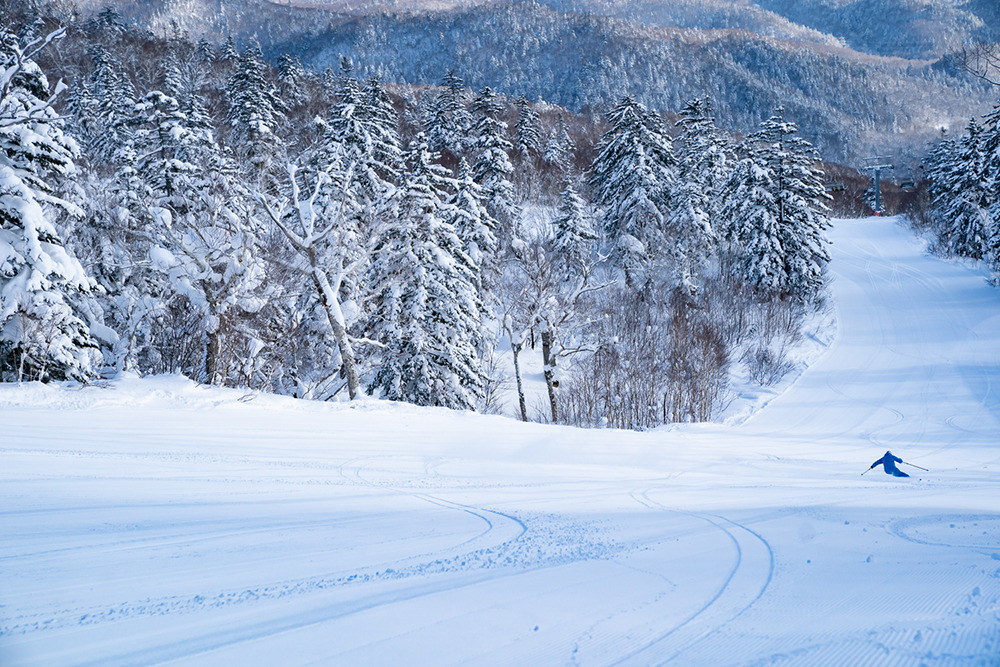 ---
Powder runs in vast wooded area
[Kiroro Snow World]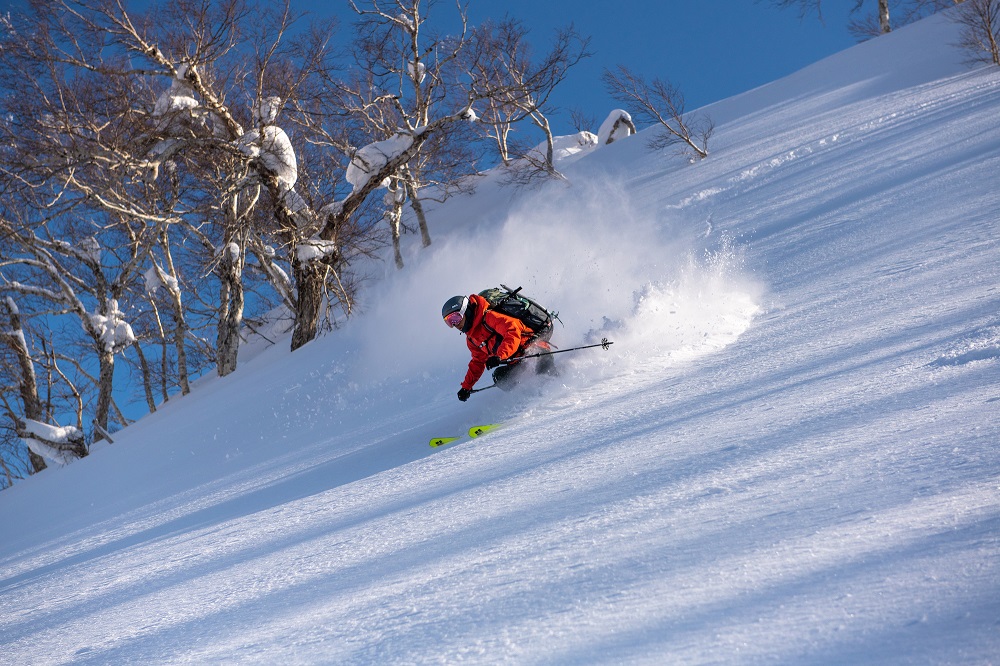 Although great for daytrips from Sapporo, Kiroro is known to get up to 5 meters of snow. With nightly snowfall during high season and constant low temperatures, dropping below an average of -10 ℃, it is also known for its plentiful and dry powder being retained. You can't miss the "Powder Ride" in Kiroro. Laying down first tracks on the wide, open surface first thing in the morning is what powder enthusiasts dream of.
What enthralls hard-core experienced skiers is the five vast tree run areas accessible from the resort. They have everything from beautiful hardwood forests, various terrain, and deep powder spots, and a lot of the trails are accessible via chair lift.
[Must-try course]
●Powder Ride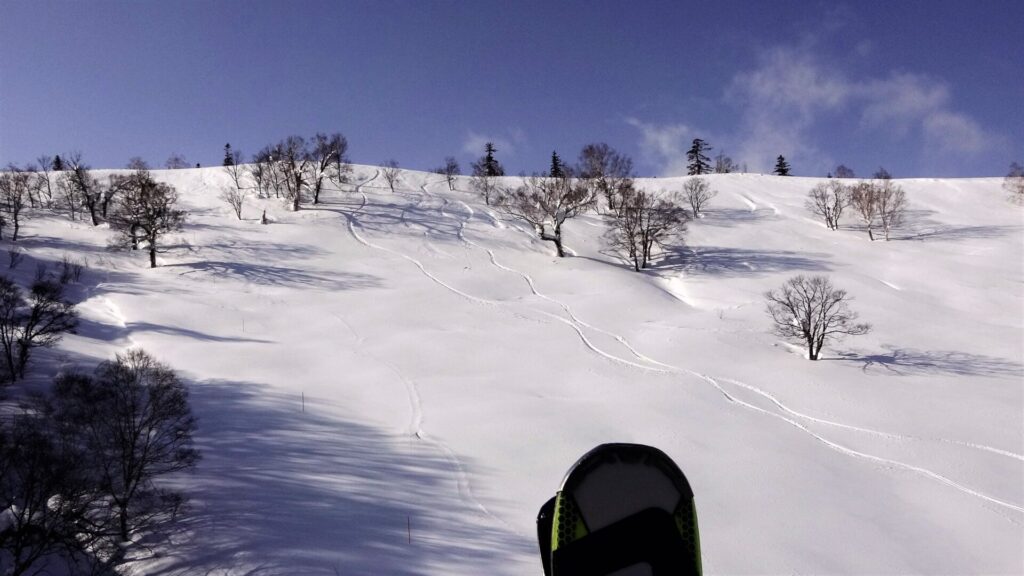 ●Tree Run Areas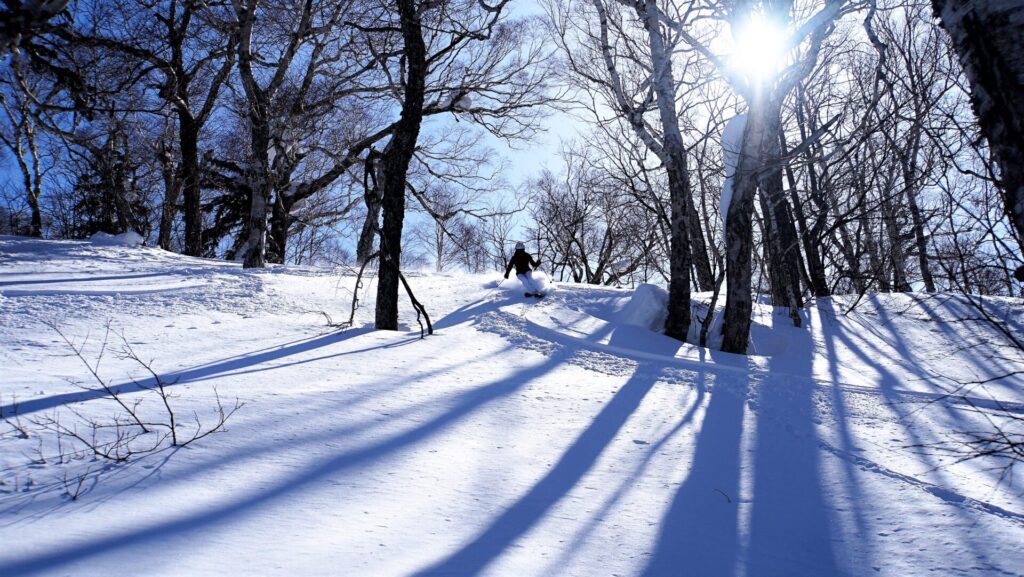 ---
A technical resort for experts to further improve 
[KAMUI SKI LINKS]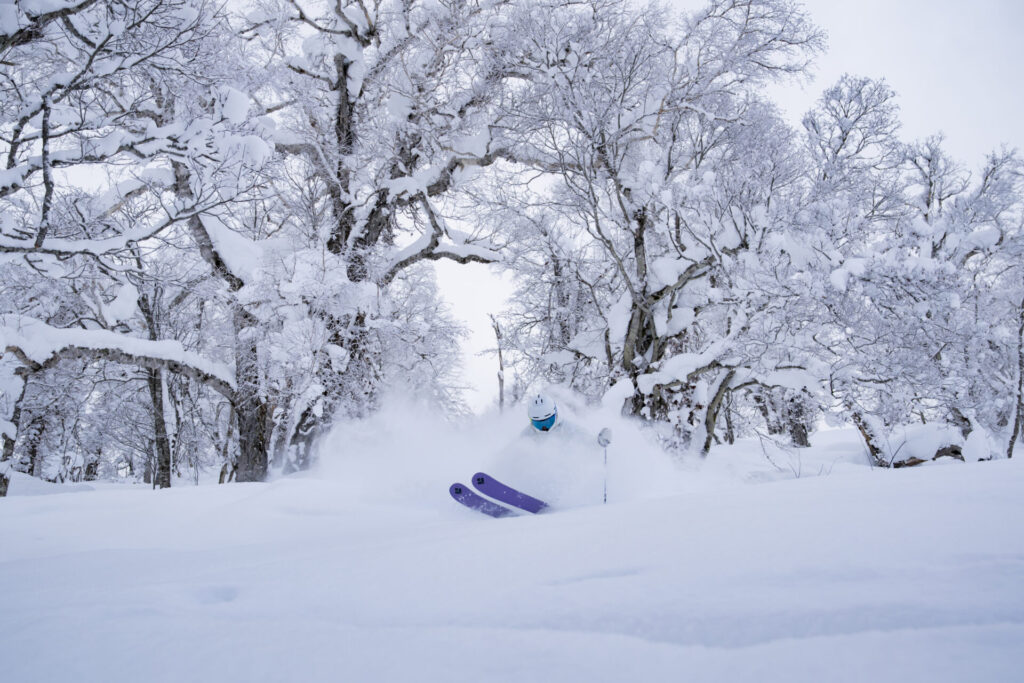 Although in an urban setting only 40 minutes from Asahikawa City, KAMUI is one of the largest resorts in the Dohoku (Northern Hokkaido) area. It boasts the fine, dry powder characteristic of the inland climate. It is well known as a highly technical resort with nearly 70% of courses intended for intermediate to advanced riders, and a large part of the difficult runs are ungroomed with lengths of 800 to 1,200 meters, making it perfect for riders that want to get better at powder runs.
The "Deep Powder" and "Fresh Powder" are limited-time only courses that offer extra deep powder runs through woods. The terrain with inclines of over 30 degrees and a variety of mushrooms and bumps is great for enjoying the wild outdoors, and is at its best at top season February. The "Gold Courses" are super popular trails hard packed with high-quality powder, perfect for carving deep turns on right after grooming in the mornings.
[Must-try course]
●Gold 2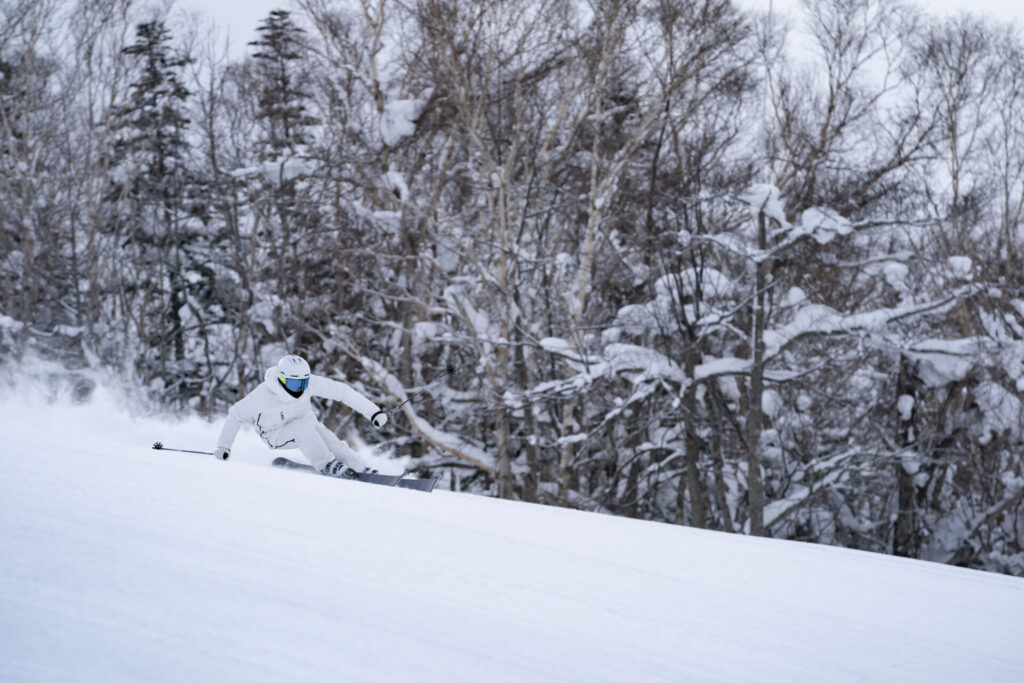 ●Deep Powder