Ski resort data
Open Season

November 26, 2022- May 7, 2023

Opening hours

Early season (November 26- December 2, 2022)
Open: 8:30am Close: 4:30pm or sundown
Mid-season (December 3, 2022- March 21, 2023)
Open: 8:30am Close: 4:30pm or sundown
Spring season (March 22- May 7)
Open: 9:00am Close: 4:00pm
Night skiing hours (Open from early December to March 21)
Open: 4:30pm Close: 7:30pm

Lift Ticket

One-day pass Adult:6,500 yen Child (up to elementary school): free of charge
1-Day Early Season/Spring Ski Season:5,000 yen (November 26 - December 2, March 22 - May 7)

Spec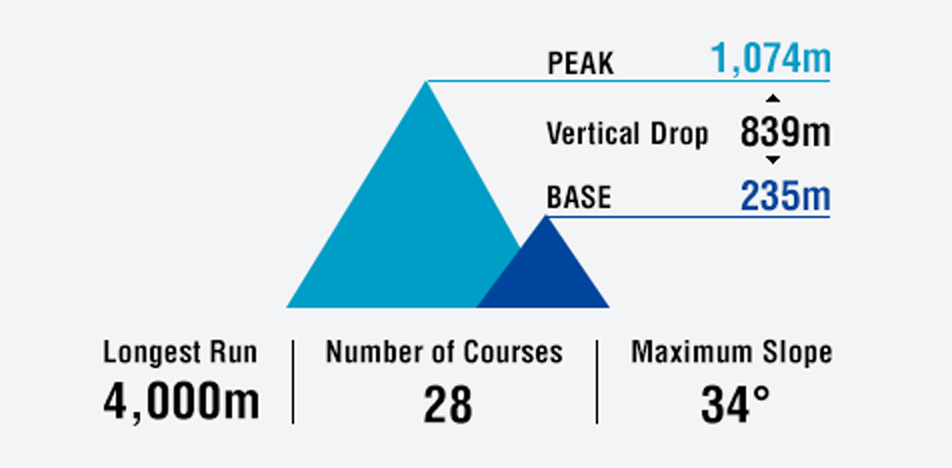 Monthly snow accumulation in-season
※Average over the last 3years
Dec.

130cm

Jan.

165cm

Feb.

230cm

Mar.

230cm

Apr.

150cm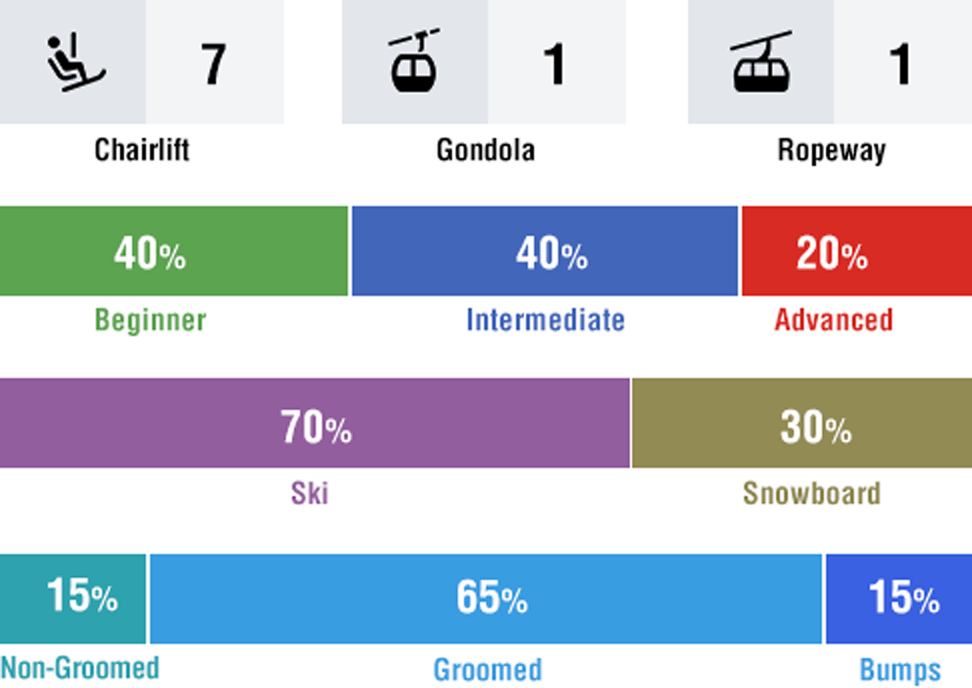 Resort Feature
Dry powder, big scale
What sets Furano apart from other resorts is that you can enjoy the extra-dry powder unique to inland regions and beautifully groomed corduroy, both in one resort that comes with a magnificent view of Tokachidake and the Daisetsu Mountain Range. The powder at Furano is of ultimate quality. The resort is divided into two zones, Kitanomine and Furano, and boasts a large scale with 28 courses that offer a variety of terrain and range from beginner to advanced levels. The long run from the summit at a 1,074m elevation and the 430m-long E1 course at the summit of the Furano zone are especially popular among riders, with lots of ups and downs. The courses also have adjacent chairlifts that offer riders convenience in getting around, much to the joy of those who are here for the slopes.
The best backcountry access you can get in Japan
Central Hokkaido, in which Furano Ski Resort is also included, is known for its great access to the backcountry of the Daisetsu Mountain Range. The powder field that stretches over Asahidake, Kurodake, Tokachidake, and Furanodake is also known as the Powder Belt, and tours to the backcountry here that offer riders great experiences in Hokkaido's nature are extremely popular among skiers and snowboarders around the world.
Making active and comfortable travel plans of staying at Shin Furano Prince Hotel, renting a ride, and traversing the places with the best snow and weather conditions in the Powder Belt is growing popular. There are also many hot springs around Furano, making it a great place comes with the full package to enjoy the best of winter Hokkaido: JAPOW, onsens, and convenience.
The new and trending Furano style
A new style of staying at Shin Furano Prince Hotel is gaining popularity: going on one-day riding trips to nearby resorts such as Hoshino Resorts TOMAMU, Kamui Ski Links, and Sahoro Resort, and visiting the town of Furano on your way back. Access to the city is also easy, with Furano Ski Resort being a mere 10 minutes away by car. Furano Town, which is drawing attention as the "New Niseko" from investors overseas, is growing into a new tourist attraction. The lively town has much to offer, such as gourmet foods and after-ski activities. Furano is a must-go to be added to your bucket list.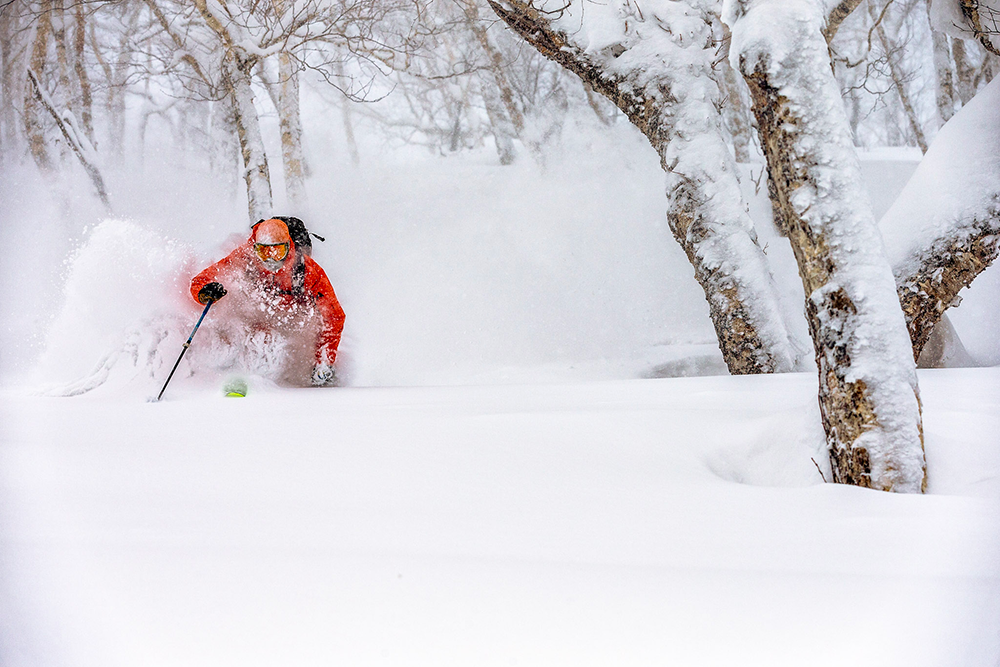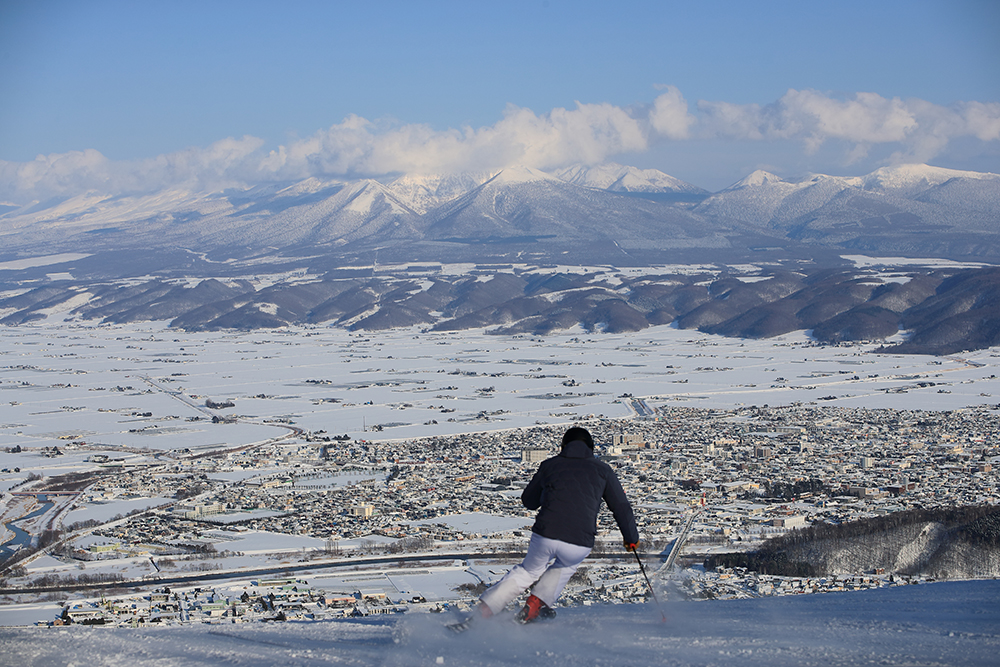 Resort information
Address
〒076-8511 Nakagoryou, Furano-shi, Hokkaido
Tel
0167-22-1111
Multilingual
Multilingual website, multilingual pamphlets, ski lessons taught in multiple languages, usage of translation devices (Pocketalk)
Access