Fun skiing and recommended ski resorts by area | CENTRAL HOKKAIDO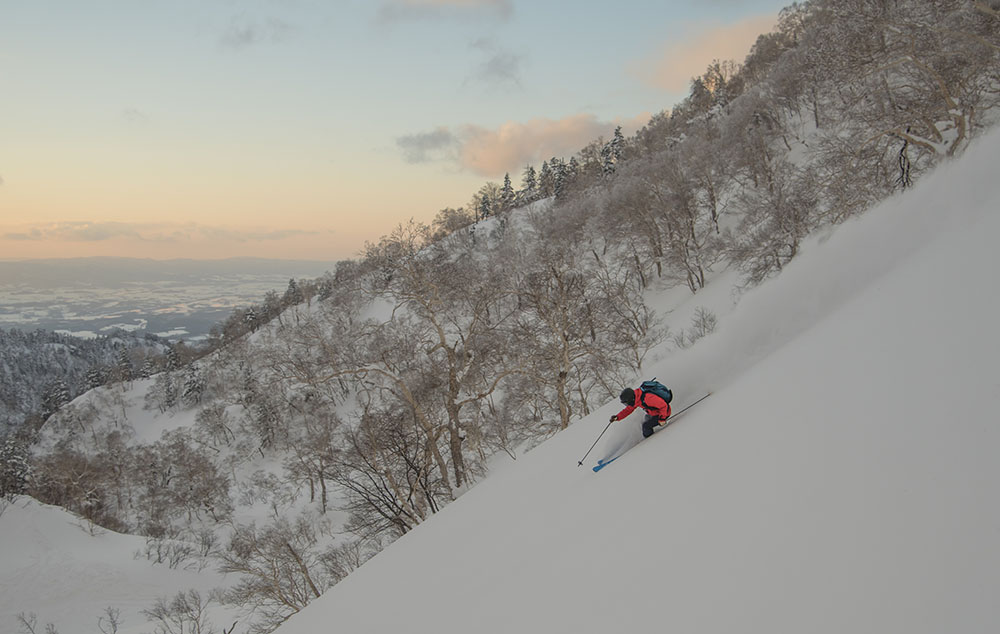 ---
What kind of place is the Central Hokkaido area?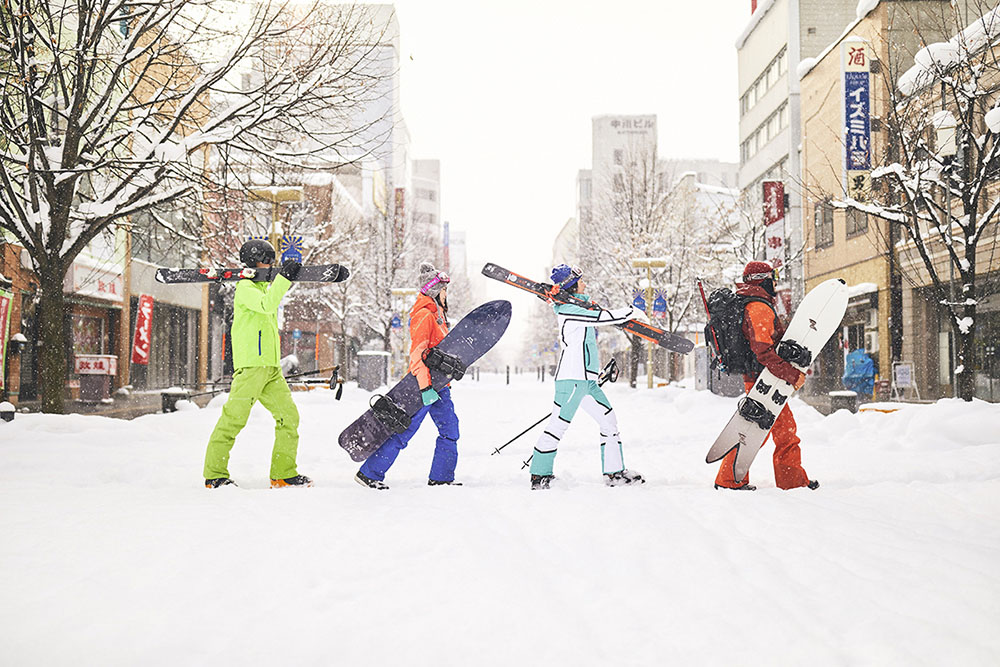 The central Hokkaido area can be accessed from three airports: New Chitose Airport, Asahikawa Airport, and Obihiro Airport. Recently, more and more overseas guests are entering Hokkaido via Asahikawa airport, and using Asahikawa City as a base for skiing in the surrounding areas.. In the surrounding areas, there are plenty of large-scale resorts such as Furano Ski Resort, Kamui Ski Links, Tokachi Sahoro Resort, Hoshino Resorts Tomamu, etc., which feature a variety of winter activities suitable even for those who don't ski or snowboard.
Daisetsuzan, Asahidake and the Tokachi area, are easily accessible and well-suited The overwhelmingly vast natural area coupled with the area's particularly long-lasting powder has led to an increase in the number of powder hunters who stay in Asahikawa for long periods to ski in the surrounding areas.
Area mountain features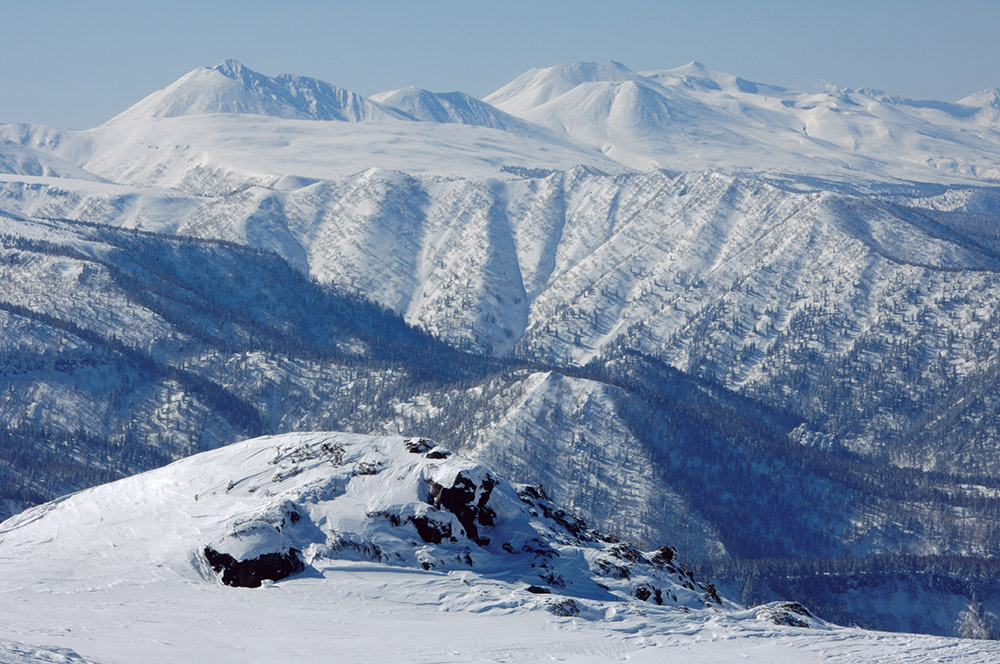 The Central Hokkaido area, which includes Mt. Asahidake (2,291m), the highest peak in Hokkaido, Mt. Kurodake, Mt. Furano, Mt. Tokachi, and Mt. Sahoro, is a mountainous area located in the Daisetsuzan National Park.
There are relatively few steep sharp edges and many mountains and slopes are suitable for skiing.
Weather and snow features
Japan's snow season begins with the first snowfall over Daisetsuzan every year, and by around mid-November the area's ski season is already in full swing. From January to February in the high season, the temperature becomes extremely cold at -30 ℃ or less, and there are a few days when the ski resorts are closed due to strong winds. On the other hand, compared to Sapporo and Niseko areas, there are many sunny days here.
Due to the area's extremely low temperatures, the snow quality is ultra-dry and the powder is extremely long-lasting. The quality of snow in this area is top classnot only to the rest of Japan, but also to the rest of the world. The weather becomes more stable in March, however the quality of the snow doesn't drop in the least. Even in March when spring arrives in the Sapporo and the Niseko areas, powder continues to fall in the central Hokkaido area as late as May.
---
Recommended snow resorts
Inland spots with dry snow
Furano Ski Resort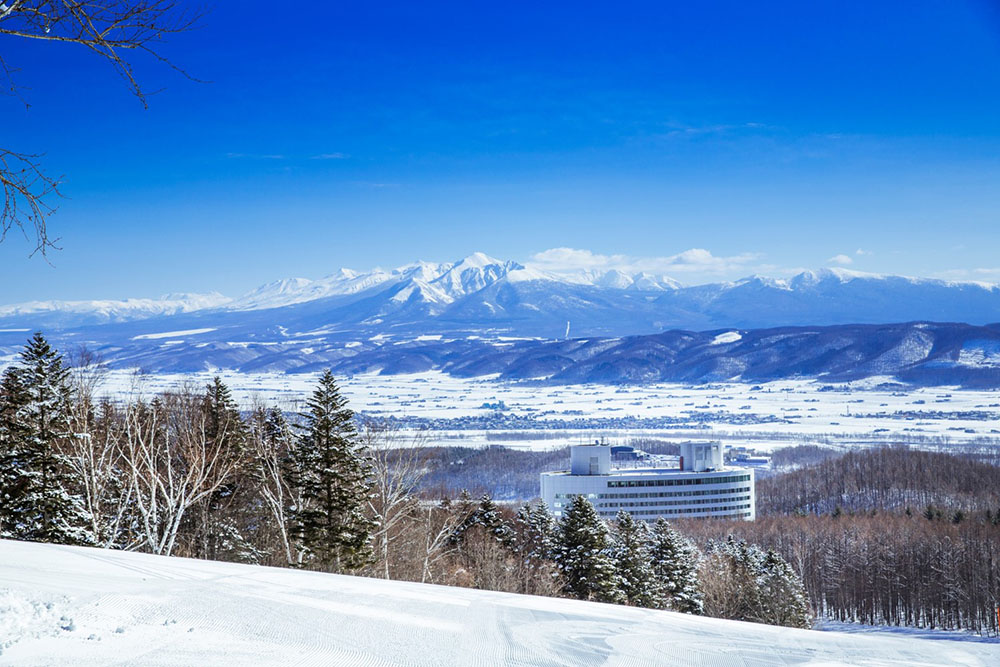 You can enjoy dry powder in the inland zones of Kitanomine and Furano. For example, the panoramic C course at the top of the Furano zone includes a popular 700m run with an abundance of undulations, plus skiers can enjoy the scenery overlooking the vast Tokachi Plain. Furano also features a long run which allows you to cruise down from the summit 1,074 meters above sea level. The Prince Hotel, which is directly connected to the slopes, makes for a convenient and comfortable stay.
https://www.princehotels.com/en/ski/furano/index.html
---
Experience the authenticity of Japan's best local ski resort
KAMUI SKI LINKS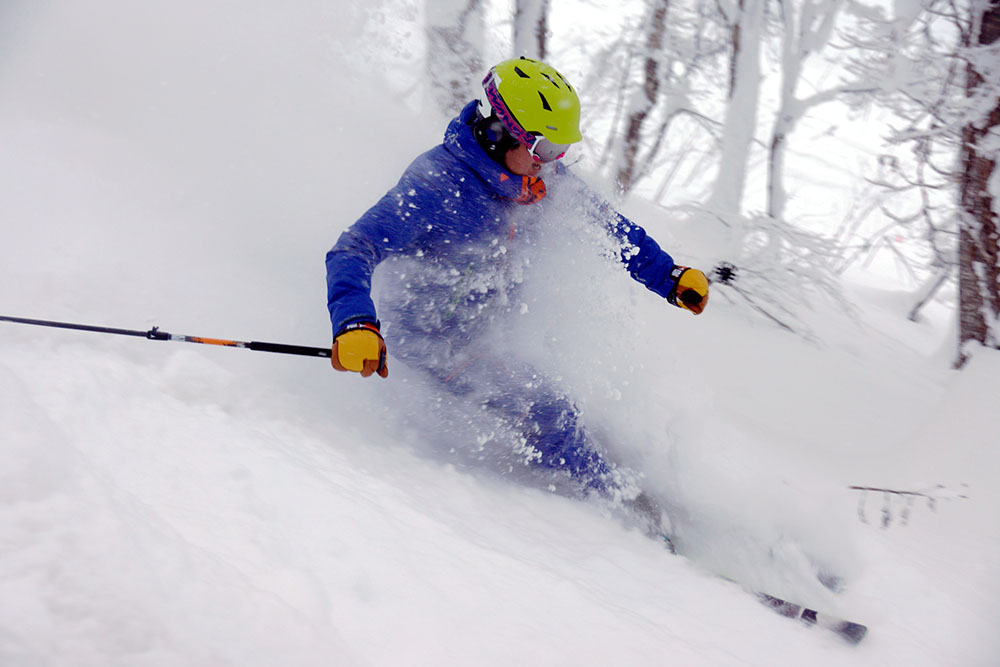 With 25 courses, Kamui Ski Links is the largest resort in the area. It is known for its many technical slopes for advanced riders. Ungroomed trails occupy about 30% of the resort's total area. This, along with its tree runs and abundance of natural terrain, is very appealing to skiers. The one-day lift ticket remains at a surprisingly good price of 3,000 yen. As such, it is no surprise that Kamui is famous as the strongest local ski resort in Japan.
https://www.kamui-skilinks.com/en/
---
A treasure chest-like resort filled with all kinds of snow play
Hoshino Resorts TOMAMU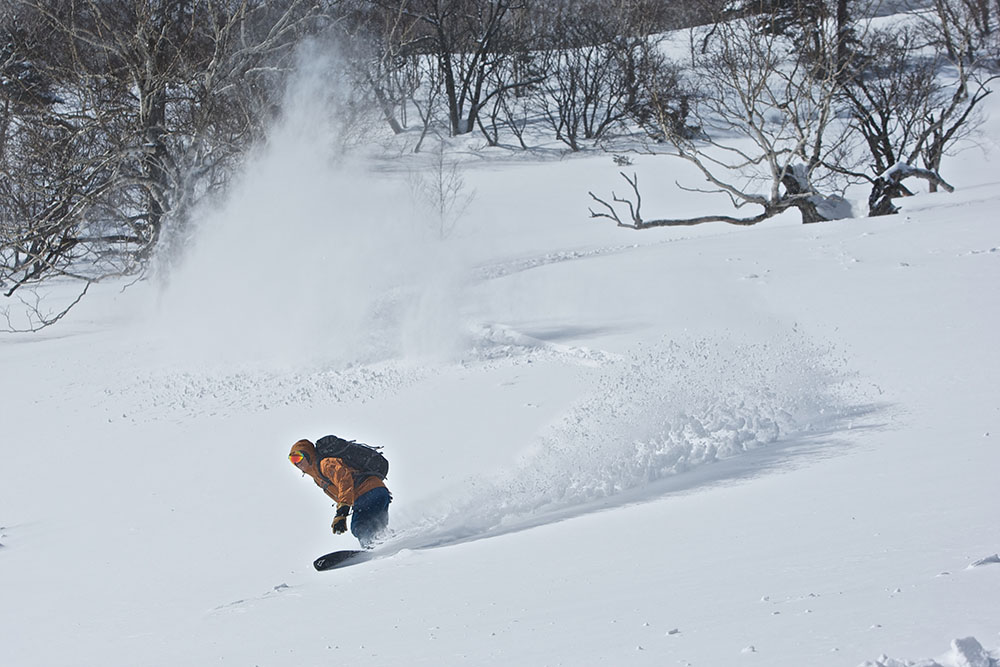 Tomamu is suitable for guests of all ages, from families to advanced skiers. Under "Tomamu's commitment to winter mountains", the resort opens its sidecountry routes only to advanced skiers. Tomamu can provide support to beginners/experts with CAT tours and fast tracks, as well as introducing various backcountry programs perfect for enjoying Hokkaido's powder belt.
https://www.snowtomamu.jp/winter/en/
---
The finest ungroomed trails can be found on the north slope
SAHORO RESORT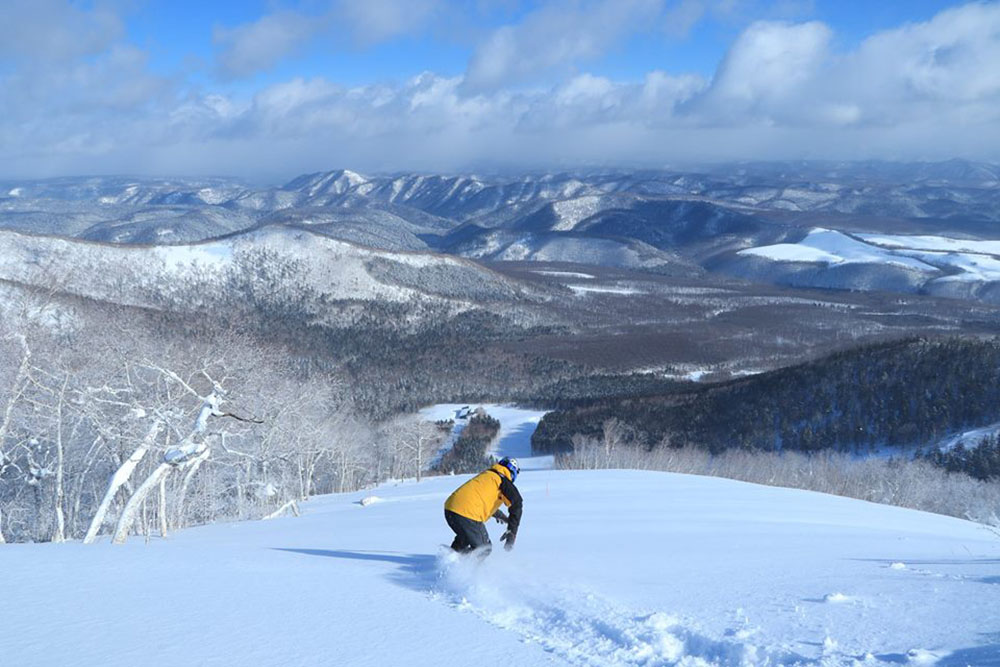 An astonishing 50% of the resort's trails are ungroomed, including all 5 courses on the northern slope. Much of the resort's natural terrain remains unaltered, so it's perfect for free runs. The resort has a variety of courses to offer, so even advanced skiers can riding Sahoro's relatively uncrowded slopes to their heart's content. Although the volume of snow is low due to its location, the snow quality is dry powder. Furthermore, you can enjoy a pleasant slide with a sunny weather rate of 51%.
---
Enjoy powder belt touring from an Asahikawa base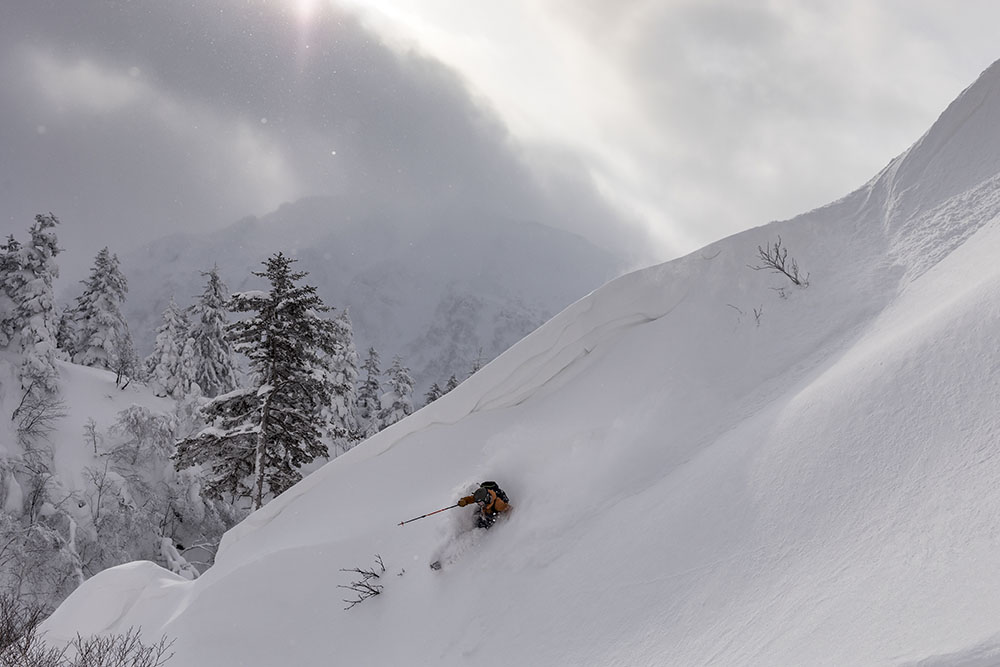 The charm of Hokkaido powder belt
Hokkaido's Powder belt, which stretches 200kms from north to south, covering well-established snow resorts such as Hoshino Resorts Tomamu, as well as natural mountains such as Mt. Furano, Mt. Tokachi, Mt. Kurodake, Mt. Kamui and Daisetsuzan's Mt. Asahidake.
In recent years, the style of sliding backcountry and in resorts of this powder belt, according to the weather and snow conditions has attracted a lot of attention.  They are overseas powder hunters who ski in Niseko and Sapporo surrounding mountains for JAPOW, and want to explore more powder fields.
Asahikawa serves as the main base for the central Hokkaido area. It takes about 1 hour by car from Asahikawa to Asahidake, 30 minutes to Kamui Ski Links, 1.5 hours to Furano, and from there, another 1.5 hours to Hoshino Resorts Tomamu.
We asked Mr Riki Nakajima of "RIKI Japow Guides", who provides guide services based around the Hokkaido powder belt, to tell us about the highlights of an Asahikawa-based tour of Hokkaido's powder belt.
---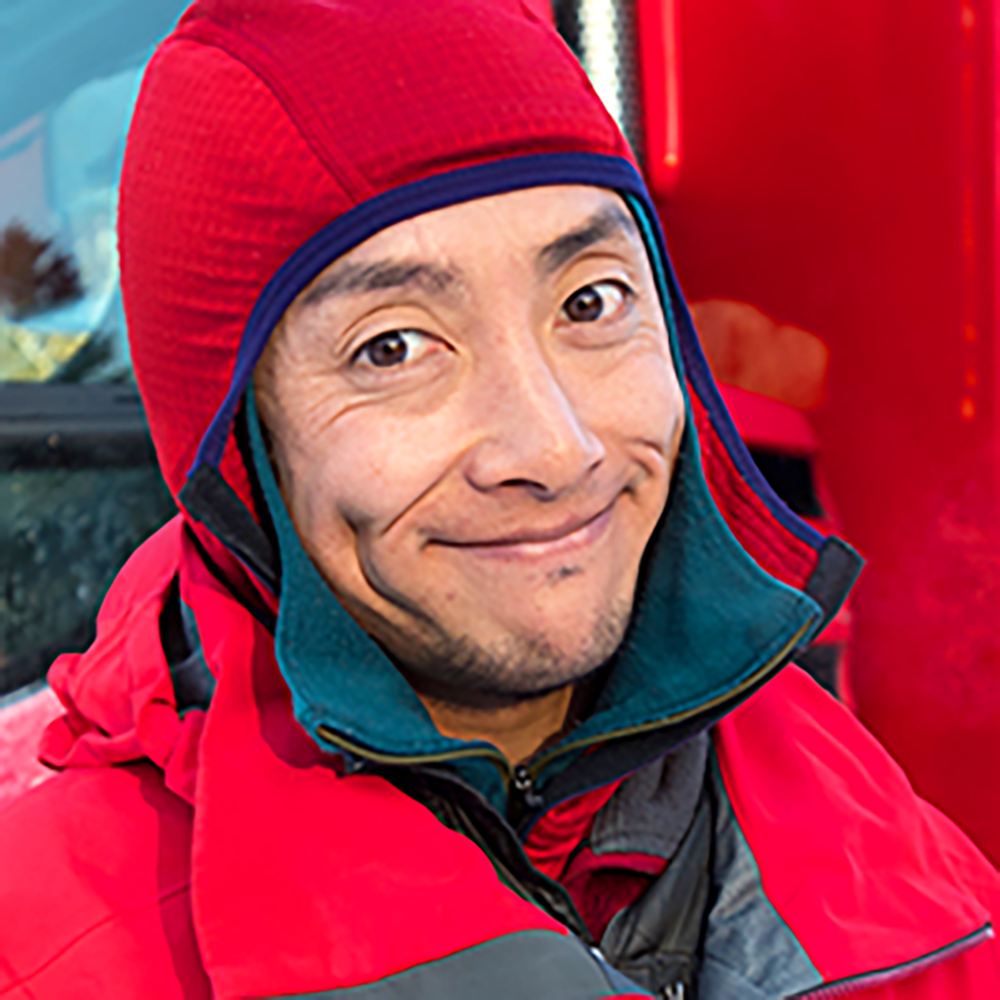 RIKI Nakajima
In 2000, he obtained the world's first freestyle skiing instructor qualification in Whistler, Canada. He has participated in numerous freestyle competitions.
He is a skier who is also active in ski magazines and movies.
Based out of Tomamu, he has been running "RIKI Japow Guides" providing guide services on the Hokkaido Powder Belt.
" Changing plans depending on the weather and mountain conditions and having fun on the move-Hokkaido's powder belt is a must-visit".
---
Ease of Travel around Hokkaido's Powder Belt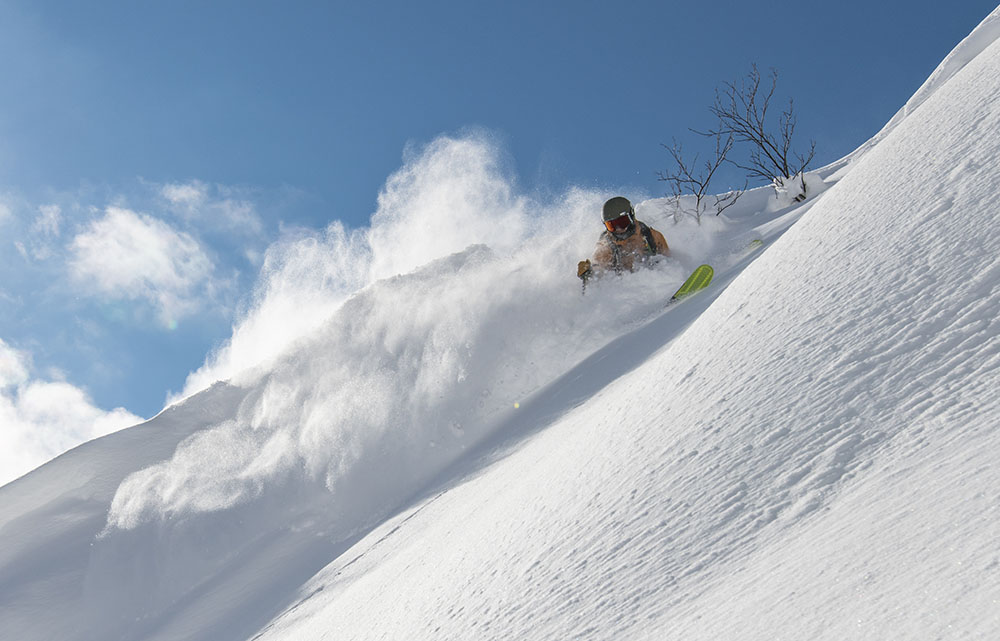 RIKI
In order to enjoy Hokkaido Powder Belt, the first thing you should always do is check the weather forecast. Since the amount of snowfall on each mountain varies from day-to-day, it's best to decide on where to go based on the weather forecast. I think this is particularly important when leading advanced tours.
Weather, snowfall, snow quality, wind direction, adhesion, weather conditions, of course approach method, climbing distance and time, sliding slope, etc. and possible risks must all be checked.
There are many backcountry and resort options such as Asahidake, Kurodake, Furanodake, Kamui Ski Links, Santa Present Park, Pippu, Nayoro Piyashiri, and Hinata Ski Resort within the range of about 1 hour from Asahikawa. Choosing a location based on the day's weather conditions will guarantee you the best powder snow.
In that sense, travelling by rental car will maximize your options. In recent years, it has become common to see small groups of guests from overseas guests renting campers to travel for long periods of time.
To make your tour more efficient and satisfying, you should travel with a guide with a good sense of the local area, who can escort you to a good place for both powder and backcountry. It's fine even if you contact us even after you reach the site.
❖  To summarize:
1. Travel by Rent-a-car
2. Check the weather reports in the morning to decide which mountain to visit
3. Go with a guide
Recommended mountains for overseas guests staying in Asahikawa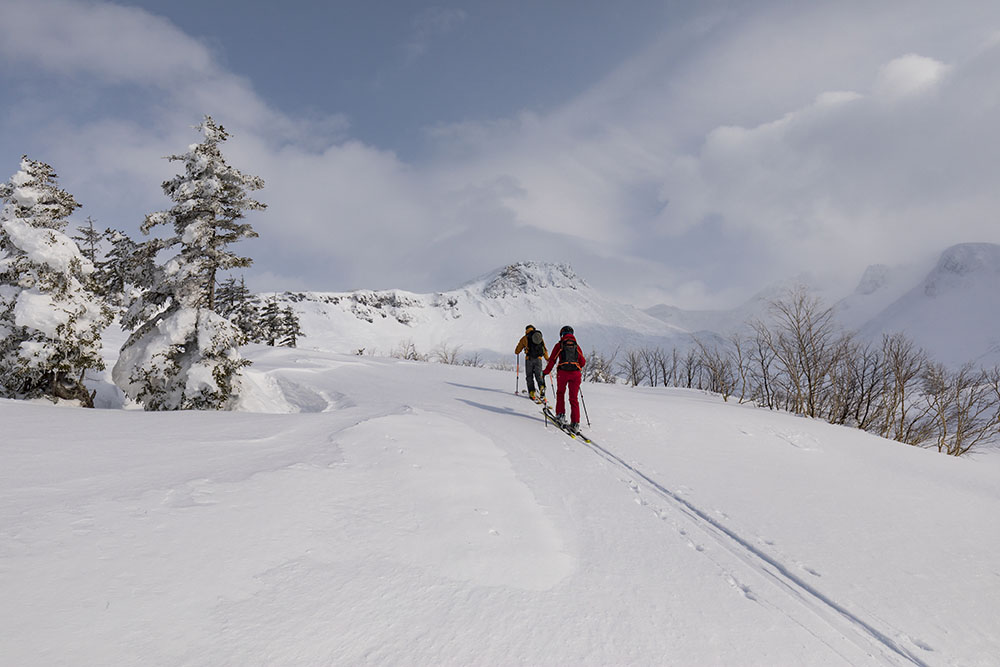 Many guests from Europe like backcountry, so many people want to visit slopes outside of ski resorts to ski amidst vast scenery. We have tours in which we hike up the mountain rather than use lifts. If you don't minda3 hour hike there are quite a few good places to visit, including Asahidake, the Tokachi mountain range and the quite famous Horodate area.
Many Australians want to ski as much as possible, rather than spending lots of time hiking. They like to get to areas using lifts and via sidecountry. Rather than enjoying the scenery, they prefer to ski more. So, I will guide them to areas with access from ski resorts. Perhaps Kamui Ski Links, Asahidake Ropeway Ski Resort, Nayoro Piyashiri, or Pippu.
Where is popular with overseas guests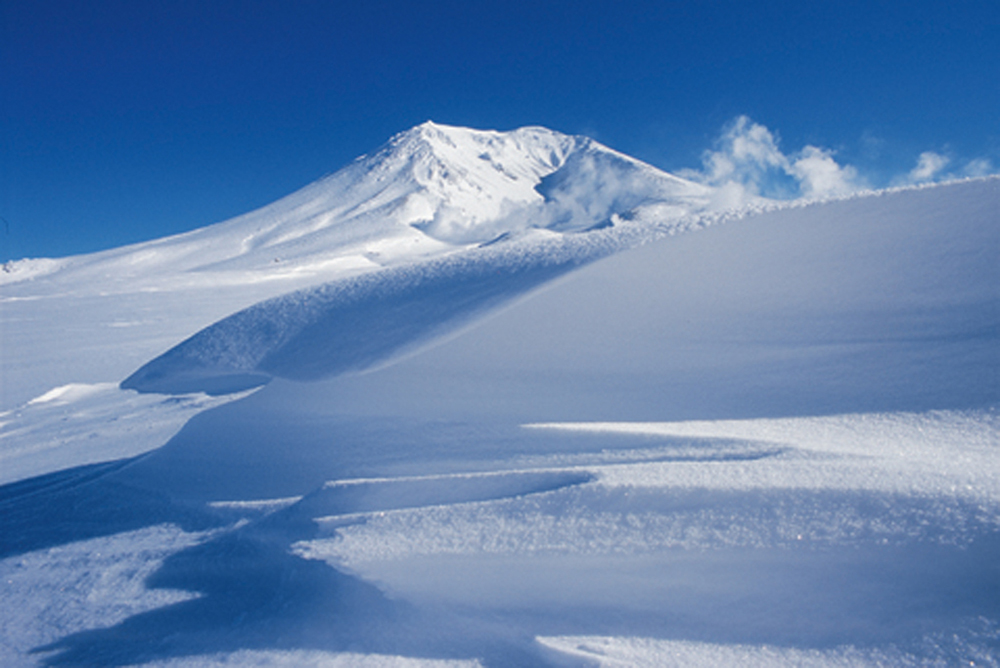 RIKI
Right now, everyone says Asahidake. Especially because it is a special experience to ride on an active volcano.
There aren't many places in the world where you can ski beside craters billowing with steam. Since it is the highest mountain in Hokkaido, the amount of snow is considerably larger than other ski resorts, so there is a high possibility of encountering powder. Skiing in chest-deep powder is a rare experience which can't be found in other countries, so it's very popular.
Asahikawa-based 5 day powder belt plan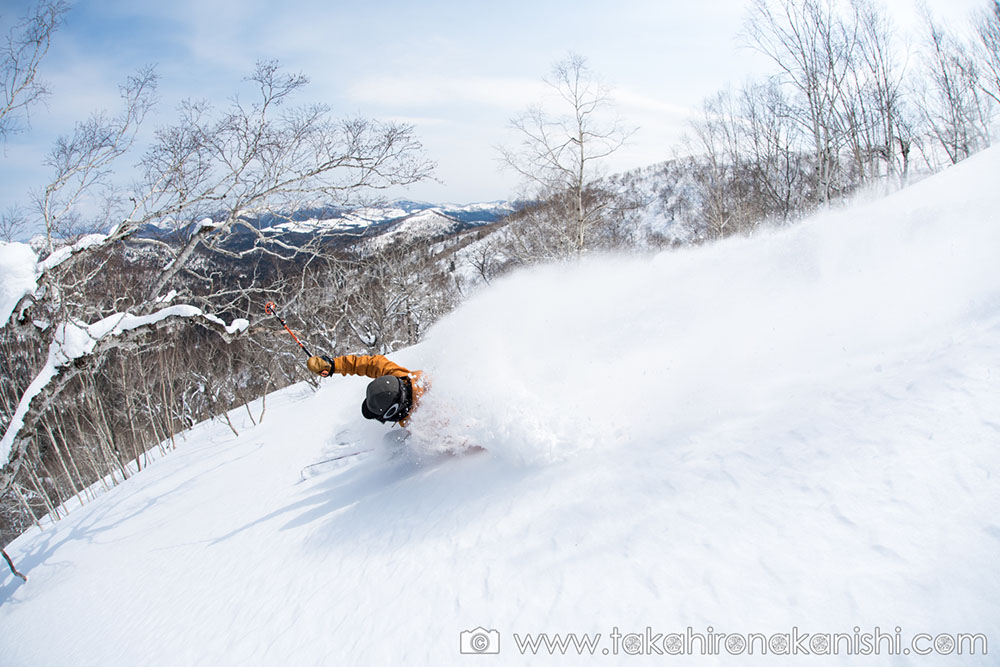 We asked Riki for an example of how to plan a 5-day itinerary for overseas guests who want to enjoy their stay in Asahikawa to the fullest.
RIKI
Looking at the weather forecast that day, I will choose a place where there has been snowfall and powder for the last 5 days.
Day 1 : Morning: Nayoro Piyashiri / Afternoon: Adapting at Hinata Ski Resort
Day 2 : To Asahidake, where everyone wants to go
From the 3rd to the 5th day, we will move according to the weather and snow conditions, but when it comes to the scale of the ski resort, Kamui Ski Links is easily accessible, and is widely varied in terrain. Also, Furano Ski Resort is good as it has easy access to backcountry. I think Asahidake, Kamui, and Furano are three must-visit areas.
A convenient combined ticket for Tomamu and Kamui Ski Links will be issued from this season onwards. Asahikawa and Tomamu are a little far from each other at two and a half hours away, so instead of day trip I think it's a good plan to stay at Tomamu for a few nights and then head north to Asahikawa.
A great base for exploring Hokkaido's powder belt

If you are staying in Asahikawa for a long time, it is recommended to stay at "OMO7 Asahikawa", a hotel managed by the Hoshino Resorts Group. There is a shuttle bus from OMO7 to Asahidake and Kamui Ski Links, so it's particularly convenient for skiers and snowboarders.
From this season, the "Powder Belt Liner" will also make stops at Hoshino Resorts Tomamu, thus further expanding the range of operation. As such, even if you don't plan to travel by rental car, accessing the snow resorts from OMO7 is simple and stress-free. The rooms are modern and cozy, have good storage space and internet connection. Since it is in the city, it is very convenient.
---
3 famous restaurants in Asahikawa introduced by RIKI
DAIKOKUYA 
If you want to eat Genghis Khan, you should visit this restaurant at least once. The thickly cut and tender lamb, dipped in a homemade secret sauce, cooked alongside fresh vegetables locally grown in Asahikawa, is absolutely delicious. There is also a private room so you can spend time with your friends.
Oyster Bar NAKABANYA
A shop where you can eat oysters cultivated in Lake Saroma by a Japanese professional snowboarder. It's a shop with a strong snow sports culture, so it should be fun to visit. The grilled and dried oysters served here are delicious, so if oysters are your thing then this is the place for you.
https://www.facebook.com/%E7%89%A1%E8%A0%A3%E5%B0%8F%E5%B1%8B-%E4%B8%AD%E7%95%AA%E5%B1%8B-1564485546951292/
Yakitori YOSHIYA 
An old-style Japanese izakaya that is sure to please overseas guests. When you ask for hot sake, it comes in a kettle. Asahikawa's specialty Shinkoyaki (baked half-body of a young chicken) is delicious. It is also fun to take a walk around Furarito, a small alley full of restaurants, and soak up the lively atmosphere.