Ride down mystical mountains formed by the hands of the mountain gods at Japan's best local ski resort | Kamui Ski Links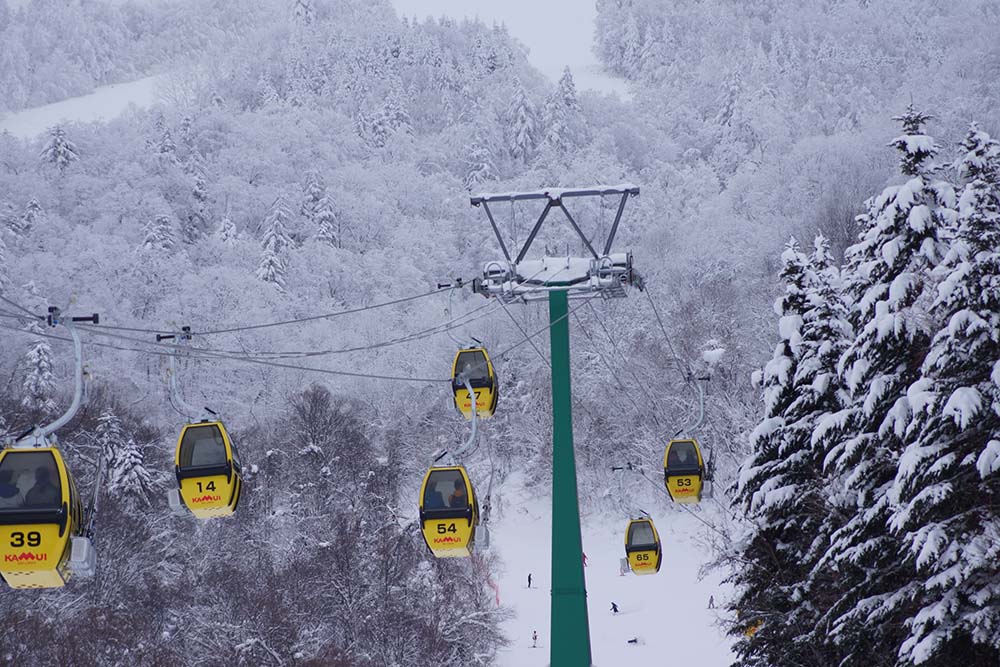 KAMUI'S PRIDE
A 30 minute drive from Asahikawa City, Kamui Ski Links is the largest resort in the Northern Hokkaido area, boasting 25 individual courses. Among Hokkaido's skiers, Kamui is regarded as the best local ski resort.
We asked the head of marketing at Kamui Links: "What parts of Kamui Ski Links are you most proud of, and what distinguishes it from other Hokkaido ski resorts?"
They responded with the following:
The snow quality is so smooth that it cannot be imitated in other areas, even Hokkaido and I am absolutely confident!
2. You can really feel the power of Hokkaido's nature here, particularly when you stand at the top of the mountain and look down at the spectacular view of the Ishikari Plain, framed by rime-lined treetops.
3. The lift ticket remains at 3,800 yen for whole day!
4. We release more updates than any other one-day ski resort. We update our official website and facebook every morning before 7am, to provide the latest information on snowfall so skiiers can check before visiting.
We interviewed Mr Makoto Asakawa, a professional skier from Asahikawa, to further understand the charm of Kamui.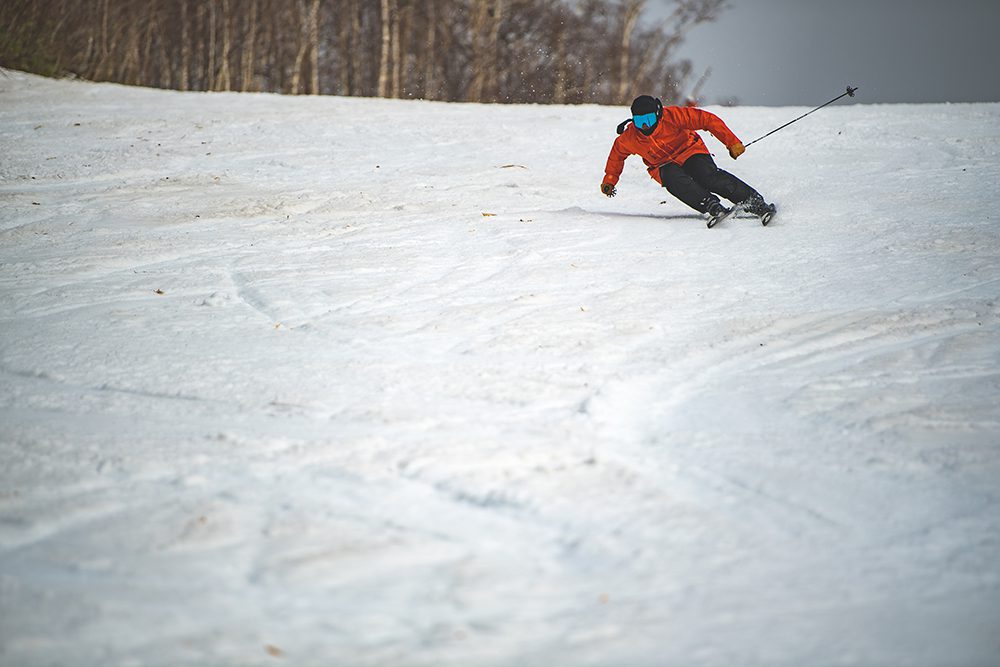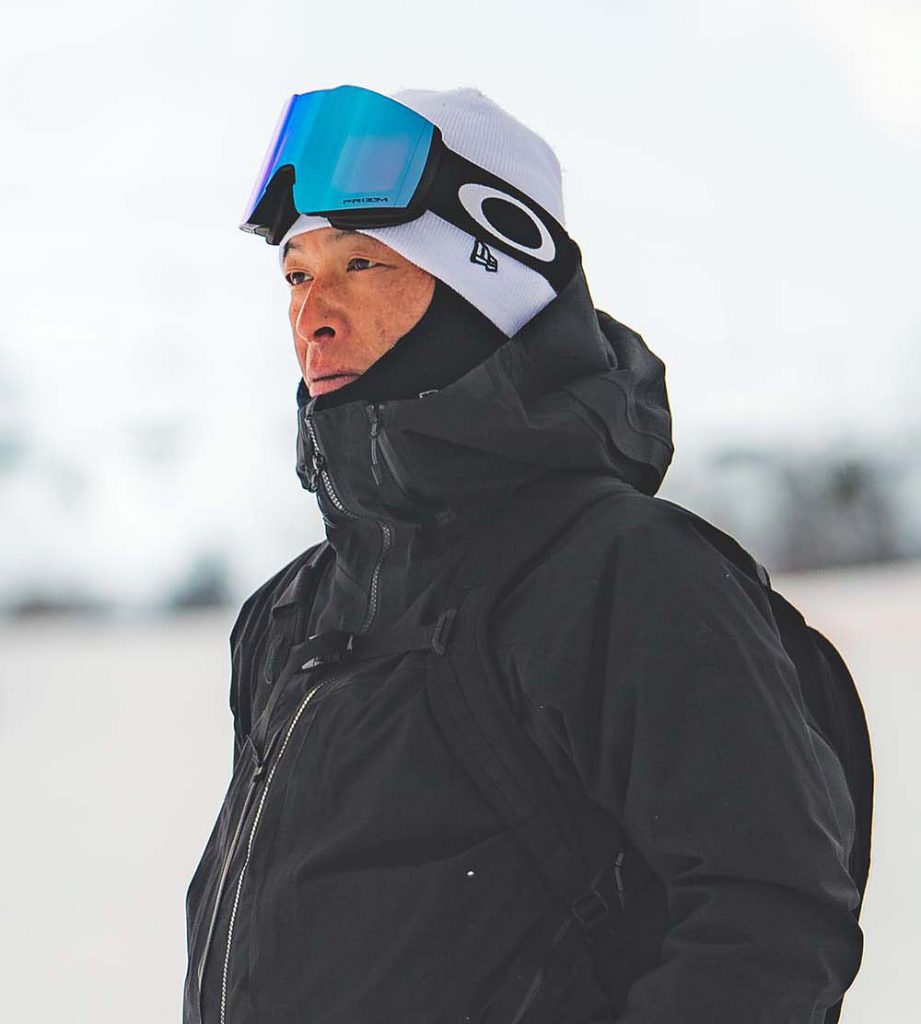 浅川 誠 Makoto ASAKAWA
Professional skier
 
A Kamui local, Asakawa has been skiing in Kamui since he was a child. Currently he is a course advisor and course developer. He is also the ambassador of Kamui Ski Links.
---
The profound charm of Kamui Ski Links that I want to convey to overseas guests
Kamuiyama, which is said to be inhabited by the gods, is a mountain that was protected by the Ainu people. In Ainu culture, everything found in nature has a soul, which the "Kamui". Even now, Kamuiyama is well-loved bylocals, including Mr. Asakawa.
For me, who was born and raised in Asahikawa, Kamuiyama is the place where I have been playing, skiing since I was young, so I have a special feeling for it.
Unlike the gorgeous resorts, Links hotels and leisure facilities are extremely local and low profile. But living here, alongside the people who have been protecting the mountain over the years, this is something deeply rooted in our culture, and I think that we should take pride in this. I think this is the most charming thing about Links.
This mountain itself is an invaluable cultural property of Hokkaido where the Ainu people lived long ago. We developed it into a ski resort. When Hokkaido was just beginning to develop, Kamuiyama was right at its center.
I want overseas guests to know that the culture of the Ainu, the indigenous people of Hokkaido who protected Kamuiyama, has become rooted in us, and is the reason why the mountain has become what it is today. When we ski in this area, we are in fact skiing on a precious land with a deep history.
Creating a Course Which Shows Skiers how to Enjoy Kamuiyama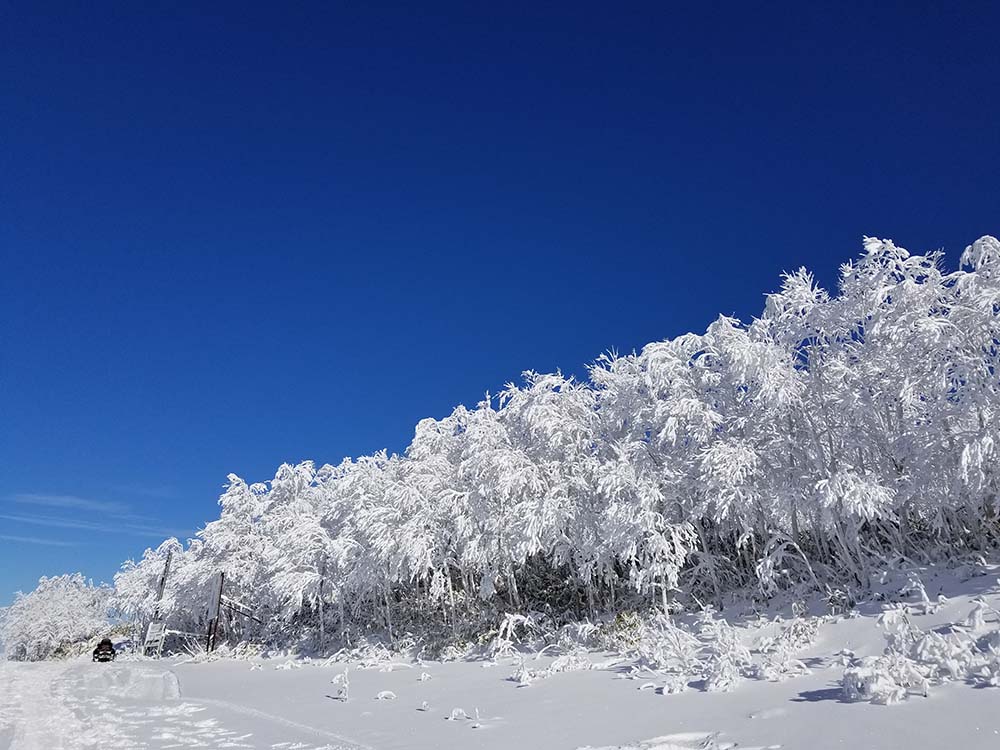 Mr Asakawa gave us the low-down on his new project:
― I'm currently working on a project. We are working to remake the Todomatsu, Bumps, forest course and three advanced non-compacted snow courses into an adventure course that anyone can enjoy. I want visitors to feel the origin of fun playing in the mountain in Kamui.
"Is this really a course?", one may think. It's wild enough to make you feel unfamiliar, but also thrilling enough to fill your heart with adventure and excitement. Flags are only placed in important places. You will never get lost.
It's going to be a fun course packed with orienteering elements and scheduled to be completed by this winter.  Anyone who comes, whether it's an advanced foreigner or family groups, will definitely be delighted. I am looking forward to seeing their happy faces saying, "this is fun!". Please come to Kamui!
The three adventure courses I mentioned are entered through the gate beside the Logging Road, heading downwards to the gondola base via a non-compacted tree run. You can expect trees, fallen logs, large steps and uneven slopes along the way, the terrain is fantastic.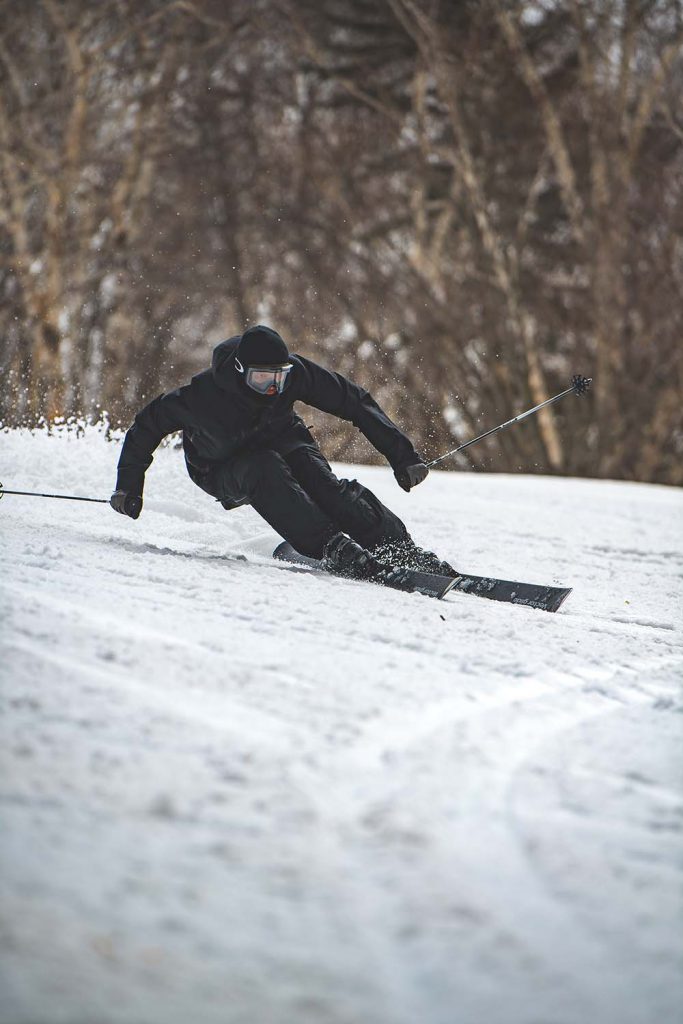 | | | | |
| --- | --- | --- | --- |
| | Level | Length | Max Slope° |
| Todomatsu course(Powder ) | ◆Advance | 800m | 30 ° |
| Bumps ( Powder ) | ◆Advance | 1100m | 30 ° |
| Tree run ( Powder ) | ◆Advance | 1200m | 30 ° |
Features of Kamui Ski Links' Slopes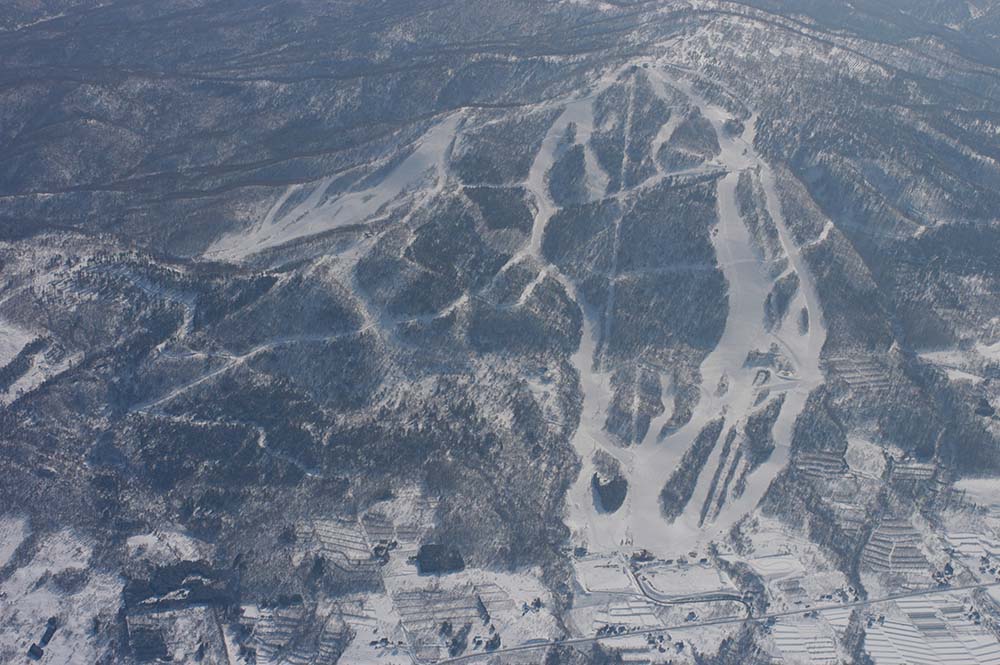 There are 25 courses which extend from the 751 meter tall mountain top, which is straddled by the 2327 meter long bright yellow Kamui Gondola-the face of Kamui Ski Links. These courses are highly diverse, ranging from a FIS-approved full-scale course which features a 601-meter difference in elevation, to a course which, whilst still within the regular ski area, is an ungroomed-course which allows skiers to enjoy powder snow on a course which has been left in its natural form.
The 400ha ski resort is well balanced to suit skiers of all levels, with 32% of the courses suitable for beginners, 36% for intermediate skiers and 32% for advanced skiers.
Kamui's powder field which covers an astonishing 32% of the entire resort consists of 8 un-groomed courses which extend across the upper portion of the slopes. There are courses to satisfy advanced skiers, such as the vast Tree Run Field and "steep and deep" powder courses featuring slopes which include gradients of over 30°.
For a limited time, there is also a deep snow spot on the forest trail, making Kamui irresistible for powder hunters. Located inland in a low-temperature area, Kamui's powder quality is incredibly dry and light, even compared to other resorts around Hokkaido.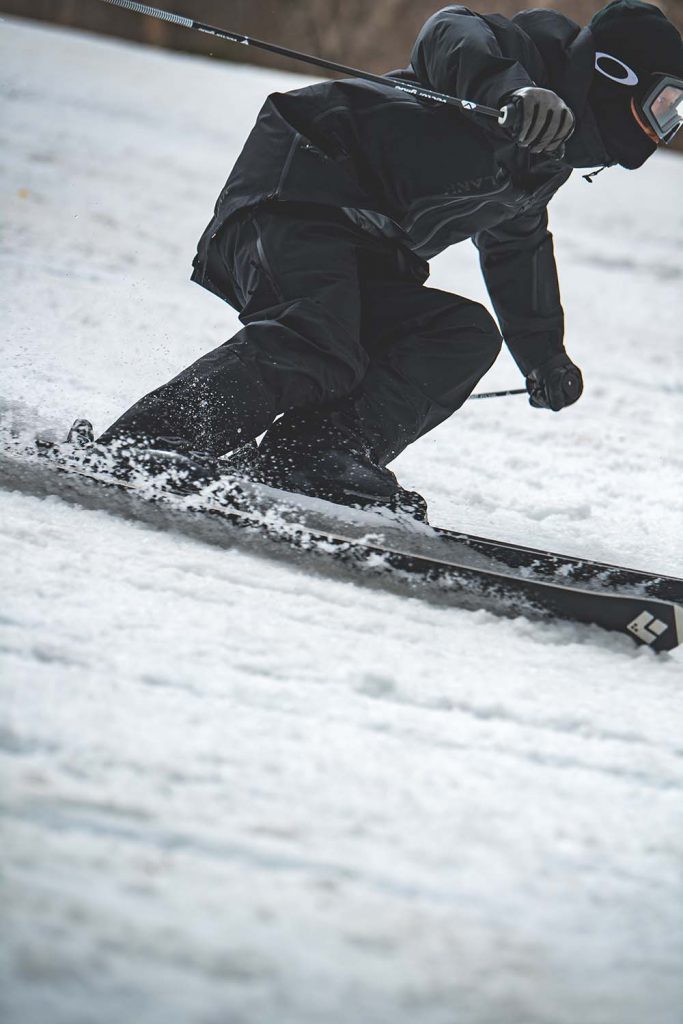 ― As a skiing area, Kamui's attraction is the variation of courses it offers. Overall, there are many technical courses, which are satisfying for advanced skiers.
Mr. Asakawa tells us: "I think that Kamui has the image of being a fairly difficult ski resort, even for the advanced skiers. In fact, I feel that a lot of those who come from overseas to ski at Kamui Ski Links are advanced skiers, many of whom have already experienced skiing at Niseko and other major resorts.
Even those who do not ski can take a gondola ride to enjoy the wonderful view from the mountaintop. It is very popular among overseas guests, who like to enjoy the scenery while eating delicious pizza at the mountaintop restaurant."
Mr. Asakawa's Special Selection- Kamui's Must-Ride Courses!
We asked Mr. Asahikawa to tell us about his 3 favorite slopes at Kamui.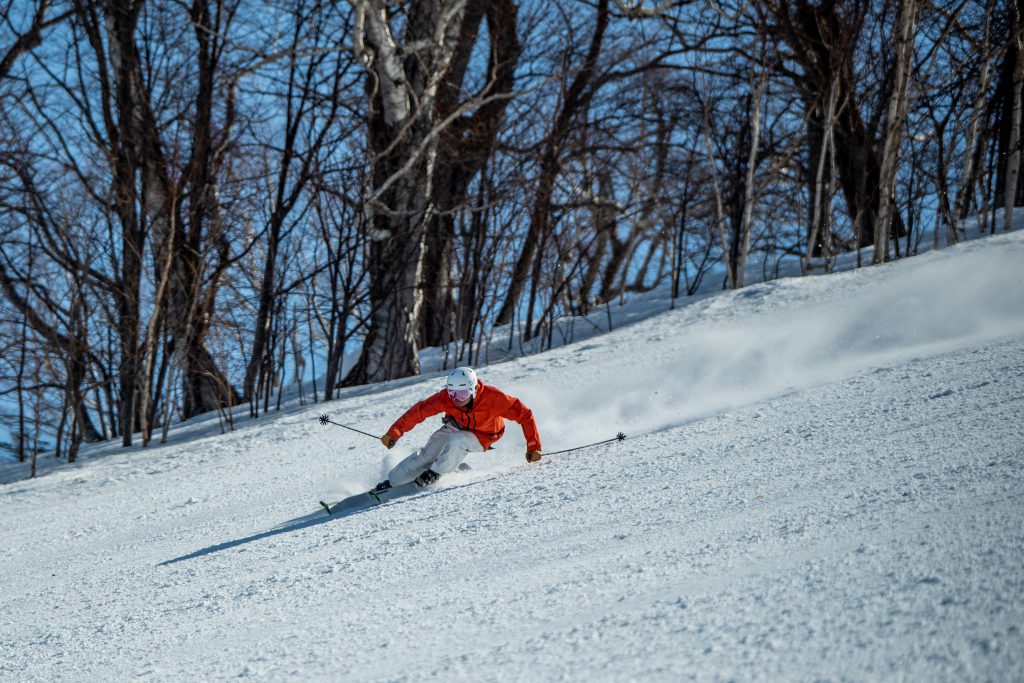 No.1   Gold 3・2・ 1
My absolute favorite is the Gold course. There are 3 Gold courses, each of which are connected, starting at Gold 3 at the top of the mountain. I definitely want you to try this course when you come to Links. Although the course runs right through the center of the resort, if you aim to hit the slopes early in the morning you can expect beautifully groomed slopes. This course features wide and steep slopes, guaranteed beautiful scenery and an amazing sense of speed, so it should be tried in the morning.
I also want to let people know that there's more fun to be had at Links than just powder. Even the groomed slopes are not at all icy, and it feels amazing when your skis bite into extremely fine snow, which develops as a result of the areas' low temperature.
| | | | |
| --- | --- | --- | --- |
| | Level | Length | Max Slope° |
| Gold 3(Groomed ) | Intermediate | 900m | 22 ° |
| Gold 2(Groomed ) | Intermediate | 1200m | 30 ° |
| Gold 1(Groomed ) | Beginner | 900m | 18 ° |
On Gold 3, Kamui's main course, you can enjoy the beautiful rime ice trees and spectacular scenery of the mountain top. Gold 2 features a maximum incline of 30°and sudden acceleration due to changes in the gradient. Gold 1 is a forest course located towards the bottom of the mountain.   
No.2 Royal ( Intermediate・Advanced)
The Royal Course is an ungroomed course near the top of the mountain. It is targeted at intermediate and advanced skiers, and if it snows, there is a great chance of powdering. It includes steep angles, so you can expect some Steep & Deep riding!
No.3 Deep Powder (Powder) & Fresh Powder ( Powder)
Accessible from the No. 5 lift area on the left side of Kamuiyama. The opening of these courses is dependent on the condition of the slopes and the snow, but please try them if you get the chance.
-Deep Powder (Powder)
Open for limited period only, you can enter through the gate next to the No. 5 pair lift into a forested area with extremely deep snow. Nowhere else but here can you experience such wonderful top-quality powder snow.
- Fresh Powder ( Powder)
Accessible via the Logging Road course, Fresh Powder is only accessible for a limited time period. The course includes forested spots with extremely deep powder, so it's perfect for easily experiencing Kamui's famous powder snow.
Getting the Most out of Skiing at Kamui
Recommended Route
Introducing the "Asakawa style", a recommended skiing routine to efficiently enjoy Kamui's slopes to the max.
"I would strongly recommend starting off with the following 3 courses:
Early in the morning, take the gondola up to the top of the mountain and ride the gold courses 3,2 and 1 on your first decent. Then take a ride around the Royal and Deep/Fresh Powder courses- these are a must-try! I would also highly recommend that you try the Shirakaba course, as it has great variations in gradient, and has been approved by the FIS.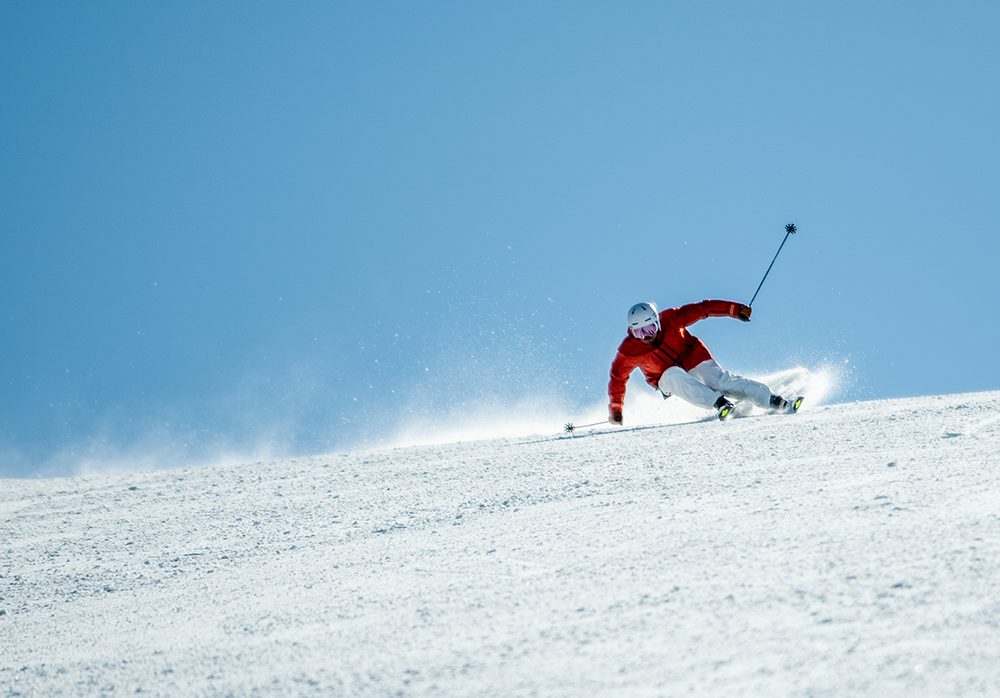 Many kinds of skiers come to Kamui, including racers and fat skiers. Whatever your style, I would suggest using your first run of the morning to let your legs get used to the packed snow. After warming up, free to explore your favorite un-groomed powder or tree run course.
Even if you want to ski off-track to skip the early morning crowds, if you warm up first you will find that you can move better, and your vision is sharper. Whenever I escort a guest around Links, I will always encourage them to do a Gold run or two first, regardless of how much fresh snow has accumulated on the slopes. After this they can do whatever course they like. After a day exploring the slopes, watching the beautiful setting sun from the top of the mountain will leave you feeling that "Links is the best!". I think that this is the best approach.
Which Season is the Best to Enjoy Kamui?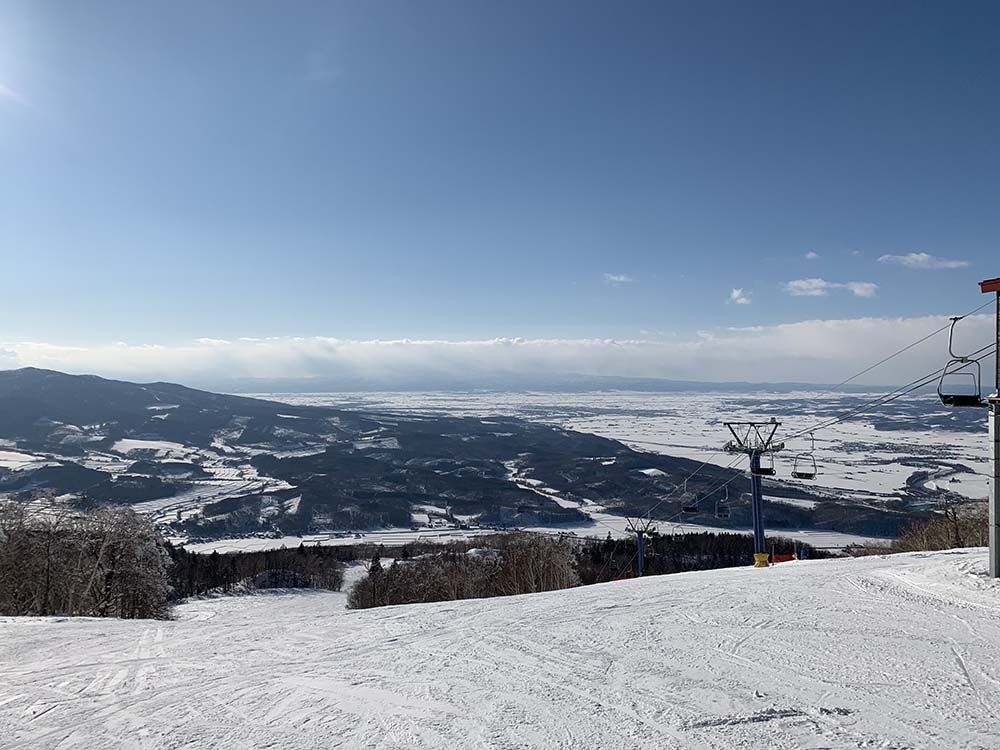 Kamui is in the north of Hokkaido so you can enjoy skiing here right from when the resort opens in December. The first month after it opens is particularly good. However, as daylight hours are extremely short at this time of year it gets dark by around 3PM.
Taking this into account, I think that the best season is in early February, as this is when you can experience the cold temperatures, snow quality and harsh conditions of the mountain in winter. At this time of year if you finish skiing at around 3PM you can catch the sunset, which I think is the best way to enjoy Kamui to the fullest. Early February is also the coldest time of year, so there's a chance that you'll see a sun pillar, a phenomenon in which ice crystals in the air reflect glittering light when the sun shines on them. It's an incredible sight.
If you mainly want to enjoy the slopes, I think that the snow is best for this up to around a month after Christmas. From around the second week of March it begins to gradually get warmer, and spring comes very quickly. Around this time the snow becomes slushy, so it's best to come earlier in the year.
Kamui's Must-try Experience!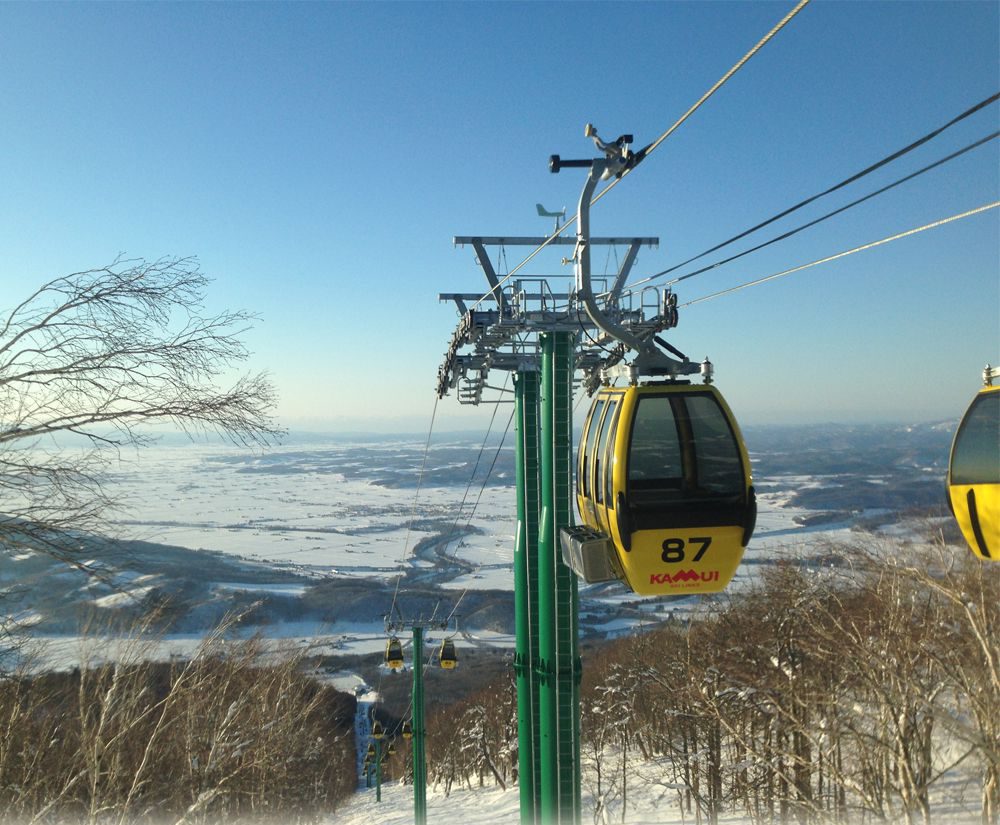 When you visit Kamui you can't miss the scenery from the top of the 751 meter tall mountaintop. Views of frost-covered trees and the Ishikari Plain will impress on you the majesty and beauty of Hokkaido's natural landscape.
"Melt water from Daisetsuzan gathers at the exit of Asahikawa City and flows into the largest river in Hokkaido: the Ishikari River, which starts out from Kamui Kotan. From the top of the mountains, you can see both the head of the Ishikari River and the Ishikari Plain.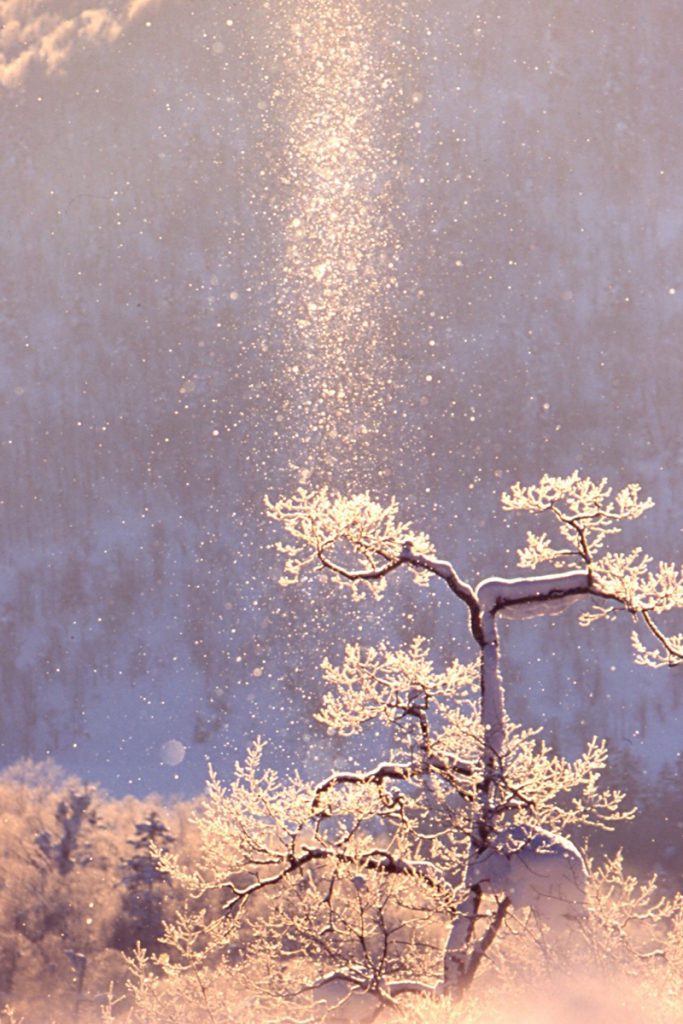 On a clear day, if you look down at the Ishikari River from the top of the mountain you will be able to watch the beautiful sunset. I think that this is still the most attractive part of Kamui. If the temperature and conditions are just right, you may even see a Sun Pillar-a fantastical phenomenon in which a pillar of light appears to descend from the sky!"    
Kamui's Must-Try Foods!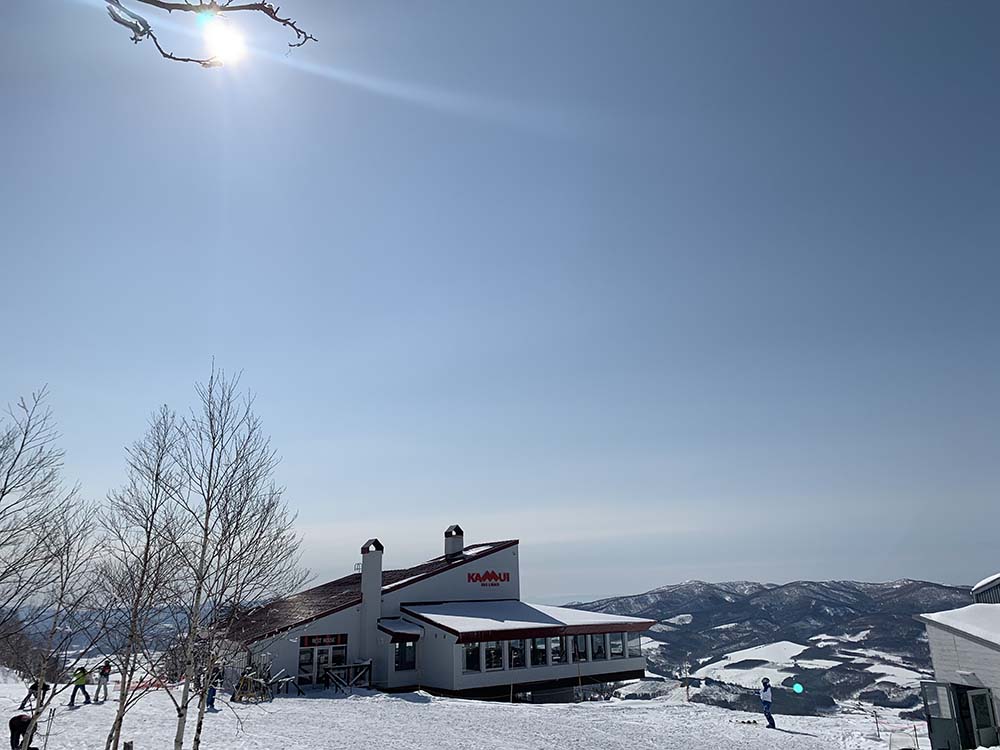 The mountaintop restaurant "Trattoria & Pizzeria Monte 751" offers a relaxing atmosphere with a fireplace and a panoramic view of the mountaintop.
The Center House restaurant is a large restaurant with more than 500 seats where you can enjoy Asahikawa ramen and other well-loved local dishes.
Mr. Asakawa recommends the super-large curry "King of Kamui" at the center house. You'll be amazed by the volume that consists large serving of roux and rice + cutlet + croquette + fried egg. And pasta and pizza at the mountaintop restaurant are delicious too.