A Magical Wonderland Which Offers Everything! Home to the Longest-lasting Powder Snow. | Hoshino Resorts Tomamu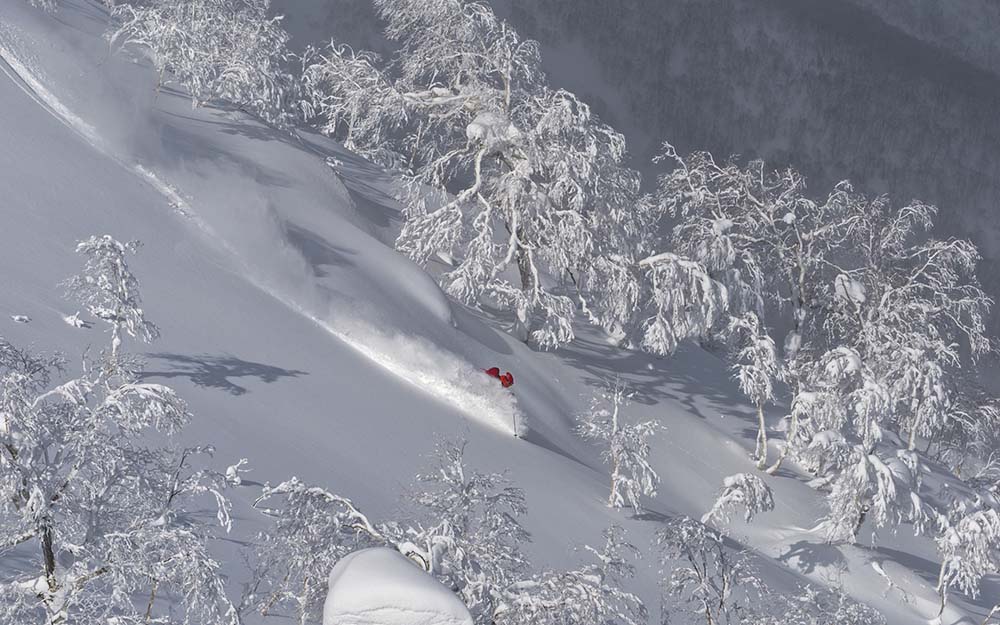 TOMAMU's PRIDE
Hoshino Resorts Tomamu is a veritable treasure chest, with all of the charms of Hokkaido's winter months packed into the resort's vast 1,000 hectare lands. Whether you're a powder hound core skier or a complete beginner, family, couple, or solo traveler, Tomamu is a wonderland of enjoyment like no other.
We asked Tomamu's Marketing team to tell us what they love about Tomamu, and why guests from abroad should choose to visit.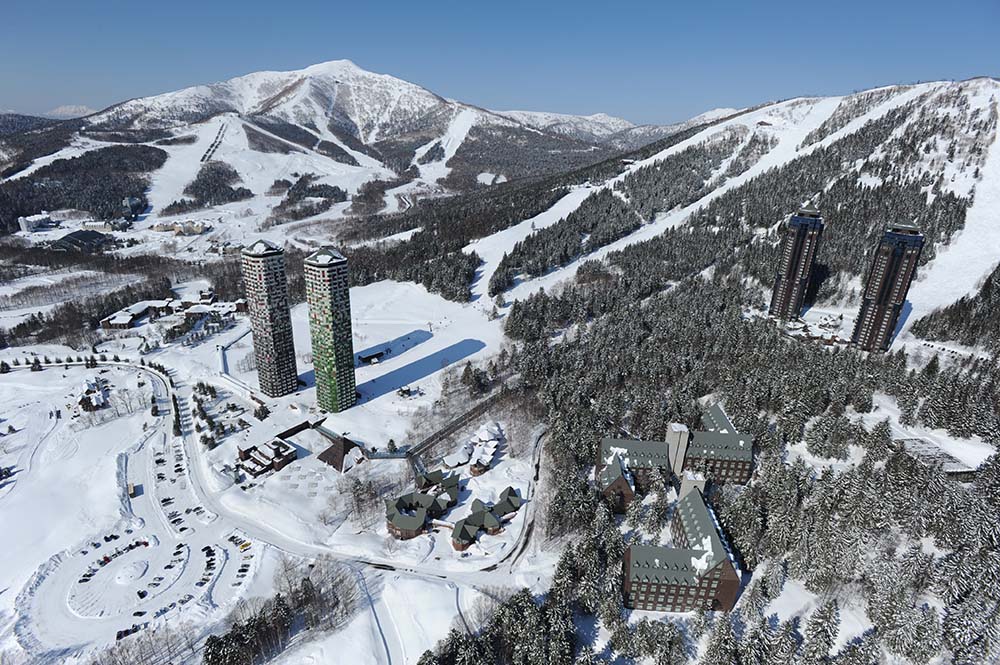 ---
1. There is a train station, a nearby highway interchange and 3 airports located in close proximity, making it a perfect base to visit other nearby ski areas.
2. There is plenty of after-ski entertainment.
3. As part of Tomamu's commitment to winter mountains, we have opened up powder areas where you can do off-piste skiing.
4. Because it is in an ultra-low temperature area, you can enjoy fluffy JAPOW much longer than anywhere else!
Let's take a look in more detail.
---
Hoshino Resorts Tomomamu's accessibility makes it easy to tour the area.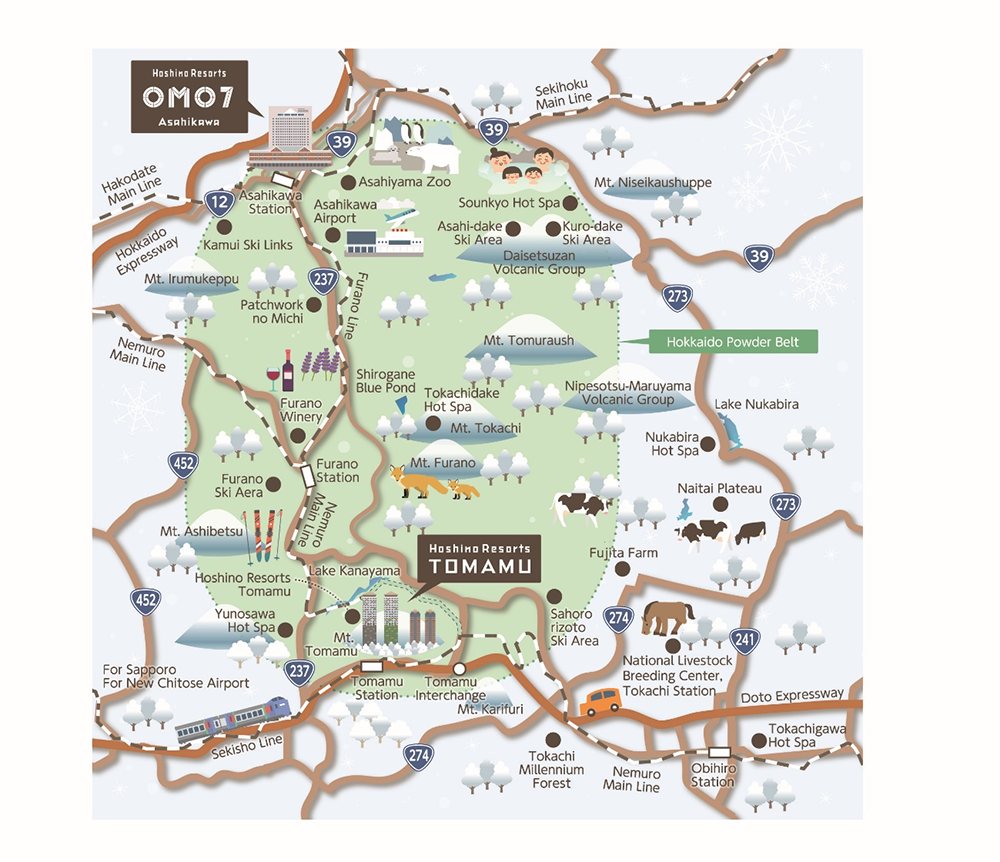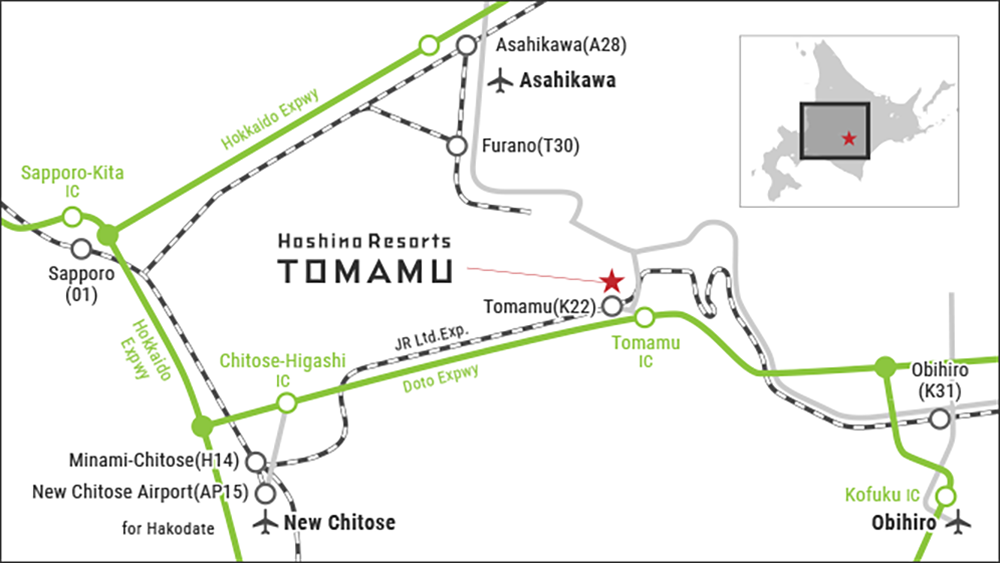 Located in central Hokkaido, Tomamu is surrounded by 3 airports, New Chitose, Asahikawa and Obihiro Airports. All of them are just 90 minutes journey by expressway. The resort is conveniently located only a 5 minute drive away from the Tomamu interchange exit. The limited express JR Ishikari Line Tomamu Station, which connects New Chitose Airport and Tomamu, is located inside the resort, and there are 11 round-trip limited express trains a day.
Using Tomamu as a base it is easy to visit the Asahikawa, Tokachi and Obihiro areas for sightseeing, and core ski and snowboarders can ski around other resorts such as can ski around Furano, Sahoro, Kamui Ski Links, as well as the surrounding backcountry areas. In short, Tomamu's location is very convenient for all kinds of tours and activities.
Rich content for everyone
Tomamu is a like a treasure chest packed with fun and activities. Whether you are a family with children or a non-skier, we have something for everyone during your stay here.
MUHYO TERRACE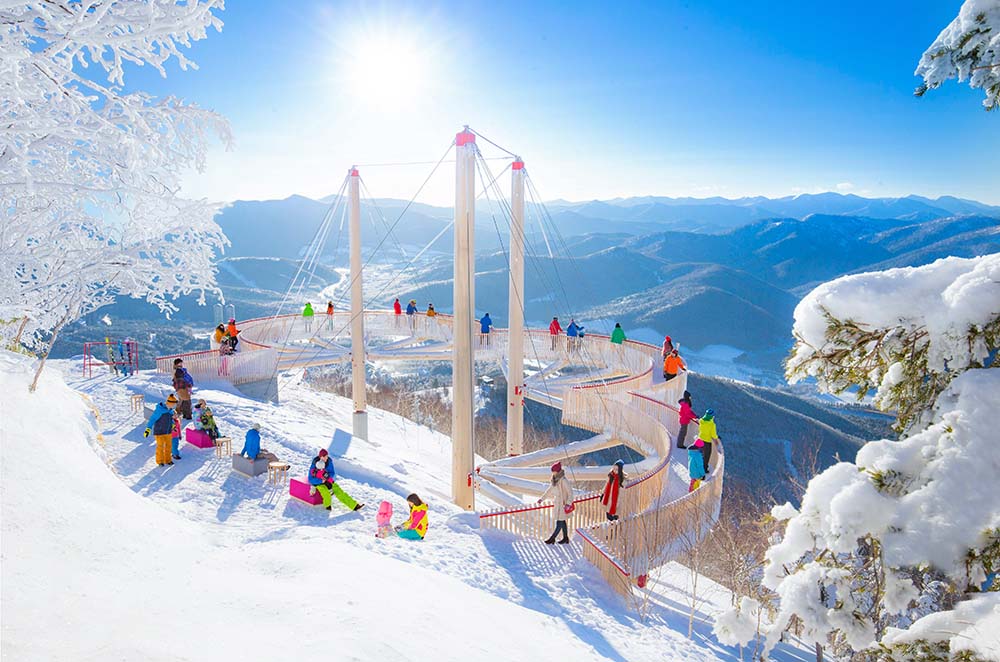 From the foot of the mountain, a 13 minute ride on the Unkai Gondola will transport you to another world. From the MUHYO TERRACE (1,088m), you will see before you the fantastic sight of frost trees and magnificent Hidaka Mountains. At the observation cafe, how about some original frost-themed coffee and sweets to perfect your journey into the land of silvery snow.
Mina-Mina Beach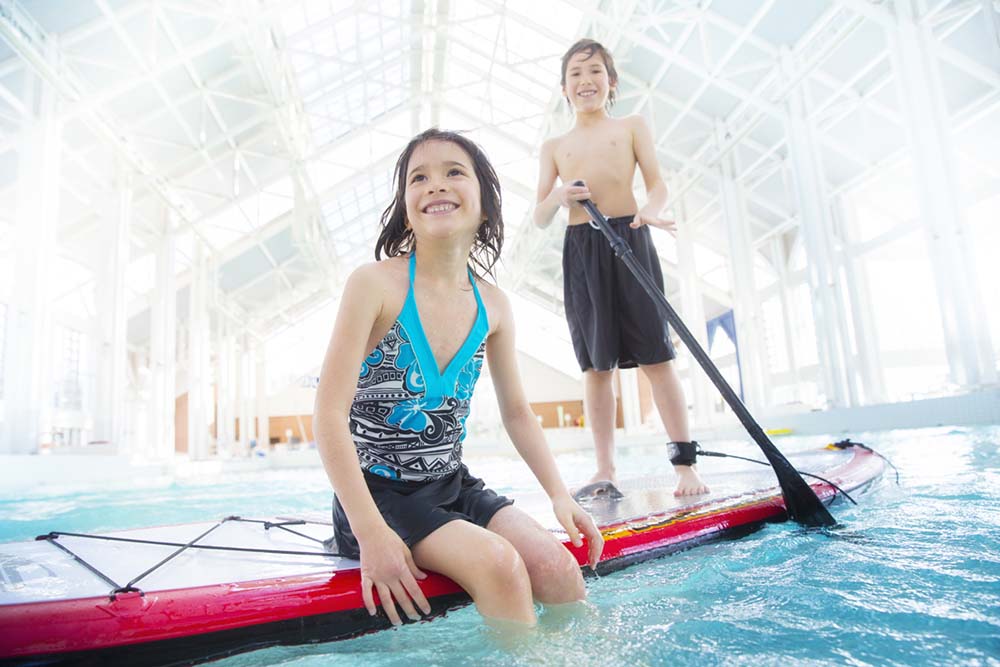 30m x 80m in size, Mina-Mina Beach is Japan's largest indoor beach. Both adults and children alike can enjoy fun  activities such as Standup paddle boarding are possible due to Mina-Mina's artificial waves. Even when it is -20 ℃ and extremely cold outside, the temperature inside this glass-walled building is kept at over 30 ℃, making it summer all year round.
HOTARU STREET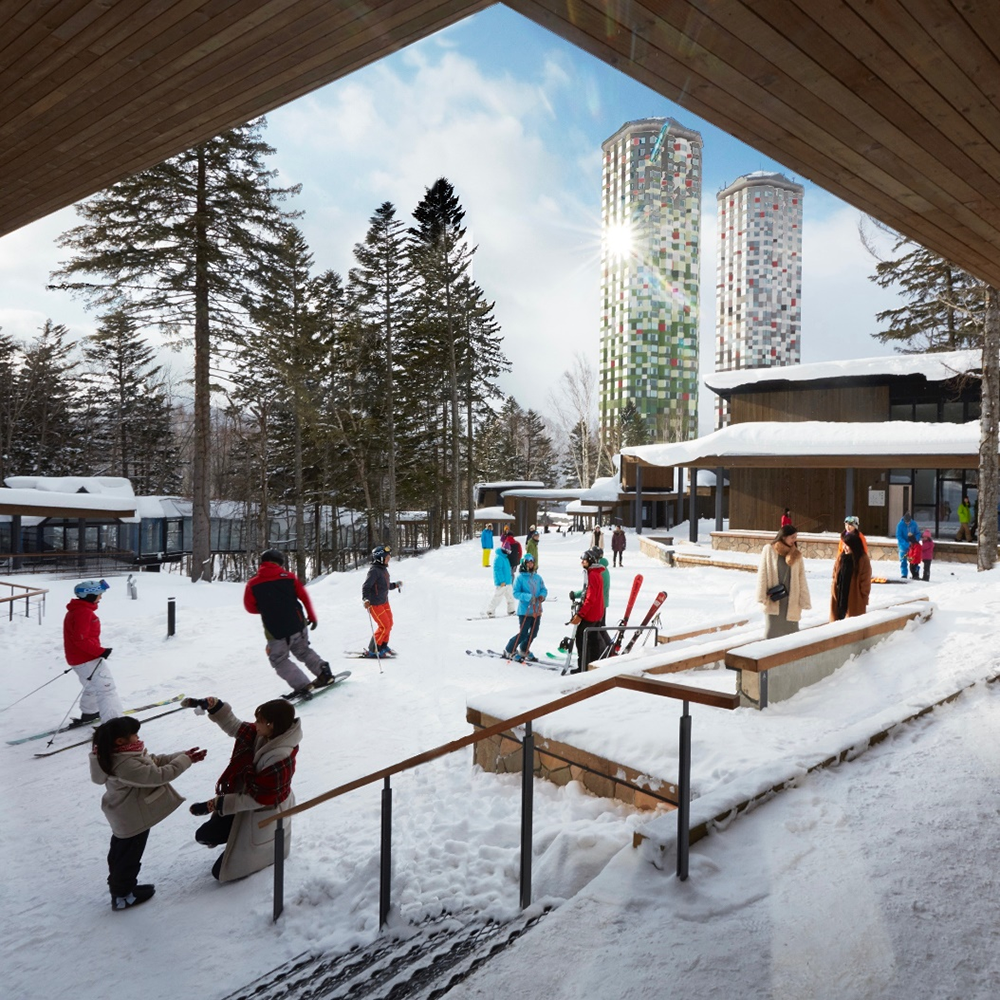 Japan's first shopping street that visitors can enter without removing their skis and snowboards. Nestled in the middle of the slope, it is easily accessible through the linkway from the hotel, so both skiers and non-skiers alike are welcome to drop-in. There are 8 restaurants serving dishes of fresh and delicious ingredients from Hokkaido for your enjoyment.
ICE VILLAGE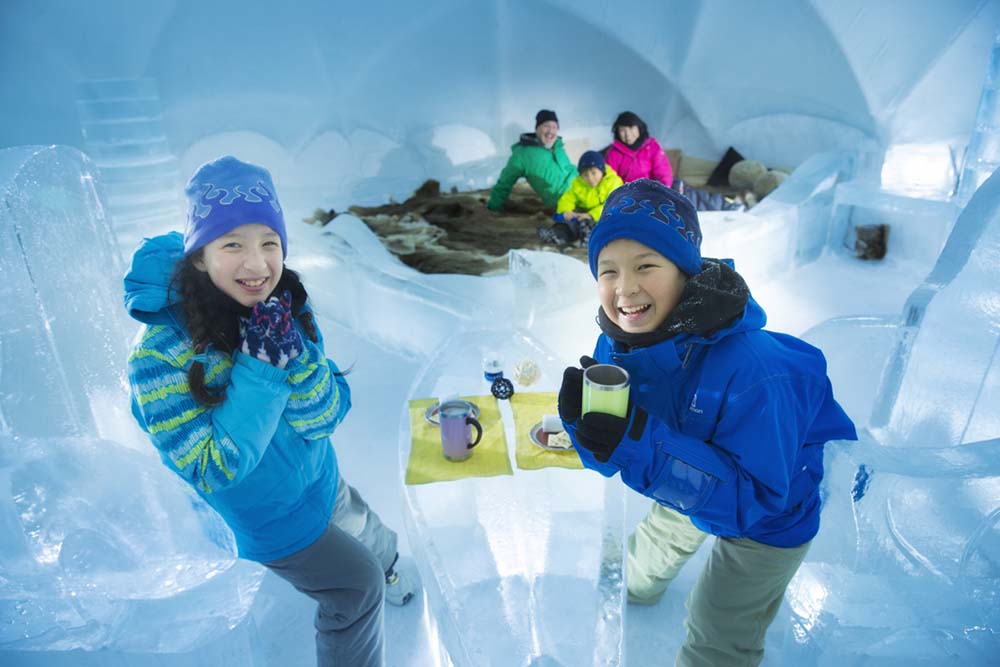 "Tomamu's "Ice Village" is born from the freezing cold winter temperatures which can drop as low as -30 ℃. Everything here is made out of ice, from the ice tables and chairs lining up in the Ice Crystal Park, Ice Church and Ice Hotel, to the Ice Sweets Shop and Ice Slide. The array of objects created from ice forms a dreamy and magical wonderland for your unique winter experience.
Various snow activities in Tomamu's nature land
Activities are perfect on days when the mountain conditions are not good, when you are a little tired, or when you want give your child to have a fun-filled snowy mountain experience. Hoshino Resorts Tomamu answers to these needs and has come up with an exciting series of activities for you and your family.
「Tomamu's commitment to winter mountains」
The world of powder and backcountry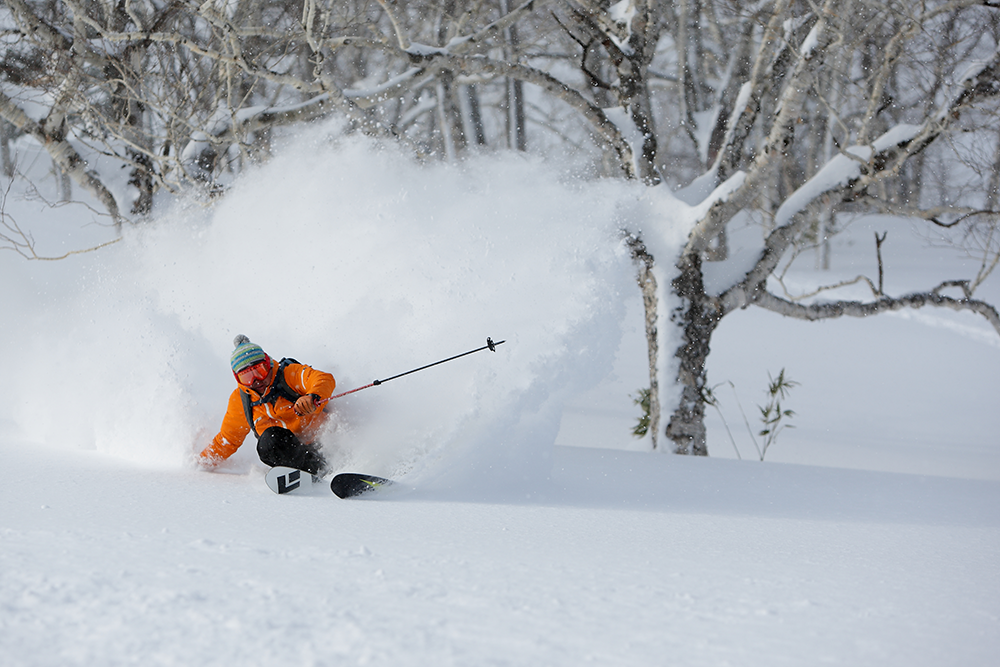 In line with Hoshino Resorts Tomamu's "Commitment to Winter Mountains", the resort strives to provide various ski contents designed to maximize visitors enjoyment of the naturally formed powder snow and backcountry skiing.
Officially approved course on "open areas"
Other than the restricted area, the zone outside of the ski controlled area is designated as an "advanced-only open area" where it is possible to ski provided that you follow the regulations. This is a remarkable zone with good powder, which you can access time and time again by the lift. Pre-lectures and procedures are required, however it's unusual to find a resort that has officially authorized off-course gliding.
CAT tour to Mt. Karifuri operated by the resort
A CAT tour which takes place at Mt. Karifuri, about a 20 minute car drive from the resort. Each tour is limited to 10 participants, who get the vast area all to themselves.
Surrounded by Hokkaido's magnificent scenery, you are sure to get your fill of Japow on this tour, which features a wide range of varied terrains ranging from tree runs to steep slopes. A special lunch prepared in the forest tent is served during the tour. You can also have photos and videos taken. Memories of this luxurious outing are sure to stay with you for life.
Backcountry program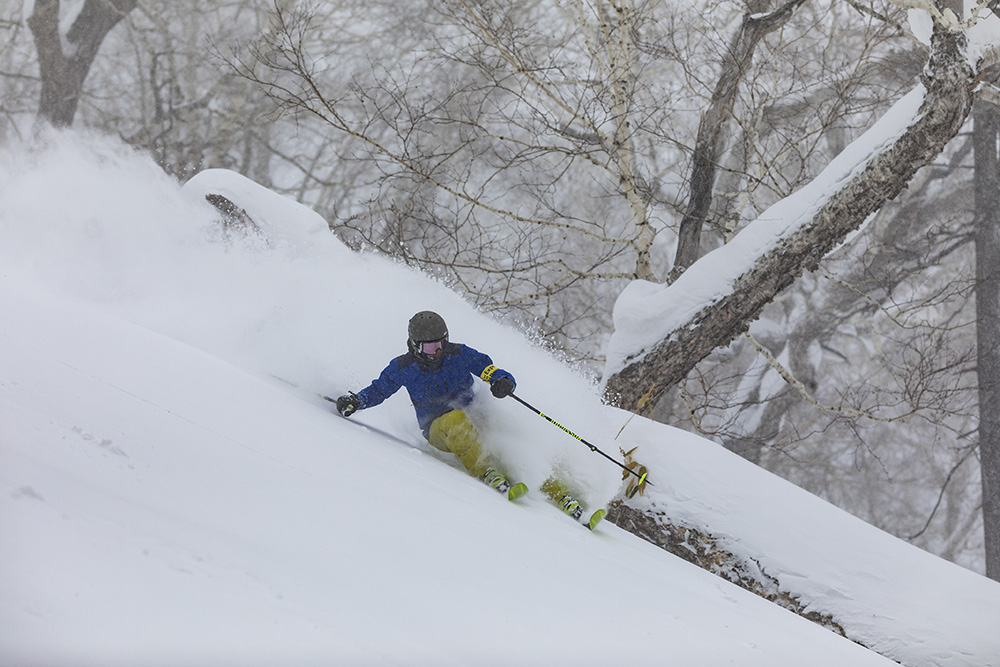 Backcountry programs organized by Tomamu resort are escorted by "Riki Japow Guide". Various programs are available to suit all levels, from beginners to advanced skiers. If you are new to backcountry, basic knowledge of backcountry skills must be learned before you can ski through the natural mountains. Avalanche gear is free for rental, so please feel free to join.
We invite skiers to join a Petit Backcountry tour suitable for their level. We take intermediate level skiers into Tomamu's hidden deep forest area, and advanced level skiers we take out on a wild tour. We also offer an incredible tour which involves setting off before dawn to hike up the mountain which faces Tomamu, and watch the sunrise from the top of the mountain before skiing down the slope in the morning sunshine. All programs accept up to 6 persons.
Tomamu is an ultra-low temperature area, so you can enjoy fluffy JAPOW for a longer period than anywhere else!
We ask Riki, who provides backcountry guide service at Tomamu, to share with us what he loves about the resort.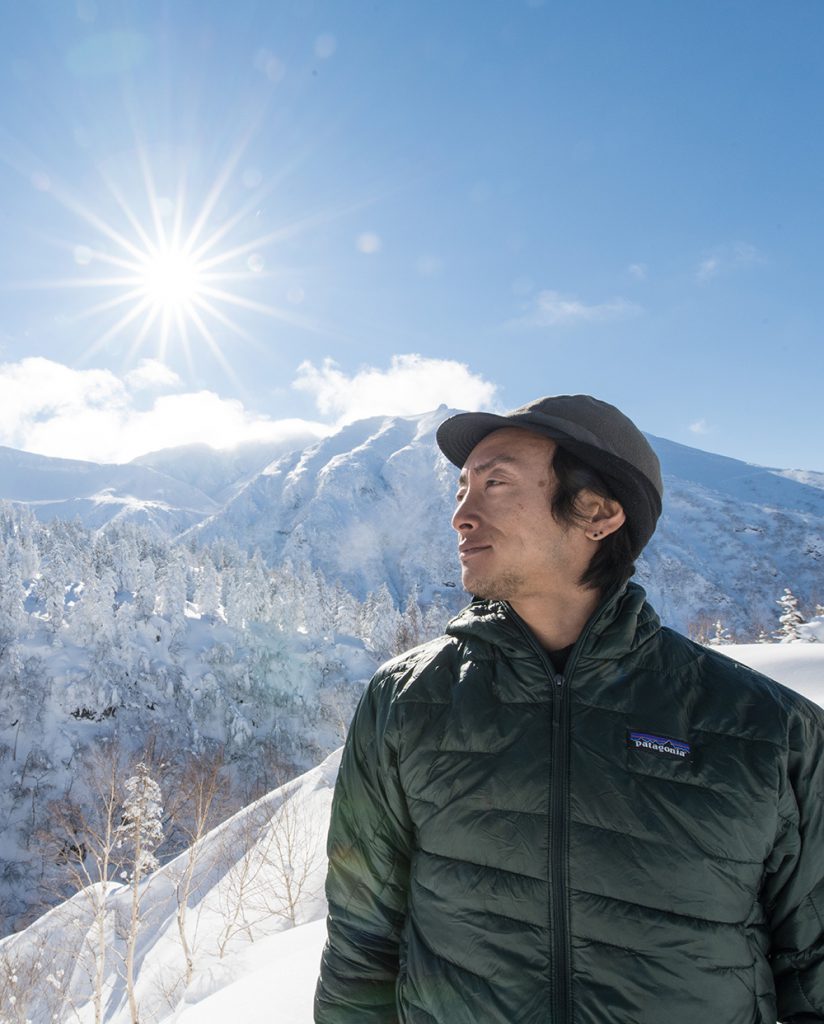 Riki Nakajima

Riki Nakajima is a guide who obtained the world's first freestyle ski coach license from Whistler & Blackcomb. He manages "Riki Japow Guide" and is based in Tomamu, providing guide services around Hokkaido's powder belt, including areas such as Tokachi and Asahikawa,
RIKI
 "Tomamu is an extremely cold area, reaching -20℃ on an average morning, and and even -20℃ on extremely cold days. So, the quality of the snow itself is very light. And because of the ultra-low temperature, the snow is basically frozen at all times. You can always expect good snow.
As it's inland, the amount of snow is not as much as in other areas, but there is no crowd, so even if it doesn't snow for a week, there are still many good areas where you can find untouched snow. I think this is a big advantage of Tomamu.
In March, many ski resorts in Hokkaido experience a sudden change from winter to spring, and I think this is when Tomamu really starts to show its strength. At Tomamu it remains very cold even in March, so even when the snow begins to melt elsewhere, Tomamu's snow remains strong, eventually matching the levels achieved by other resorts at the top of their season. Especially in the latter half of the season, the later you go the larger the difference you can see. On a good year you can still ski powder at the beginning of April; this is why Tomamu is such a special place.
Let's ask more
「THE MAN」Riki more about Tomamu's charm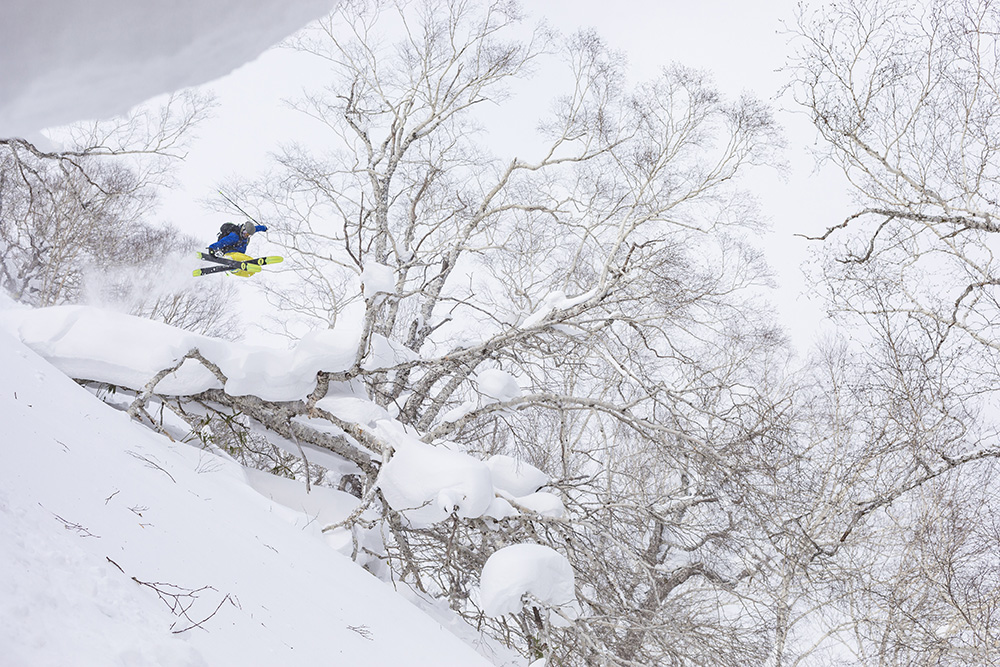 Q. Which of Tomamu's unique aspects would you most like to convey to foreign guests who come mainly for snow sports?
Like I mentioned, Tomamu's snow is exceptionally light, and due to the area's ultra-low temperature, the high season is long. As you can see from the location, Tomamu is like an independent resort on an isolated island. We only have stay-in resort guests, so it doesn't get crowded. This is very good, as it means that you are guaranteed to be able to enjoy powder.
There is also a tree run area for advanced skiers only, located outside of the official course. It's nice because you can repeat the tree run again and again using a lift. Many foreign guests ask to do tree runs. In overseas resorts there seems to be less opportunity to ski on areas with trees, so this aspect is sure to delight visitors from abroad. Last season was good, we got a lot of powder almost everyday. The slopes are wide and varied.
In this limited area, there is no need to have a guide, so it's easier than backcountry. Hardly anyone has ever gotten lost on the course, so there's no need to worry about that. That being said, if you go with a guide who knows the local area well, you'll rack up more runs and enjoy your day even more. This tree run is one of Tomamu's most highly recommended courses.
Q. Is there anything else you would recommend to advanced skiers?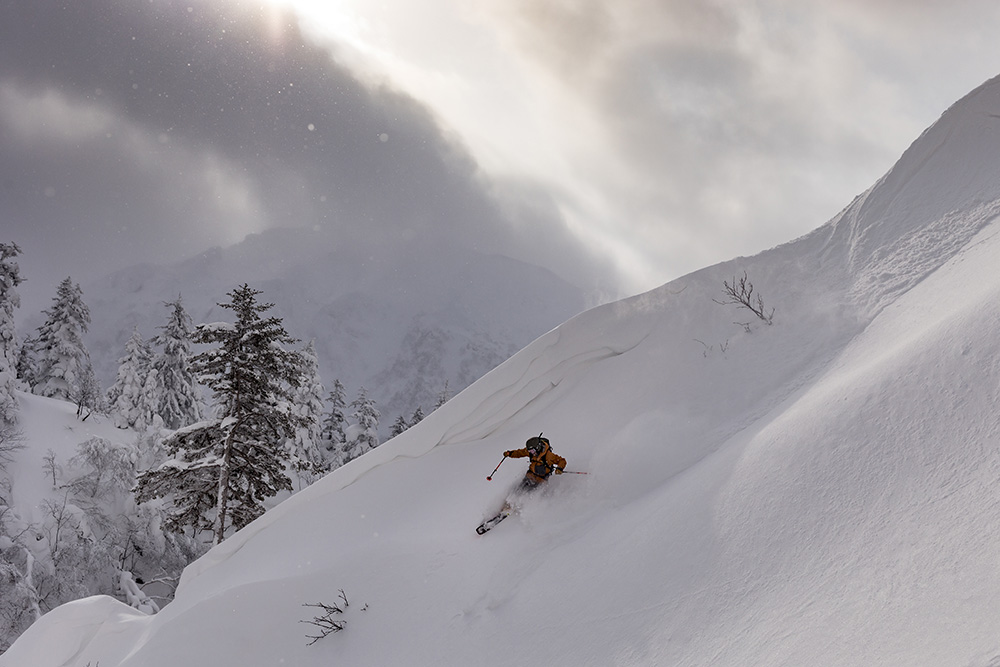 RIKI.
The CAT ski run's organized by the resort are also good! The runs take place at Mt Karifuri, only a 20-minute drive away from the resort. With only 10 participants per trip, you basically have the whole mountain to yourself. The included lunch is a multi-course meal, so it's a truly a premium experience.
Above all, I really want to recommend that advanced skiers use Tomamu as a base to take a backcountry tour of the Hokkaido Powder Belt, which stretches from Furano to Asahikawa.
Q. What courses and routines do you recommend on the slopes?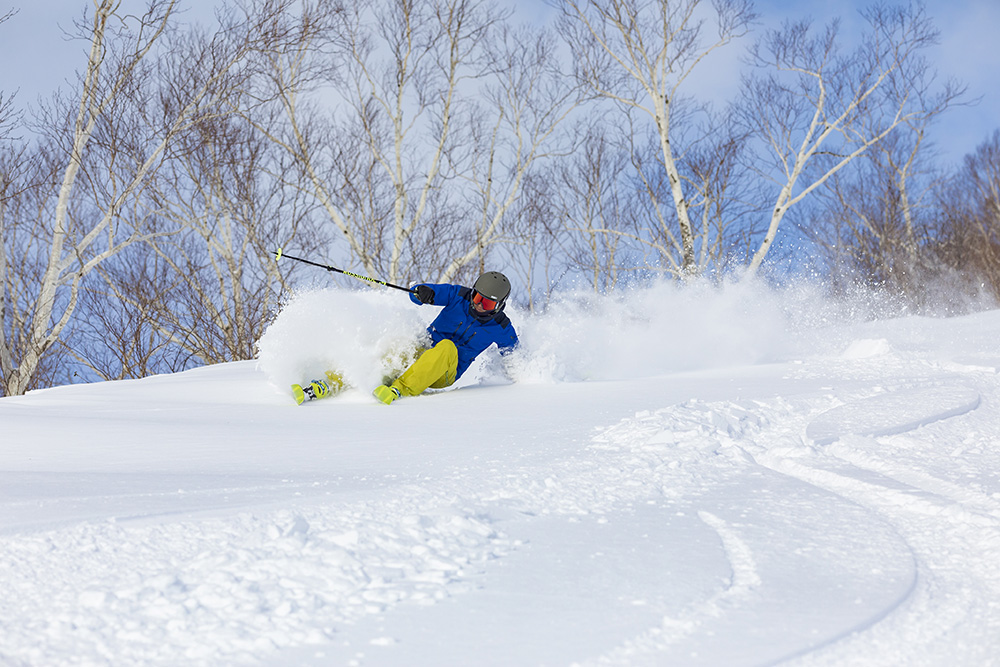 RIKI.
I think that visitors should definitely try the advanced-only area, as well as the Exhibition Course and Silver Bell. As I have said, the advanced-only area is special in that you can enjoy deep powder and tree runs. The Exhibition Course is re-groomed at midday, so even a skier who has overslept and missed the morning run can enjoy a fresh track in the afternoon. Silver Bell is a gentle course, so even beginners can ski from the top of the mountain to the bottom, enjoying the scenery along the way.
My favorite routine is, first I would ski the advanced area and the steep slopes of the No-gravity course, using the lift to keep coming back. I would then gradually work my way out from the main area to areas with fewer people. Tomamu Mountain is the only place where you will find an advanced-only free-ski area, so most advance skiers end up staying here all day. You will hardly see any advanced skiers on the Tower Mountain course, which is catered to beginners and intermediate, so you can often still find powder here in the afternoon. This is another way to enjoy skiing in Tomamu.
Q. What would you recommend for family groups from overseas?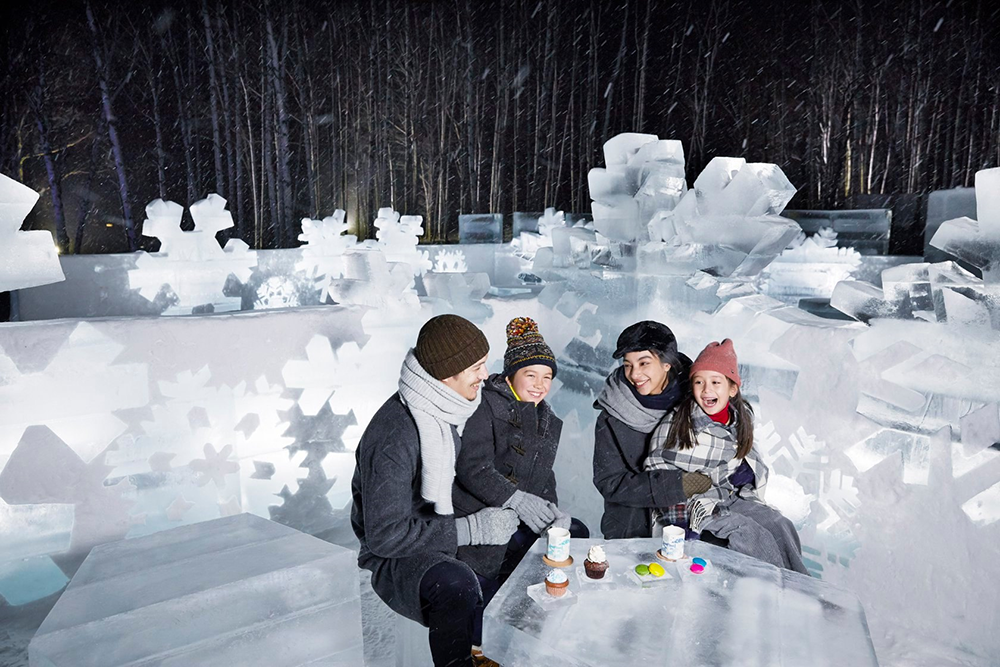 RIKI.
Tomamu has many attractions for everyone, regardless of age or level. Mina-mina beach, with its artificial wave machine, is great for SUP, which is fun for children too. And you can't miss a visit to Tomamu's Ice Village. Even when the weather is bad, you can still spend a fulfilling and enjoyable day here.
Recently, many fathers who would visit Niesko alone on a solo-trip choose to stay in Tomamu with their family. At RIKI Japow Guides we've seen an increase in the number of fathers who are repeaters. For example, in a family which stays for 5 days, the father may choose to have 3 family days and spend time doing snow activities with his children, and spend the remaining 2 days backcountry touring.
At Tomamu, kids from the age of three can join the private kids school. While they are in the school during the day, parents can go skiing as much as they want. I think that the fact that families can enjoy such a flexible arrangement is another of Tomamu's strong points.
Q.  Which of Tomamu's foods do you recommend?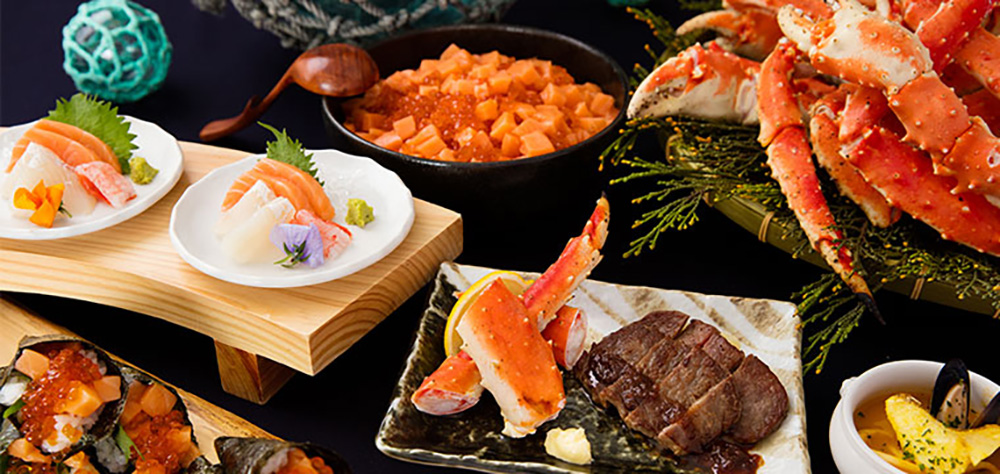 I would recommend the food at Hotalu Street, which you can enter even with with your ski shoes on. Ramen is especially popular with visitors from China. Many westerners have interest in Japanese food, so I recommend that they try sushi or a seafood bowl. If it's restaurant in the hotel, please try at least once at "Hal "or "Nininupri " buffet.
And after that, it is also nice to have a drink using glass made of ice at the Ice Village. If you choose to eat at one of the resort's restaurants, please try the buffet at "Hal" or "Nininupri"! I also recommend visiting the Ice Bar in the Ice Village to have a drink served in a glass made of ice.
TAKEZOU (Hotaru Street)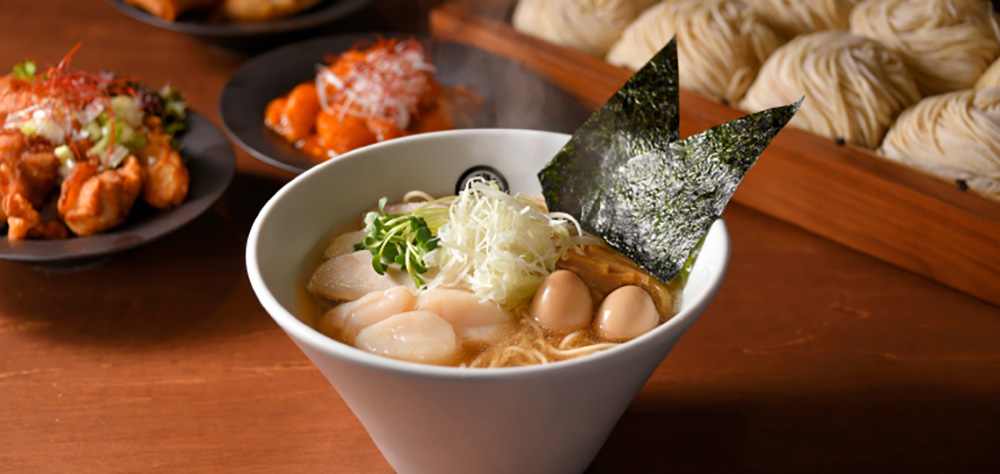 With a wide variety of ramen toppings to choose from, such as dried sardines, scallop, or prawns, served in a f salt, soy sauce or miso broth, you will come across new flavors here which you will not find elsewhere!
ezokatsumi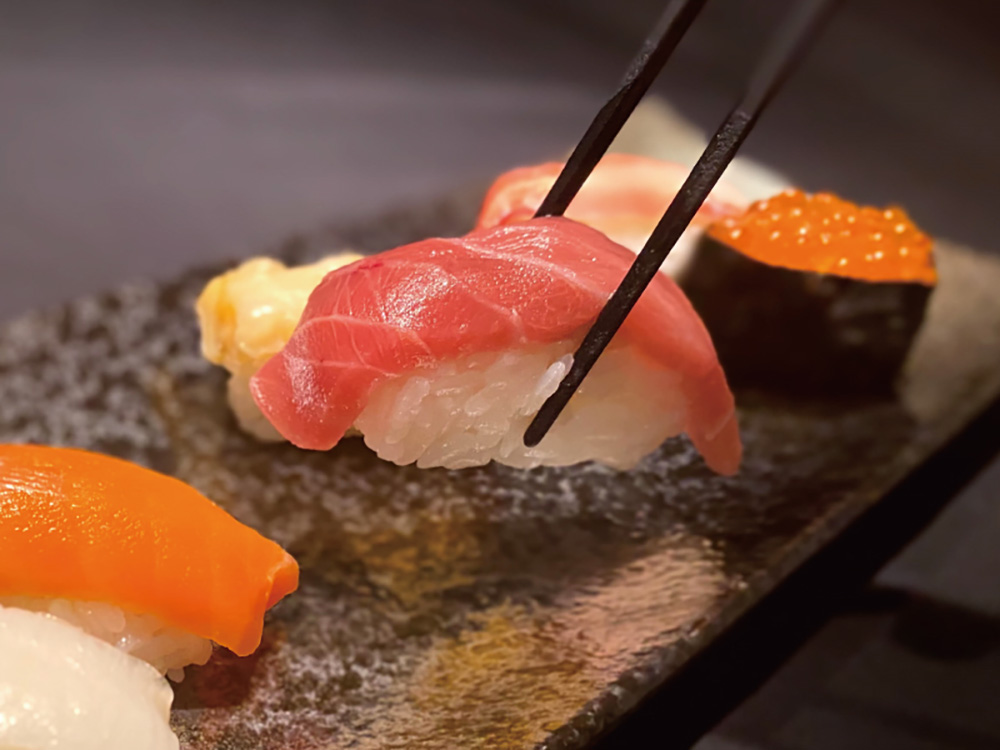 The fresh seafood used here is delivered directly from various fishing ports every day. You can enjoy the best of Hokkaido's seafood, from the seasonal special menu to premium sushi.
Buffet Dining Hal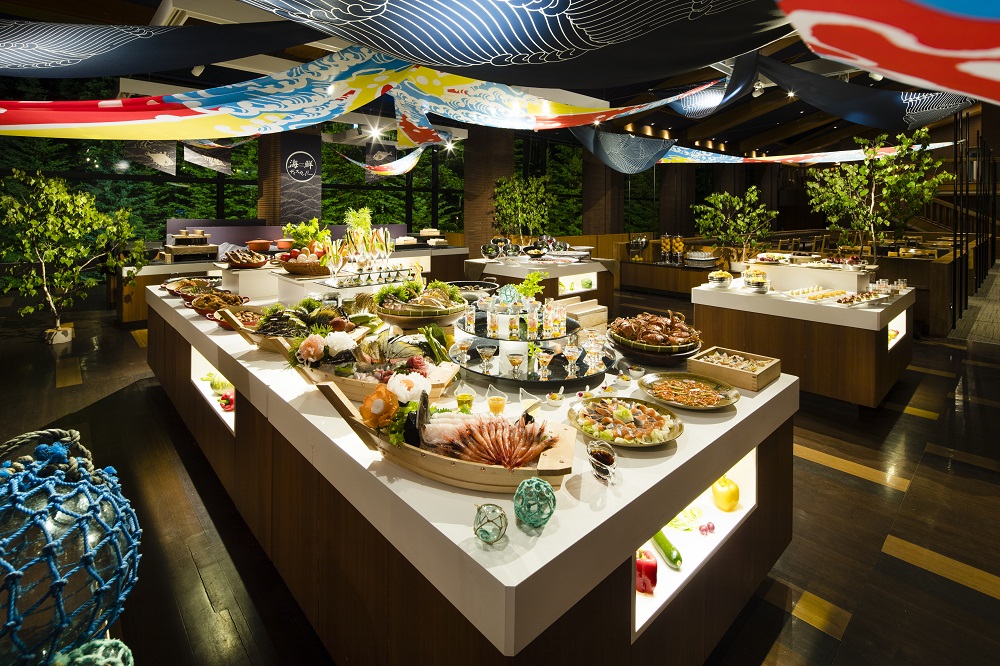 At dinner, the main concept is "crab x salmon", together with the use of different seasonal ingredients to line up a feast of dishes for your dining experience. Have a memorable dinner time with dishes prepared by the chef and popular desserts. Dinner at Buffet Dining Hal consists of an array of crab and salmon-based dishes prepared using seasonal ingredients. With dishes prepared right before your eyes, as well as the restaurant's popular deserts, this is a dining experience you won't forget.
Forest Restaurant Nininupuri (The Village Alpha)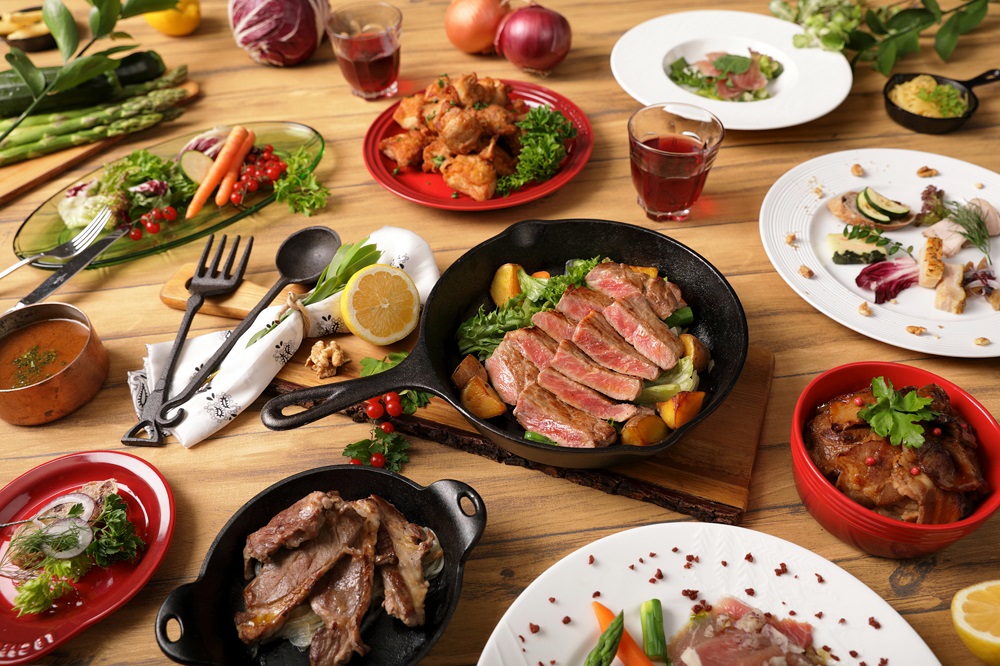 A buffet restaurant nestled in the woods. Here you can try freshly prepared dishes using 4 kinds of meat for which Hokkaido is well-known. With an all-you-can-drink option which includes 3 types of beer, Nininupuri is a veritable food and drink festival!
 Q. Where can visitors find out more information about skiing in Tomamu?
Fullmarks TOMAMU  (Hotaru Street)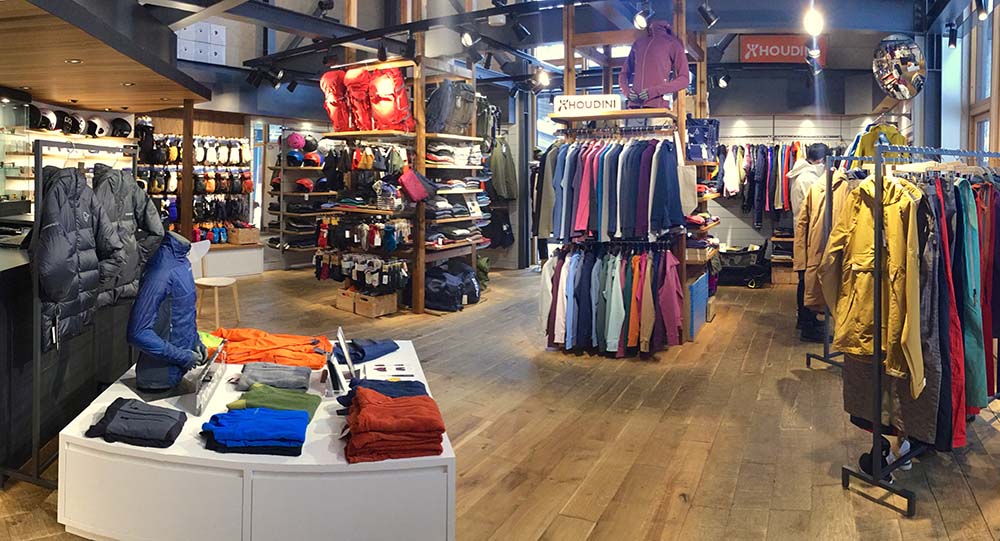 A shop which stocks various Nordic brands including Norrona. You can have a leisurely shop here after skiing, or on days when the weather is bad. Staff who love outdoor activities are always available and ready to help you with your queries relating to ski goods or skiing in Tomamu.
TOMAMU ACADEMY
If you go to the school reception, you can meet RIKI ( Mr Nakajima), apart from when he is out on guided tours. Any inquiries about backcountry programs or powder belt tours, all are welcome. You may also wish to drop him an email with your questions before visiting Japan.