Skiing & Snowboarding in Hokkaido: 10 Things that Make it Great
1. The origin of JAPOW
Hokkaido's snow, some of the world's finest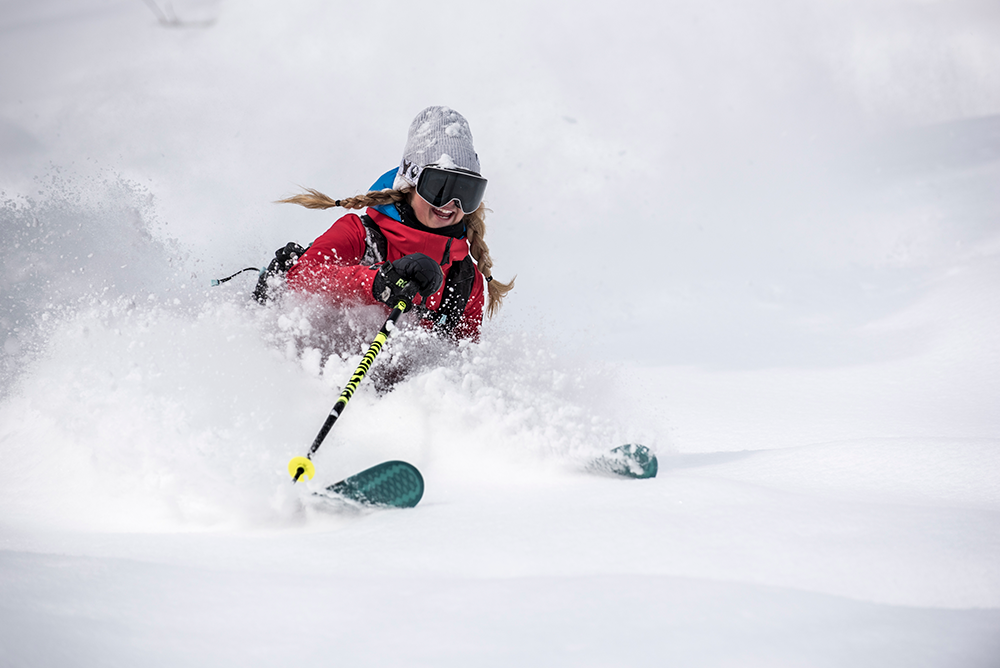 "Is this real?"
"No kidding!"
"This is CRAZY!"
"IT'S SO DEEEEEEEP!"
"I'm never going back home."
What's this all about, you ask? Why, it could only be what skiers and snowboarders from abroad say (well, shout, really) about Hokkaido's powder. Here's a few more comments we have heard:
"I've never, ever ridden powder so light and fine before."
"How is it that I can breathe with powder from a slash all over me?"
"The texture is crazy. My skis are pretty much sliding on their own."
Hokkaido's powder is dubbed "JAPOW," loved by the powder junkies of the world and even rumored to be some of the best there is. So what exactly IS it? It's fine, dry powder snow, so fine that you probably won't even be able to make a decent snowball with it.
It's the precise opposite of wet, soggy snow. Of course, you would expect no less with Hokkaido being at the northern edge of Japan, where temperatures are unbelievably low in mountain ranges at high altitudes. This causes snow to fall before the flakes grow large, and for it to fall as fine powder without melting.
In a nutshell, Hokkaido's unique geography and climate is what gives us JAPOW, powder found nowhere else.
2. Unbelievably plentiful snowfall
An amazingly high reset rate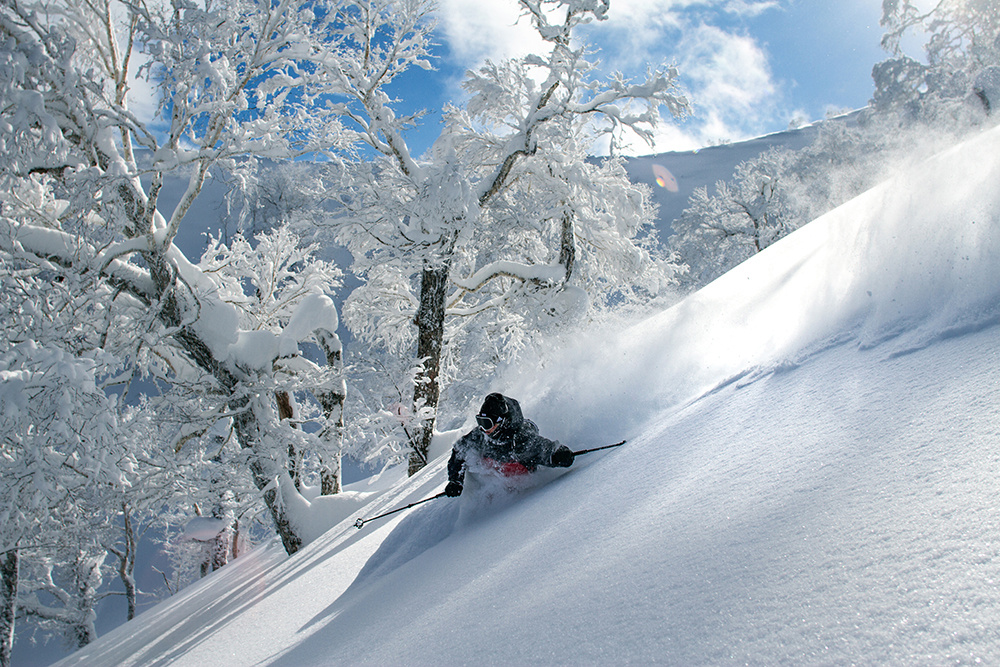 When riders from abroad say "JAPOW," they aren't only referring to the texture. They're also talking about how stunningly deep the snow is, and how there's just so much of it. There may be some difference depending on the area, but generally speaking, the amount of snowfall in Hokkaido is simply unbelievable. In Niseko Mt. Resort Grand HIRAFU, for example, the monthly snowfall during the '20-21 season looks a little something like the table below. Are we joking? Why, of course not.
Niseko Mt. Resort Grand HIRAFU
December 450cm/ January 400cm/ February 310cm/ April 30cm
A good 400cm from the beginning of the season, and 300cm up to high-season February. The snowfall in-season adds up to over 16m.
The resorts at high elevations in Hokkaido, starting with those in the Niseko area, are famous for their high reset rates. Snow falls constantly- one run, and by the time you come back to the top your tracks disappear. What's more surprising is that this is the norm in many parts of Hokkaido. Of course, a meter of snowfall overnight burying your car is also quite common. There's over 100 days of snowfall during the season- which means fresh powder every day!
Check out how much snowfall there is in other major resorts:
| | | | | | |
| --- | --- | --- | --- | --- | --- |
| Resort | December | January | February | March | April |
| SAPPORO TEINE | 140cm | 230cm | 300cm | 270cm | 190cm |
| Kiroro Snow World | 138cm | 178cm | 220cm | 186cm | 165cm |
| Niseko Hanazono Resort | 109cm | 214cm | 274cm | 282cm | 234cm |
| Niseko Village Ski Resort | 137cm | 157cm | 226cm | 234cm | unknown |
| Furano Ski Resort | 130cm | 165cm | 230cm | 230cm | 150cm |
| Hoshino Resorts TOMAMU | 170cm | 170cm | 150 cm | 130 cm | 70cm |
3. An early-starting season with long-lasting good conditions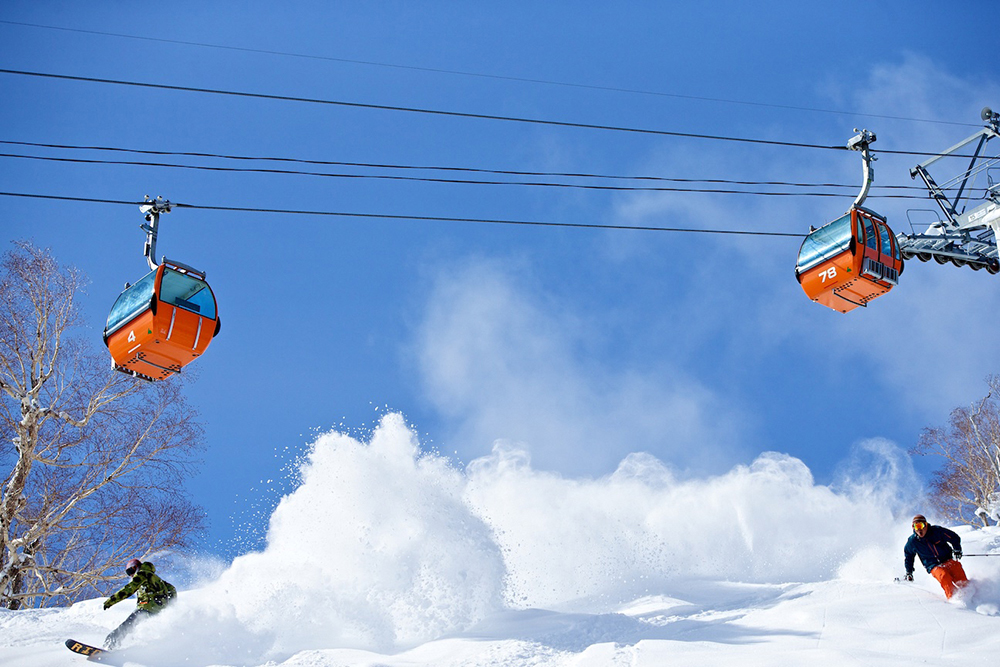 Being the central of Hokkaido, the first snow of the year falls on the peaks of the Daisetsu Mountain Range, also called the "Roof of Japan." During the '20-21 season the first snow was recorded on November 20th. Around the same time, Sapporo Kokusai Ski Resort opens, earlier than any other resort with natural snow. Here, you can ride from late November to early May- a stunning 6-month long season! The season opens early, compared even to European resorts or Whistler in Canada.
In addition to the head start, Hokkaido boasts long-lasting snow conditions thanks to its low temperatures. Resorts located in the north or with surfaces facing north often retain amazing powder all day long.
Early and spring seasons are also good chances to get good deals on everything. Discounts on lift passes or meals, or tickets for a local onsen- these are some of the many things Hokkaido's resorts do to draw in the early birds visiting prior to high-season months. December is often relatively uncrowded, and has a decent chance of cold fronts coming through. Simply put, there's lots of potential for powder days.
4. Enormous area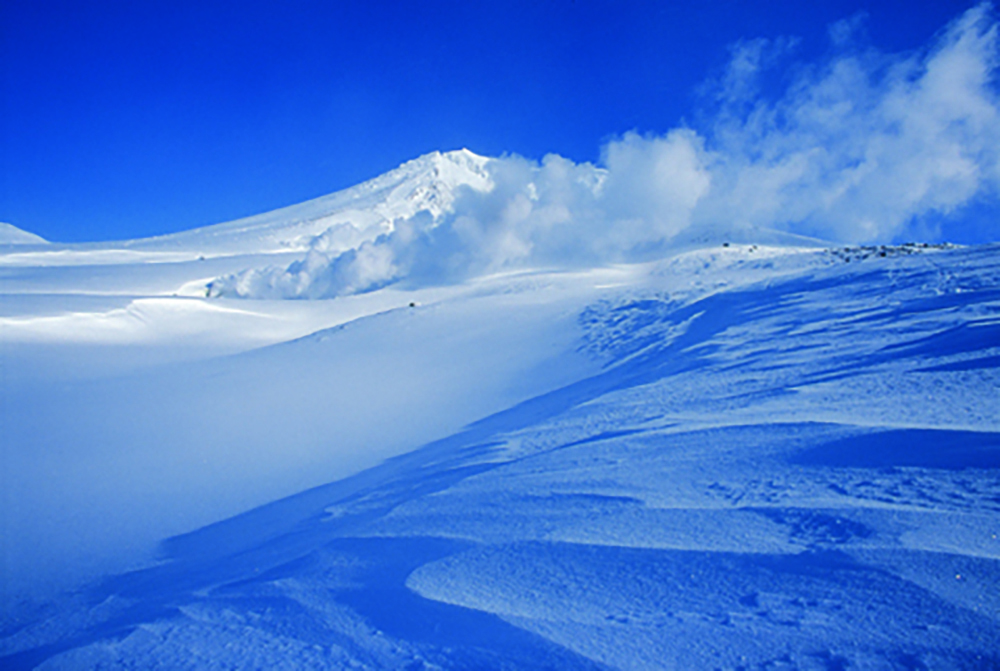 Hokkaido, also called the "Land of the North," is the second largest island on Japan, and simply enormous. The same can be said for the scenery: wetlands and grasslands that seem to go on forever, fields of crops such as potato and corn, hills covered in flowers that resemble colorful carpets, oceans so wide that the horizon looks curved- everything is on a completely different scale from Honshu in terms of size.
Hokkaido is also home to a number of large mountains. In Daisetsuzan National Park, there are numerous grand peaks: those in the mountainous area called Hokkaido's Roof, such as Asahidake (2,291m), the highest mountain in Hokkaido, Tokachidake (2,077m), and Ishikaridake (1,967m), or Mt. Yotei (1,898m) and Niseko Annupuri, both of which are icons of the Niseko area.
These mountains boast numerous backcountry fields, and many of the resorts at the bases are large in scale. Take Niseko and Rusutsu's enormous sizes, or Kiroro, TOMAMU, and SAHORO, with large resort-run hotels, for example- all of these resorts are huge. And large resorts usually come with diverse courses: ungroomed courses for powder rides, tricky and steep slopes, long runs, groomed surfaces, bumps, courses with items made from natural landforms- you name it. There isn't much you can't find in Hokkaido.
5. Tree runs in beautiful hardwood forests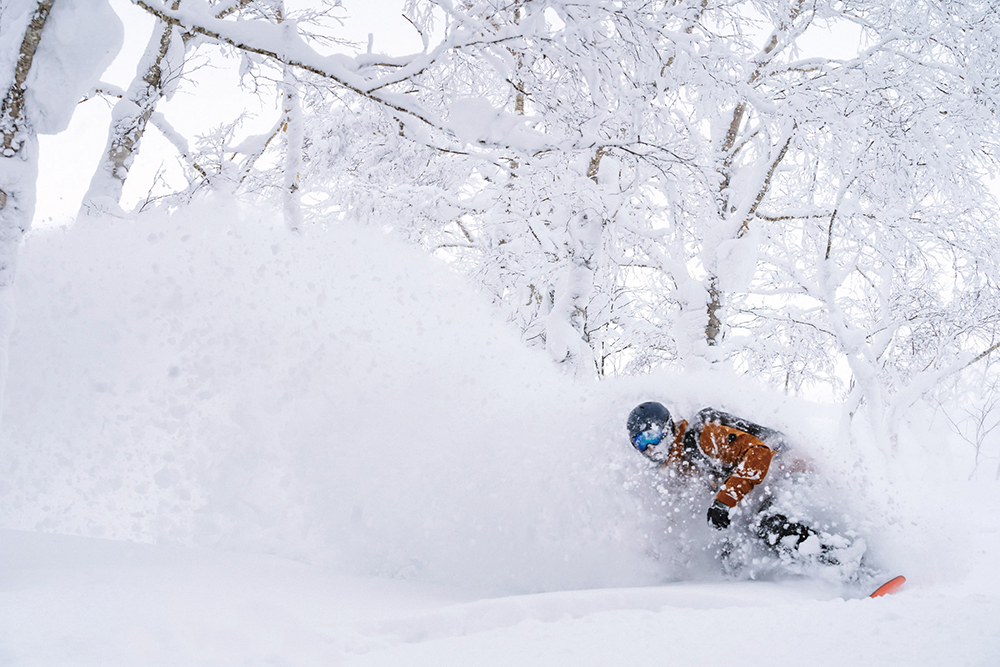 JAPOW isn't the only thing that makes Hokkaido special- there's also the tree riding in dreamlike forests. Thanks to its geography, Japan is blessed with an environment well suited for trees and forests to grow. Many resorts overseas, such as those in Europe and New Zealand, house large, open surfaces that are bare of trees in alpine areas above the timberline. Resorts in Hokkaido, on the other hand, have many vast forests with hardwoods like beeches and gold birches.
Tree riding in dreamlike, mystical forests: it can't get better than this. Many of the hardwood trees that spread their branches are quite old, with thick trunks as well. These characteristics form exciting items and terrain to play around with: pillows, rails, boxes, and powder- everything the playful rider could hope for. Not much can beat a tree run in terms of excitement.
6. The ride of your dreams: night riding on powder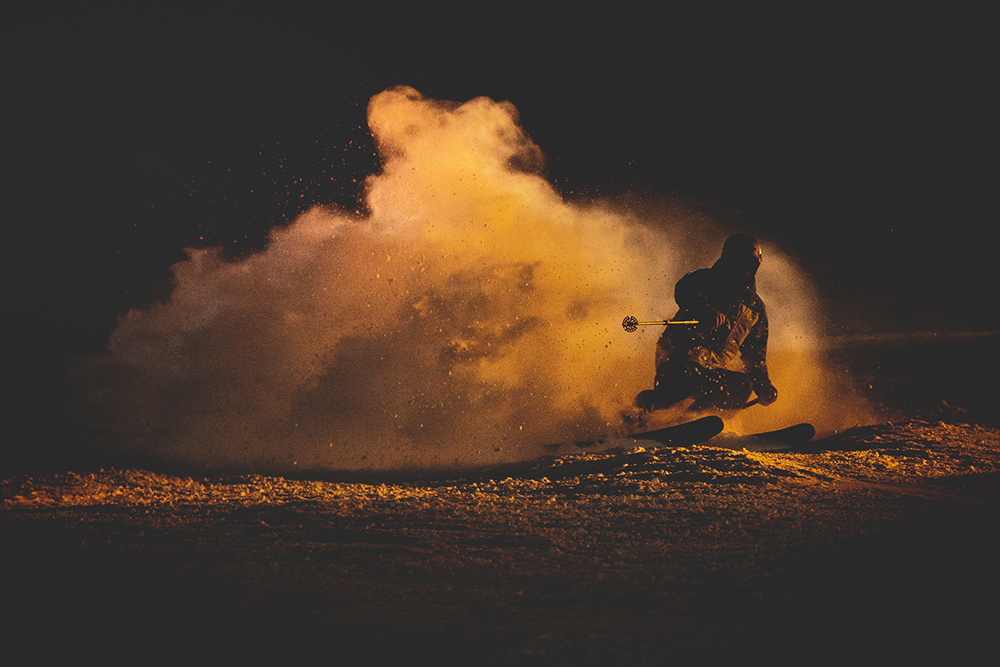 In Japan, night skiing is relatively easy to enjoy, unlike in Europe and North America. Such an experience is enough to make you feel lucky on its own, but a visit to Hokkaido will make you feel luckier still. The night view seen from Moiwa Ski Resort is one of the most breathtaking sights in the world. Memorability is guaranteed.
In addition, night skiing in any resort, starting in Niseko, lets you experience unbelievable night powder. As temperatures drop lower after sunset, fine powder becomes firmer, making it easier for your skis or snowboard to float and run smoothly on. It also snows more, so you can ride all the powder you want because the slopes are reset by the time you get to the top again after a run. What's more, there's none of the daytime war over patches of powder. If this isn't lucky, then what is?
7. Vast backcountry terrain to enjoy, nearly unmatched in scale
Numerous guided tours to choose from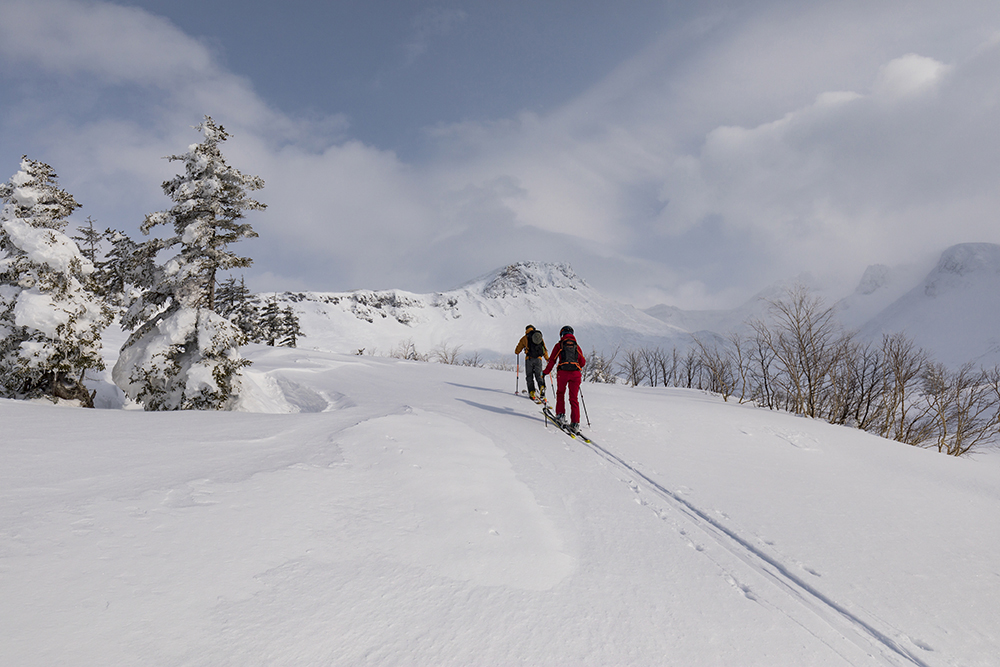 Hokkaido is famous for its many easily-accessible backcountry fields. Want to lay down the first tracks on open slopes? Ride deeper powder? Or enjoy Hokkaido's wilderness? If any of these is you, a trip to Hokkaido should be on your bucket list.
Hokkaido's mountainous regions are roughly divided into the "Sapporo/ Yoichi area," "Niseko area," and "Daisetsu/ Tokachi area," all of which boast slopes and surfaces that are well-suited for skiing and snowboarding, but on a whole new level in terms of size when compared to Honshu. A lot of the backcountry is easy to get to from ski resorts, such as those at Niseko, Kiroro, and Asahidake.
What's more, there are many backcountry guide clubs that include resident experts on Hokkaido's mountains, who are able to guide participants safely through the mountians. These guides take into account the skill level and preferences of tour participants as well as weather and snow conditions, as they guide you to the best spots of the day.

Guided tours are convenient as you can rest assured that your guide won't let you miss out on any good runs. The time you spend hiking on a one-day tour varies from trip to trip, but is usually between 1 and 5 hours. Tours for beginners take participants to courses with a 400m vertical drop, but there are also those for more seasoned riders that take you up as high as 1500m. Be sure to try striking up a conversation with Japanese participants to enrich your backcountry tour experience. There are also many guide clubs that host tours in English.
8. Cat skiing: enjoy the best powder away from the crowds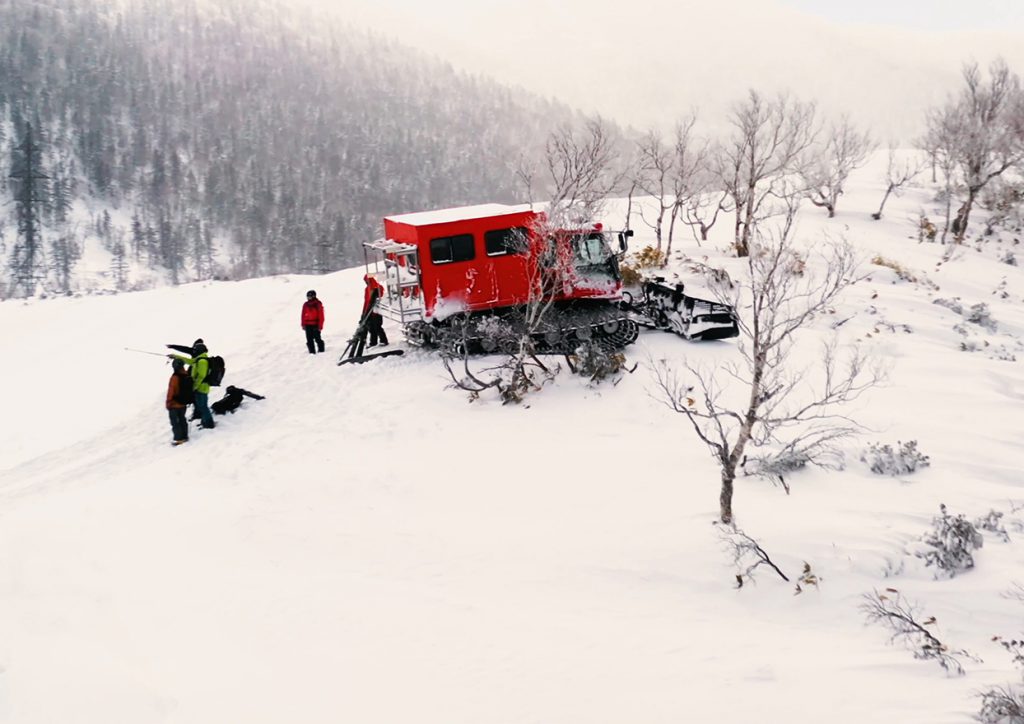 Cat skiing is also popular in Hokkaido thanks to its large area, and is one of the things core skiers and snowboarders from abroad are drawn to. Many companies that host cat tours are situated in and around the Niseko area, and offer many options such as one-day tours and packages that come with stays 2 to 4 days long.

The best thing about cat tours is that you don't need to hike in the cold, can get to untracked fields quickly, and even enjoy the scenery on the way. From there, you can ride however you want, as if it's just you and your mates on the mountain (which is true to some extent, since cat tours take you to really uncrowded places)- such freedom is every rider's dream.
The content differs from tour to tour, but some offer 6 to 7 runs in a day, and take you to places with vertical drops of 3000m. Cat skiing may be pricey, but the experience is more than worth it. Hoshino Resorts TOMAMU offers cat services that are relatively easy to try out.
9. Heli-skiing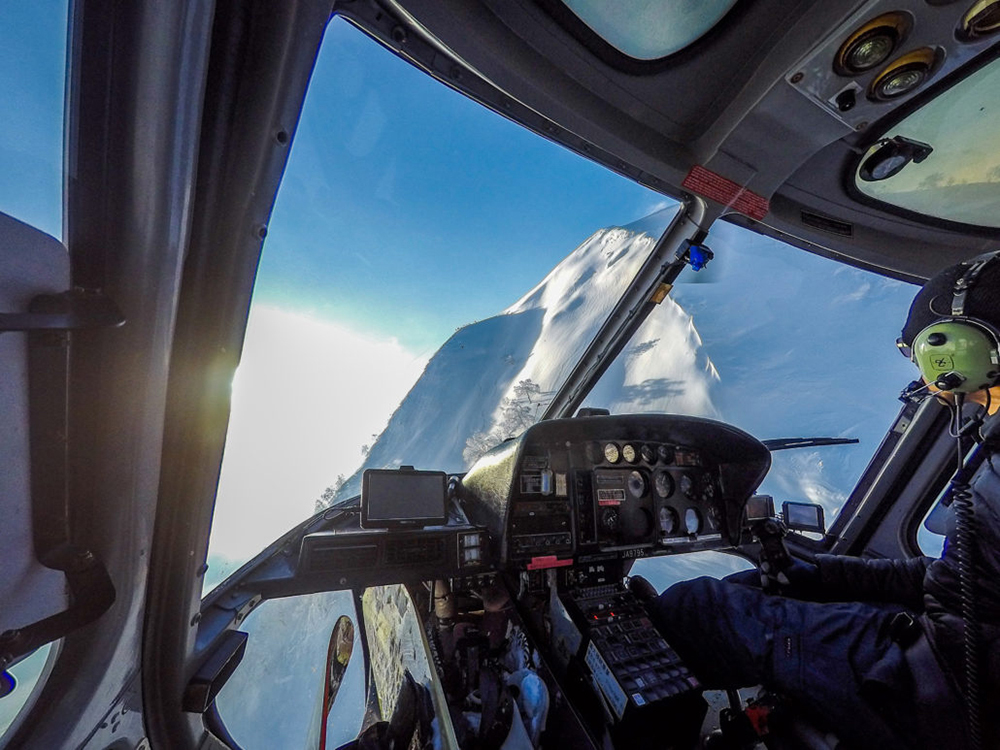 Japan, unlike North America, doesn't have many peaks that offer heli-skiing services, but Hokkaido has one of the few that do: Shiribetsudake (1,107m), which is around 10km southeast of Mt. Yotei- not far from Rusutsu Resort. Shiribetsudake is a single-cone mountain that offers a magnificent view of Mt. Yotei and Lake Toya from its summit.
The tour starts at Rusutsu, which is the boarding point, and is composed of 6 runs, over the course of a day. Each run has a vertical drop of 650m, adding up to an amazing 3000m in a day. You can have the best face of Shiribetsudake to yourselves (4 guests plus 1 guide), including not only the dream-like untouched powder, but also the panoramic view of Hokkaido's majestic wilderness. There isn't much that can beat this.
This heli-skiing tour in Shiribetsudake is extremely popular among travellers from abroad, and highly praised even by famous international ski-and-snowboard movie crews.
10. Easy planning: many resorts and backcountry fields easily accessible with Sapporo, Asahikawa, or Niseko as your base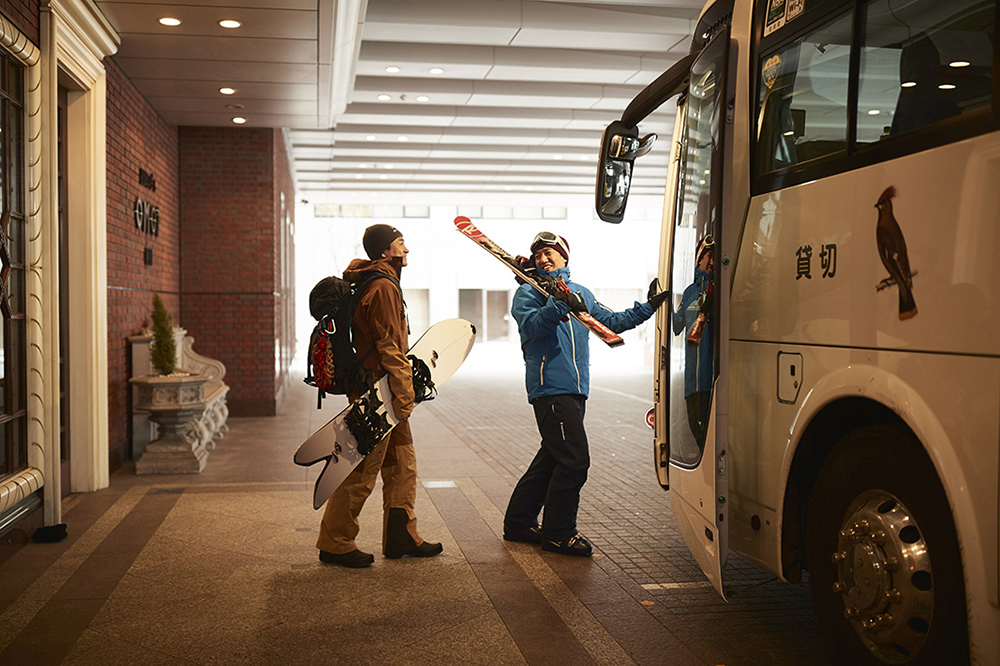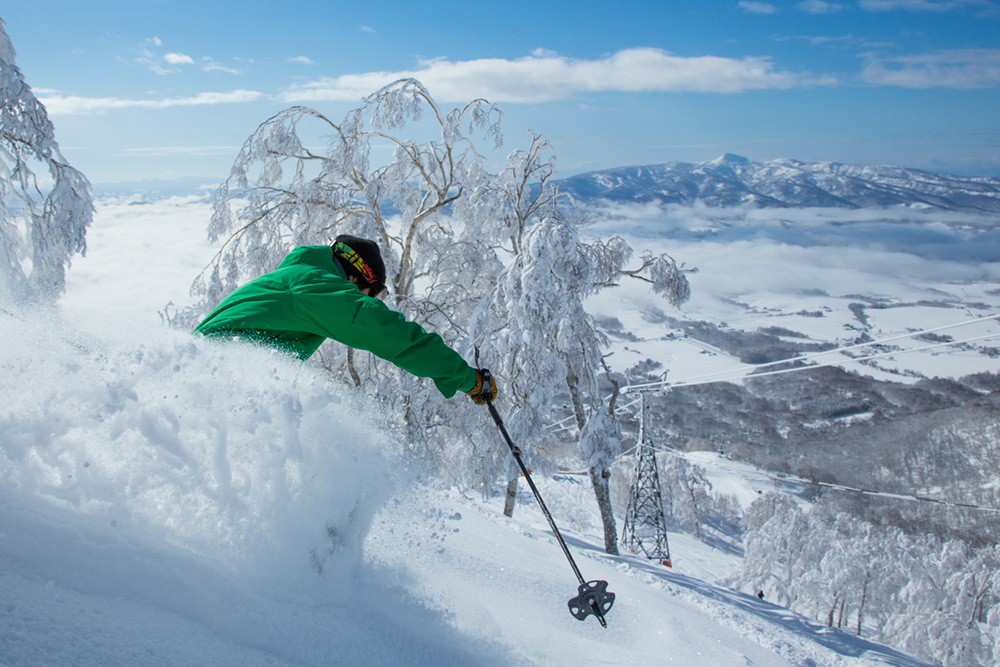 Judging by the locations of the ski resorts in Hokkaido, the best places to stay are the Sapporo, Asahikawa, and Niseko areas. Any one of these make a great base for touring a number of nearby resorts and backcountry locations.
Riding in more resorts usually means more fun; stretching your legs to the backcountry there is even better. Being flexible with your schedule and taking an active approach to monitoring the weather, snow conditions, and congestion may be the key to enjoying your trip to Hokkaido to its fullest.
There are a lot of ways to get out to the resorts from your base, such as resort-run shuttle buses, which are probably the easiest way, and other options like taxis, which could be quite affordable if you're traveling in a group, public buses, and the JR trains. If your stay is rather long and you have plans other than skiing or snowboarding, such as going to hot springs or sightseeing, renting a car might also be a good choice.

❖ Resorts you can tour with Sapporo as your base
SAPPORO TEINE
Sapporo BANKEI Ski Resort
Sapporo Kokusai Ski Resort
Kiroro Snow World
RUSUTSU Resort
Sapporo Moiwa Ski Resort
Asarigawaonsen Ski Resort
Otaru Tenguyama Ski Resort
NISEKO UNITED
❖ Backcountry you can tour with Sapporo as your base
Yoichidake
Asaridake
Shiraidake

❖ Resorts you can tour with Niseko as your base

RUSUTSU Resort
Kiroro Snow World
Sapporo Kokusai Ski Resort
SAPPRO TEINE
Sapporo BANKEI Ski Resort
❖ Backcountry you can tour with Niseko as your base
Niseko Annupri
Iwaonupuri
Nitonupuri
Waisuhorun
Chisenupuri
Mt. Shiribetsu
Mt. Iwanai
Mt. Yotei
❖ Resorts you can tour with Asahikawa as your base
Daisetsuzan Asahidake
KAMUI SKI LINKS
Hoshino Resorts TOMAMU
SAHORO RESORT
Pippu Ski Resort
Santa Present Park Mallows
❖ Backcountry you can tour with Asahikawa as your base
Furanodake
Furanonishidake
Tokachidake
Kurodake