Discovering the allure of ski trips to Hokkaido through comparisons with world-famous resorts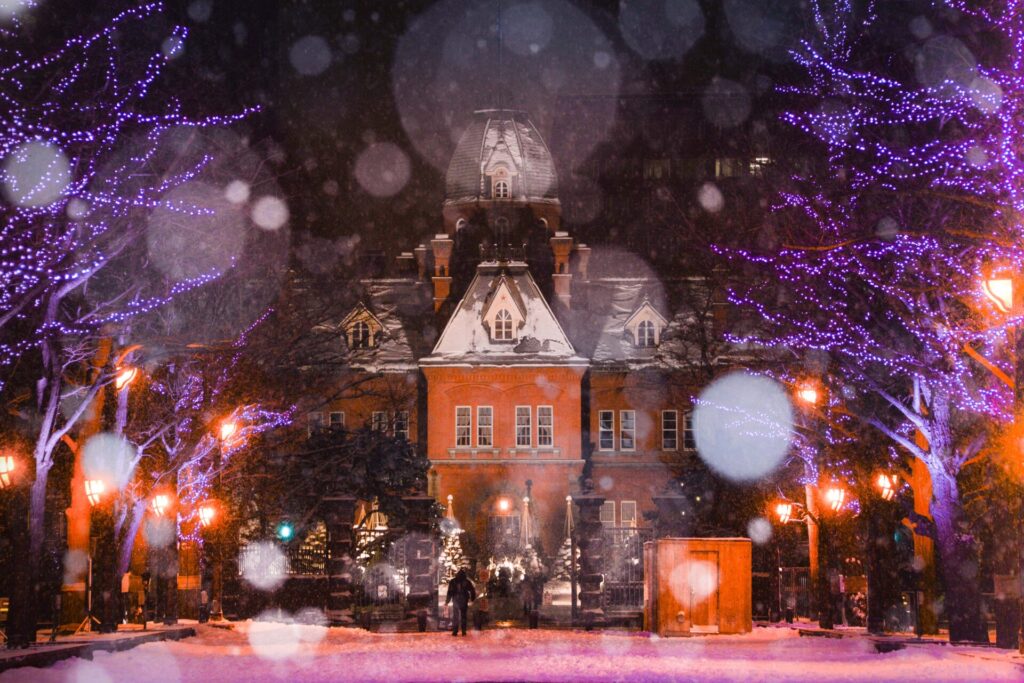 With more than 5,000 destinations to choose from worldwide, there is no shortage of places to go on an overseas snow trip. But what do international guests who first select "Japan" and then "Hokkaido" as their travel destination look for? This article shares what sets Hokkaido apart from the world's other ski resorts.
Unparalleled "ideal urban resort life" is the biggest draw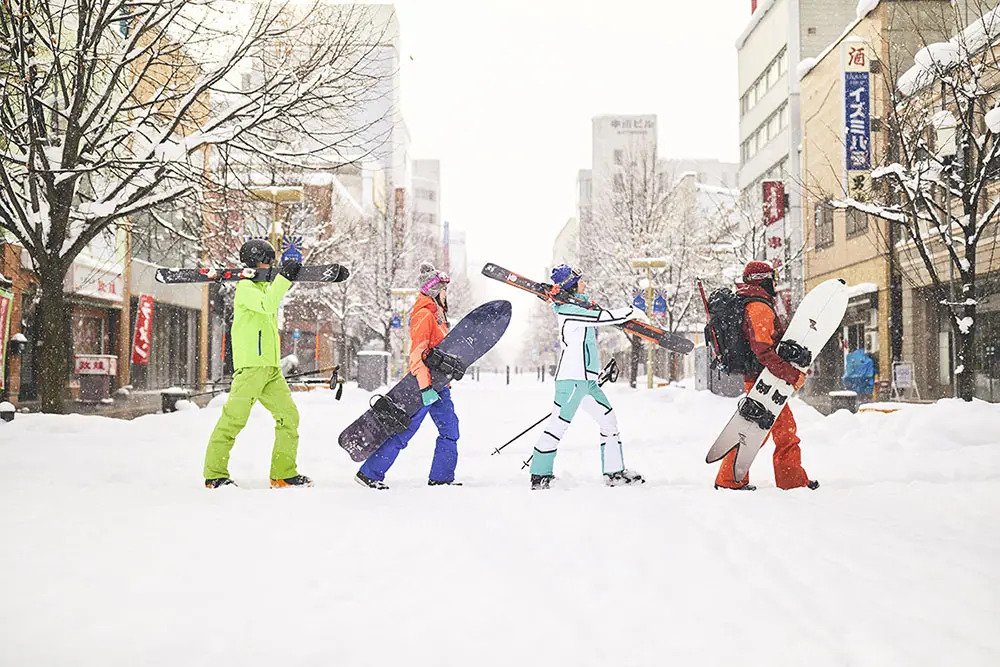 The pleasures of travel are many and varied. When traveling overseas to go skiing or snowboarding, however, travelers typically seek the same things no matter where they go. These include:
– I want to travel as comfortably and conveniently as possible!
– I want to maximize my time on the slopes! I want to ski or snowboard on quality snow and have fun in exciting mountains!
– I want to enjoy delicious local cuisine!
– I want to ski, but I also want to go sightseeing and shopping!
– I want to experience the culture of the country I'm in!
Does a place that can meet such a wide range of needs even exist? Yes, it does! Japan's Hokkaido is the ideal destination, unparalleled elsewhere in the world, with the most exciting mountains covered in the finest quality snow, local cuisine, sightseeing and shopping, cultural experiences, and everything in between. This is made possible by the revolutionary travel style known as "urban resort life."
If you want to experience this style of stay, the Hokkaido hubs of Sapporo and Asahikawa are where it's at. Blessed with the abundant nature of Hokkaido and the modern-day conveniences of cities, both urban centers are genuinely unique destinations where you can both play and live.
A brief comparison with famous overseas resorts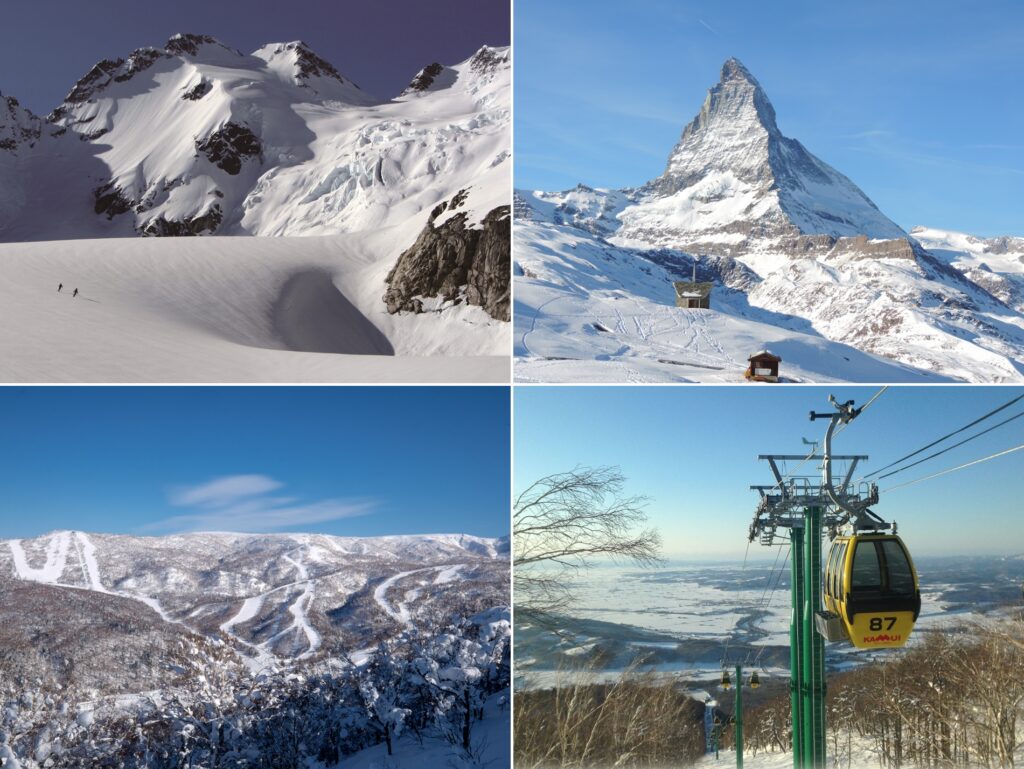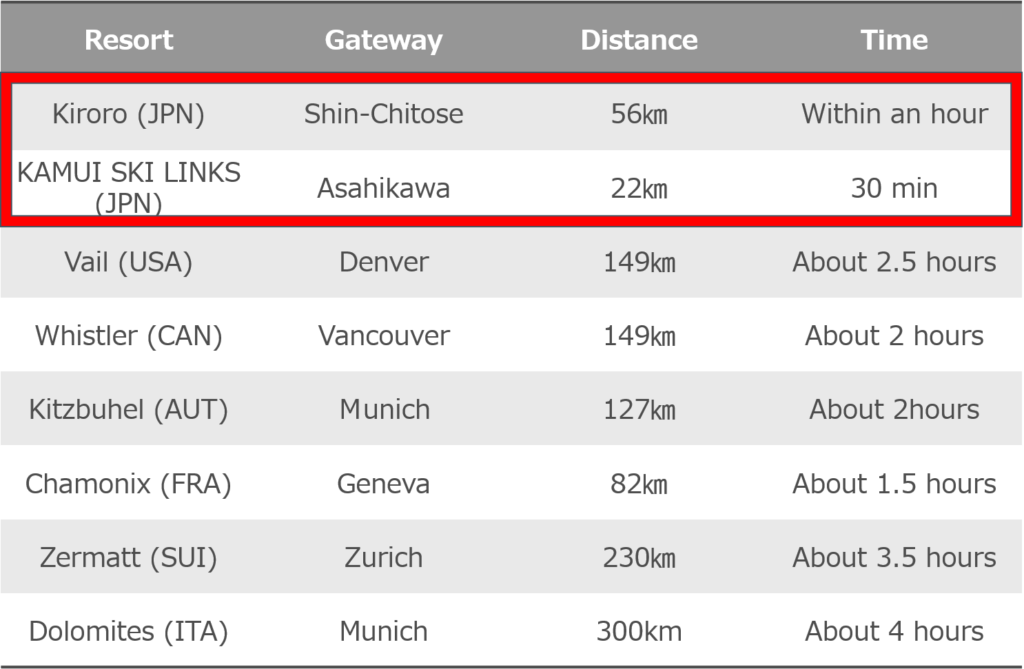 Looking overseas, in North America and Europe, where skiing and snowboarding are popular, each country has its famous representative resorts. They include Whistler in Canada, Vail and Aspen in the USA, Chamonix in France, the Dolomiti Superski region in Italy, Zermatt and St. Moritz in Switzerland, and Kitzbühel and St. Anton in Austria, to name just a few. However, none of them can be accessed without traveling hours by car or train from the nearest airport gateway.
Salt Lake City is reminiscent of Sapporo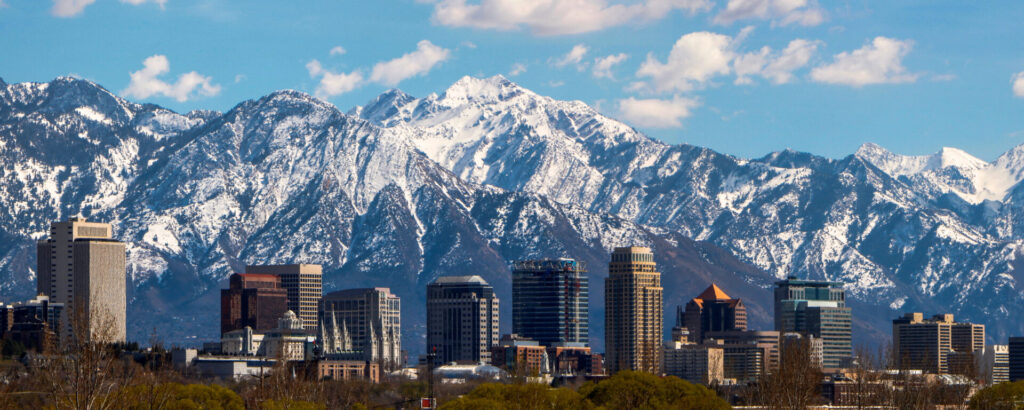 Salt Lake City, in the U.S. state of Utah, is one of the largest cities with a direct airport connection. Like Sapporo and Asahikawa, it is rich in nature and close to large snow resorts. With a population of approximately 1,260,000, Salt Lake City metropolitan area is similar in size to Sapporo. And like Sapporo, it is a cosmopolitan city that just screams winter and hosted the Winter Olympics. A 45-minute drive will take you to nearby Snowbird, one of the most popular resorts in the USA, as well as other resorts such as Park City and Deer Valley.
Salt Lake City is also world-renowned for its dry powder. Boasting an average annual snowfall of 12.8 meters, its large scale makes it a likely rival to Sapporo and Asahikawa in terms of skiing and snowboarding conditions. However, Hokkaido's unsurpassed superiority is due to other factors. It is the wide variety of cuisine in Japan that Westerners fervently favor. In addition, Japan's unique culture and scenic beauty are also significant reasons why foreigners choose to visit Japan.
The benefits of staying in Sapporo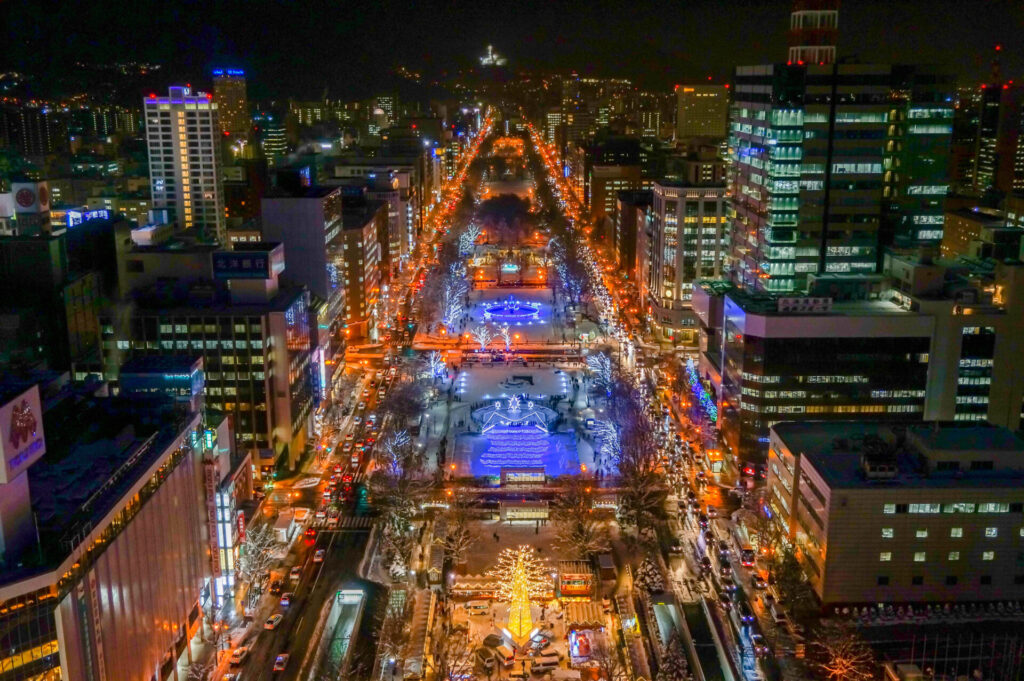 The area around Sapporo, which includes Sapporo Kokusai Ski Area, Kiroro Snow World, Sapporo Teine, Rusutsu Resort, Sapporo Bankei Ski Area, and other snow resorts, can be easily accessed in a little over an hour by car. Despite its proximity to the city, the region offers Hokkaido's finest powder ski fields. If you look at the annual snowfall of Kiroro, Sapporo Kokusai, and Rusutsu, you will see just how much it snows there.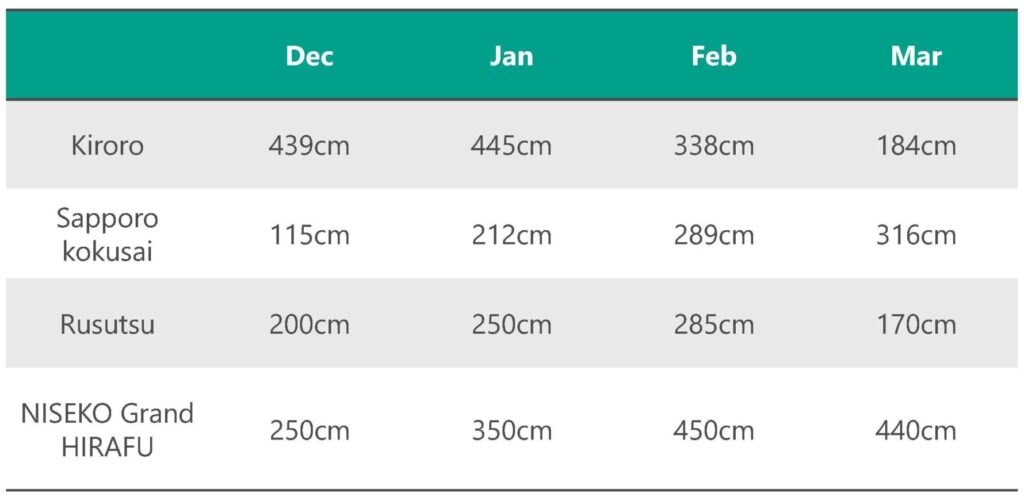 These resorts are close enough to Sapporo for a day trip. If you get up early and catch a bus, you can even make a day trip to Niseko (about three hours one way). As the birthplace of JAPOW, the world's highest quality powder snow, Niseko offers powder of unimaginable quality and quantity, with snowfall almost every day during the peak season.
Sapporo is one of the most attractive destinations in the world because of its abundant food and tourism resources, in addition to the snow. Entirely surrounded by the sea, this bountiful land of Hokkaido is a treasure trove of gastronomic delights from the sea and the mountains. In Sapporo, you can enjoy eating fresh seafood from the seafood market to your heart's content. Incidentally, it is said that there are approximately 8,500 restaurants in Sapporo (as of December 2022), with Sapporo ramen restaurants being the most popular dining choice for international visitors.

Other must-see attractions in Sapporo include the Sapporo Snow Festival, famous for its giant snow sculptures, and the Susukino nightlife district. The Ainu Cultural Promotion Center, where you can experience Ainu culture passed down in Hokkaido through the generations, is also not be missed. If you have half a day to spare we suggest exploring the photogenic canal town of Otaru, which is only 30 minutes away from Sapporo by train.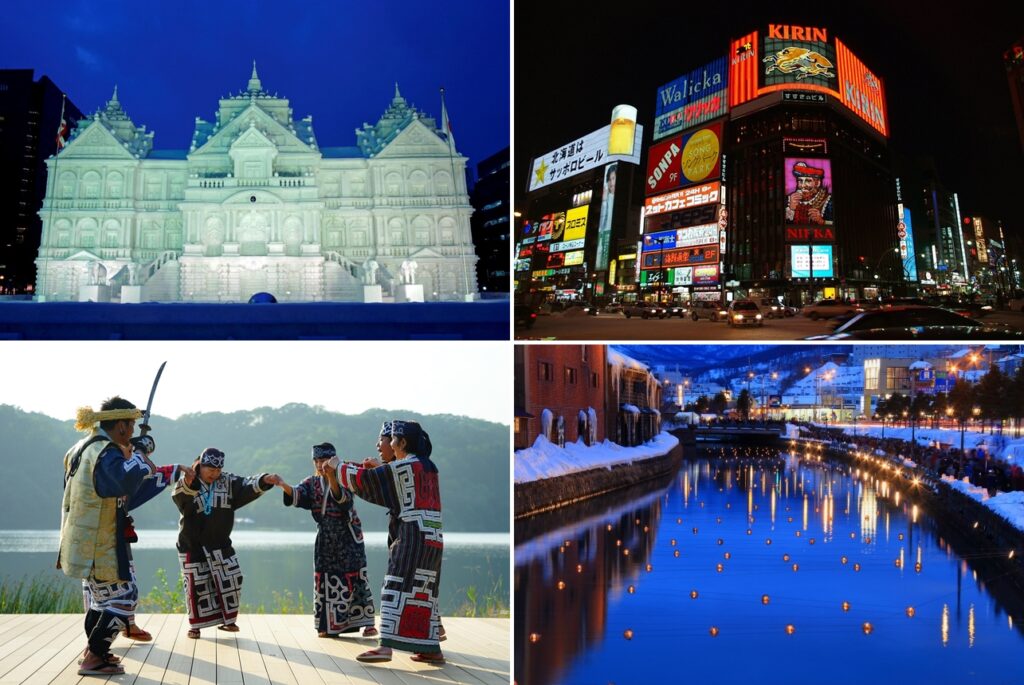 The benefits of staying in Asahikawa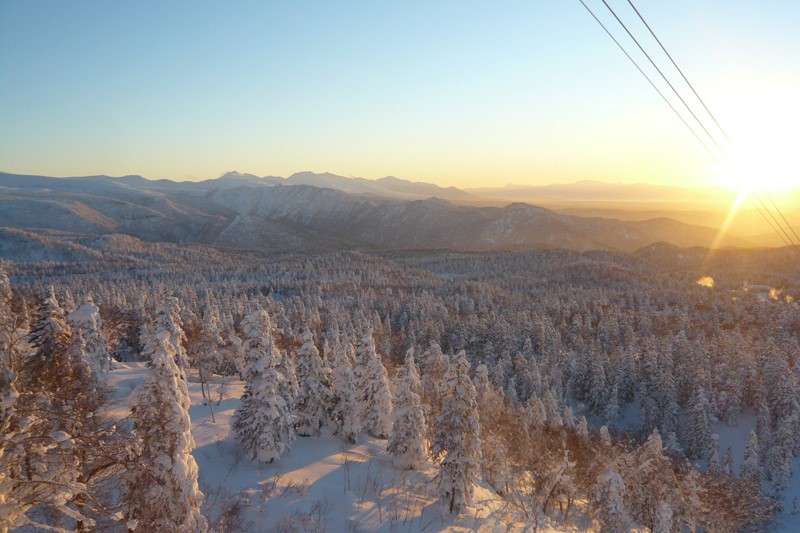 Asahikawa is surrounded by the Daisetsuzan mountain range, the highest peak of which is the 2,291-meter-high Asahidake, which has its first snowfall in October. The area stretching approximately 200 km from north to south, starting from the Daisetsuzan mountain range, is known as the "Hokkaido Powder Belt" and offers a variety of ski fields, from wild and untouched mountains to well-developed snow resorts. From Asahikawa, it takes about one hour to get to Daisetsuzan's Asahidake by car, while Kamui Ski Links and Furano Ski Resort can be reached in 30 minutes and one and a half hours, respectively.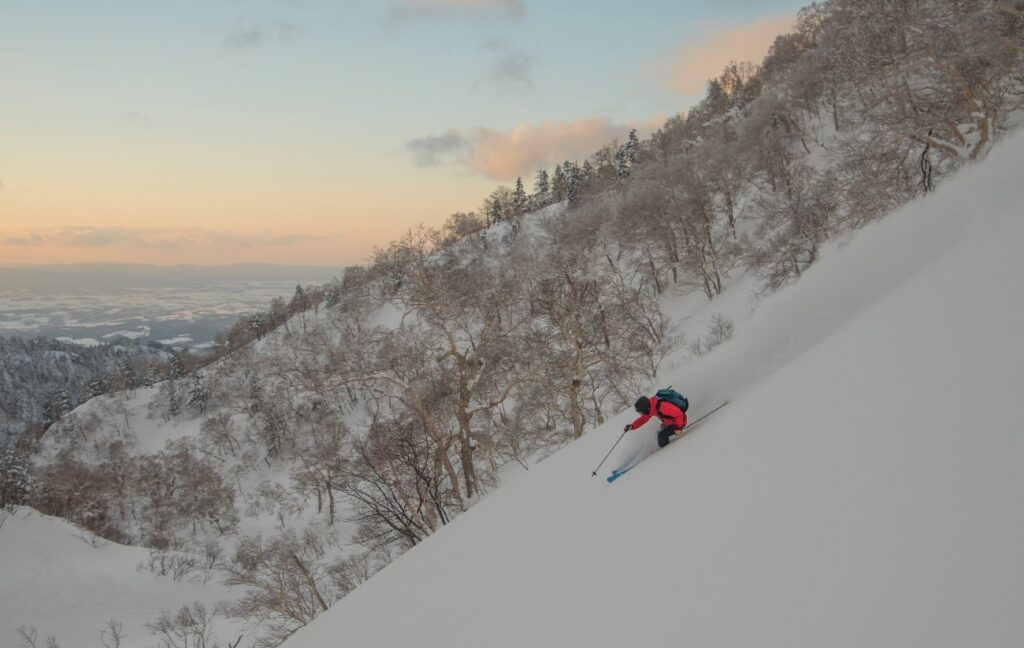 In recent years, many visitors have come to adopt a more relaxed style of travel, choosing to whether to ski/snowboard or simply enjoy some sightseeing depending on the day's weather and snow conditions. The Hokkaido Powder Belt is home to both. Staying in Asahikawa provides convenient access to many snow resorts and backcountry areas within Hokkaido's Powder Belt. For example, when staying at OMO7 Asahikawa by Hoshino Resorts, you can use the shuttle service to access four nearby spots.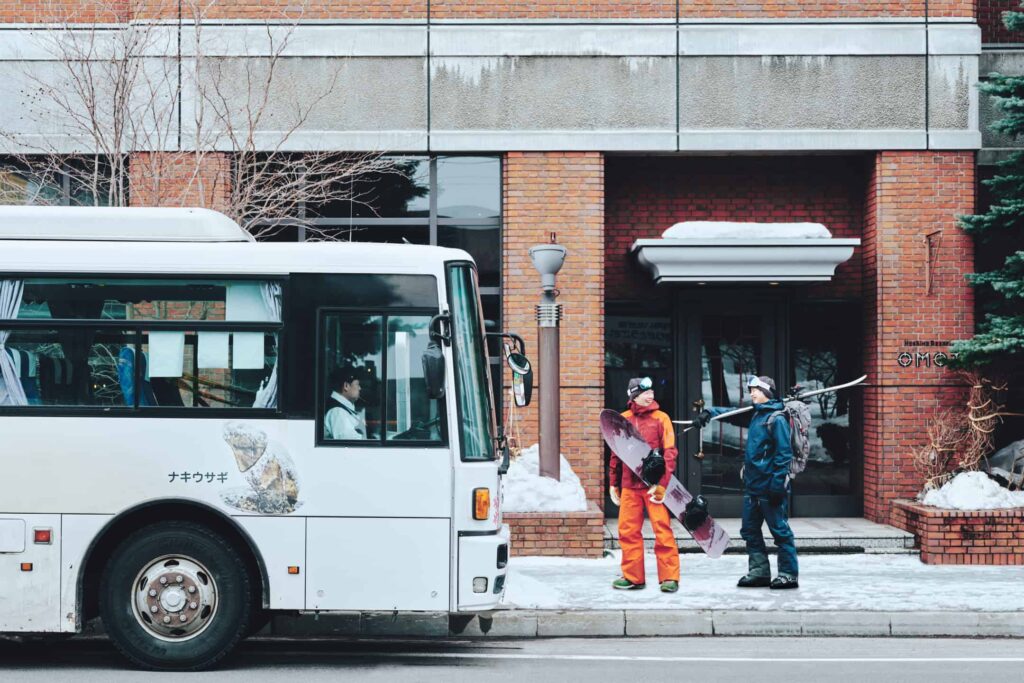 Even if the weather is so bad that you can't go up the mountain, there is no need to be discouraged. You can visit the Asahiyama Zoo – the go-to spot for observing animals roam freely – or enjoy Genghis Khan (Mongolian barbecue) at a beer restaurant where you can sample Hokkaido's craft beers. There are about 2,000 restaurants in central Asahikawa and many electronics stores where you can shop for the latest products duty-free. With the weak yen, now is an especially great time to visit! (as of December 2022)

Sapporo and Asahikawa – directly connected to airport gateways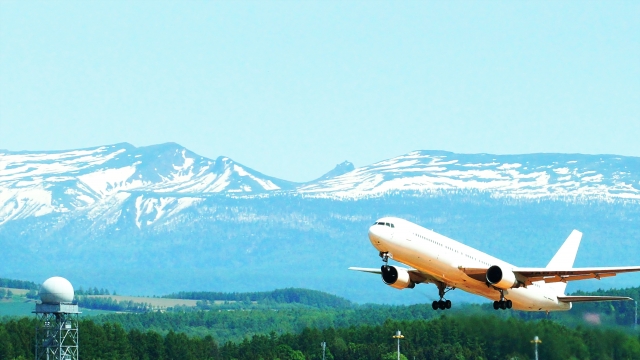 Most international travelers visiting Hokkaido fly into either New Chitose Airport or Asahikawa Airport. Sapporo, Hokkaido's largest city, is a mere 30-minute train ride from New Chitose Airport. With a population of approximately two million (the fifth largest in Japan), Sapporo is the birthplace of several famous dairy products and beer brands. It is also an industrial city ahead of its time in technological innovation and is one of Japan's leading tourist destinations. The Sapporo Snow Festival, held every February, attracts as many as two million tourists from around the world. Asahikawa, meanwhile, is located in the center of Hokkaido, 30 minutes by car from Asahikawa Airport. With a population of about 330,000, it is Hokkaido's second largest city for tourism and transportation.
The area surrounding these two cities is dotted with large snow resorts, making it easy to enjoy many different resorts during your trip. The vast geography of the region has led to a pervasive car culture and well-developed roads. In addition to geographical advantages such as wide, driver-friendly roads and straight roads with good visibility, the needs of inbound travelers have led to the provision of extensive driving support services in foreign languages.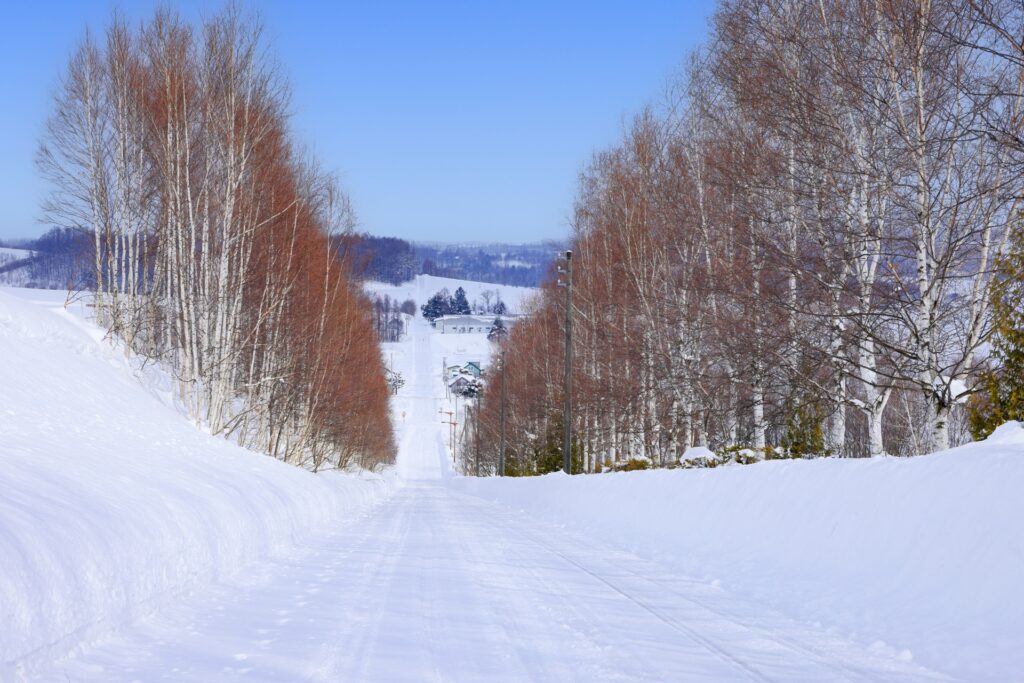 At New Chitose Airport and Asahikawa Airport, rental car outlets have foreign language-speaking staff on site. In addition, detailed driving maps of Hokkaido are available in multiple languages, allowing international visitors to enjoy touring around Hokkaido in a rental car with ease. This new style of travel is becoming increasingly popular as people rent a car, stay in Sapporo or Asahikawa, and travel freely to the snow-capped mountains or sightseeing spots, depending on the day's conditions.