Backcountry based in Sapporo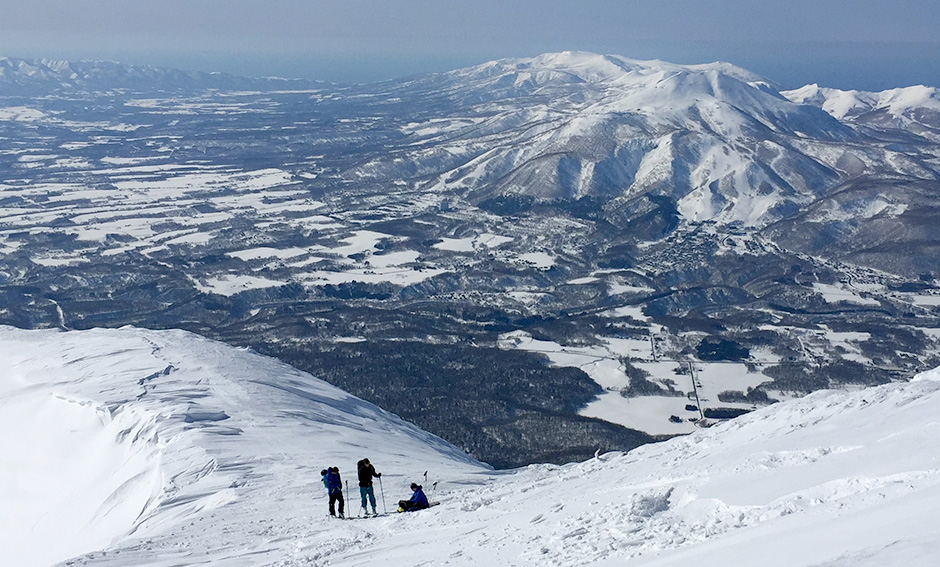 Backcountry is a captivating field for those who love the snowy slopes and riding, offering runs through pristine nature. The vast land of Hokkaido has an innumerable number of backcountry fields that are also known for their accessibility. Venturing into the backcountry is a great option when it comes to enjoying the top-tier powder of Hokkaido. Here, we would like to introduce some backcountry fields for when you're based in Sapporo and why they are great choices.
What makes the Sapporo area backcountry so appealing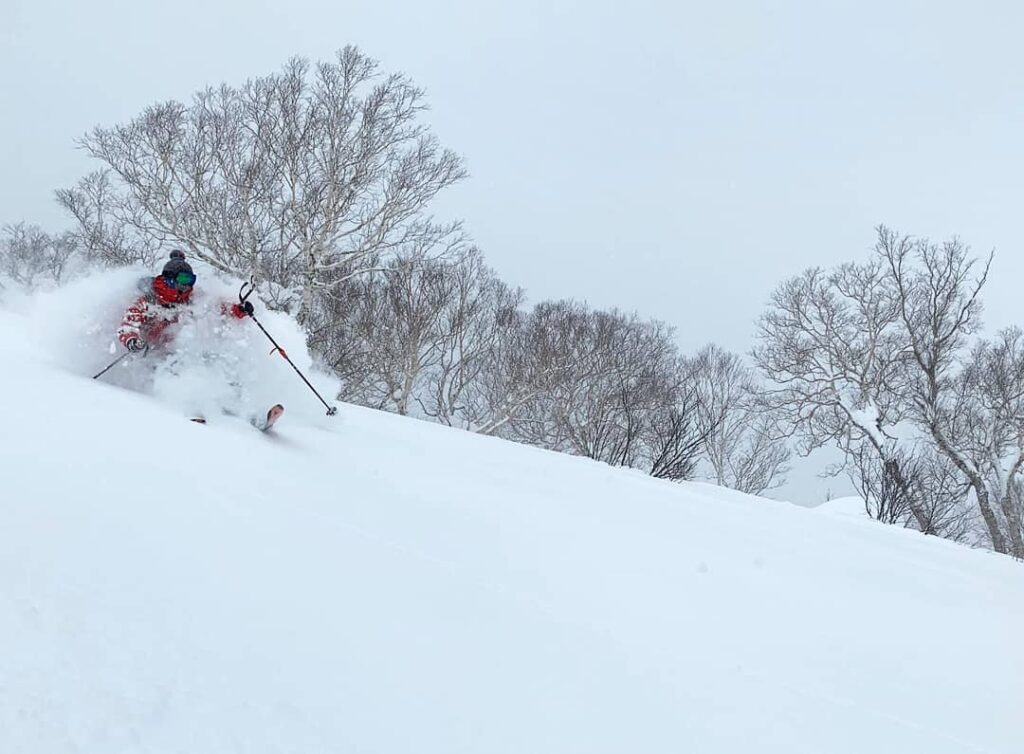 Backcountry offers naturally diverse terrain on its vast slopes. Hokkaido's mountain regions are at a high latitude, therefore characterized by low timberlines, heavy snowfall, and long snowy seasons. You can enjoy backcountry well into the season, since even relatively low mountains with summits barely reaching elevations of 1,000m have plenty of snow until May. The terrain is truly diverse, ranging from open slopes above the tree line to wooded areas to breathtakingly steep slopes.
The Sapporo area has many small mountains perfect for backcountry riding, with an impressive thirty peaks accessible in under an hour by car. This fact is somewhat of a well-kept secret, and so there are not that many people going into the mountains in backcountry gear. You could spend entire days at some peaks and not meet a soul. There are even chances to have the powder to yourself all day, with many inbound guests wary of crowded resorts visiting Hokkaido for the Sapporo area backcountry.
Since the Sapporo area is home to many accessible peaks, you can stay in Sapporo to enjoy flexibility in your choice of destination, augmenting your plans based on conditions such as weather, snow quality, and wind. This is definitely a huge asset of a stay based in Sapporo.
Backcountry accessible from ski resorts in the Sapporo area
The Sapporo area is also home to mountains with backcountry accessible from ski resort chair lifts. Easy access with resort-bound shuttle buses and shortened entry hikes with chair lifts allow riders to use their time efficiently, making for longer riding time. For those of you thinking "As much as I want to ride backcountry powder, I don't want to hike," this is practically the best thing ever.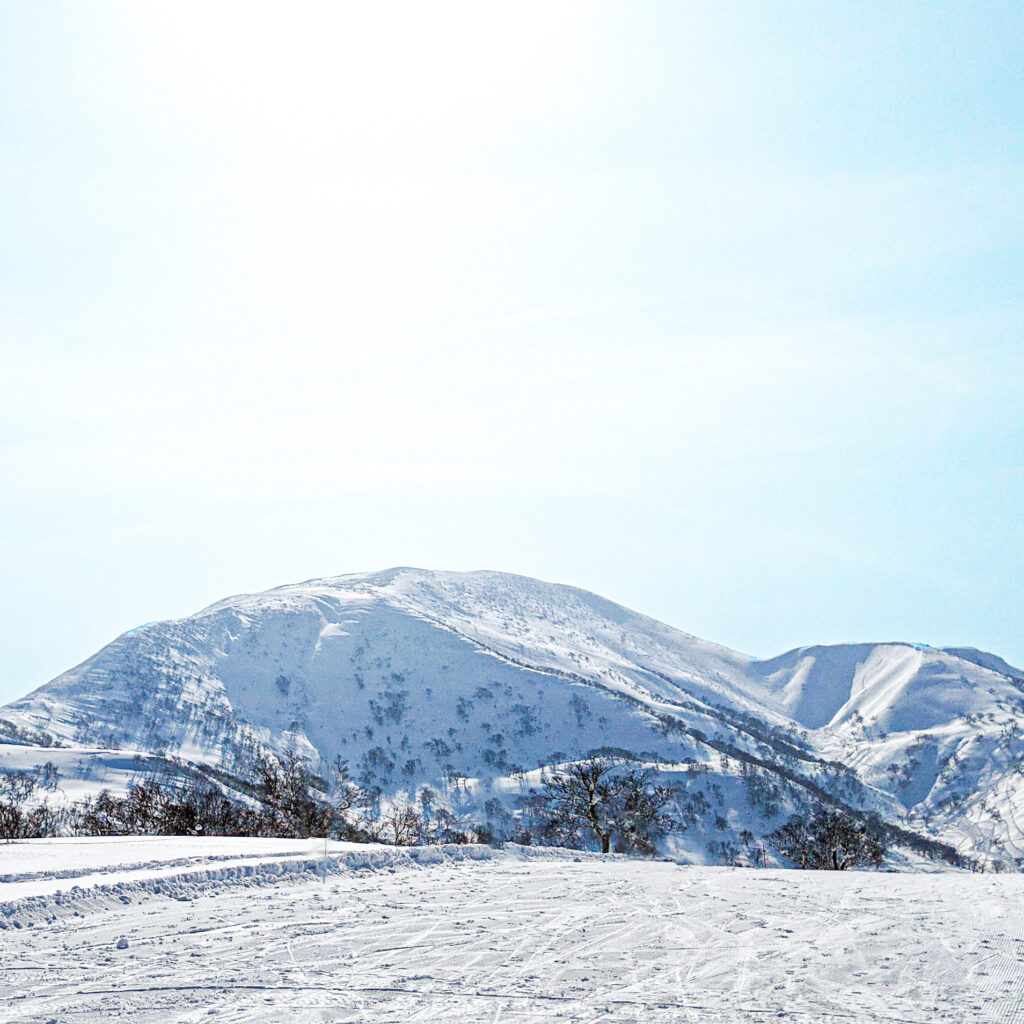 Take Kiroro Resort, located at the base of Mt. Yoichi, as an example. Being only an hour away from Sapporo by car and a great day trip destination, it boasts a maximum snowfall of over 5m and retains dry powder thanks to constant low temperatures. A hike-up from the resort gondola's summit station brings you to Mt. Yoichi (summit elevation 1,488m), where you can enjoy mesmerizing backcountry. Mt. Yoichi is also known for having one of the very few slopes with an enormous 400m of elevation difference.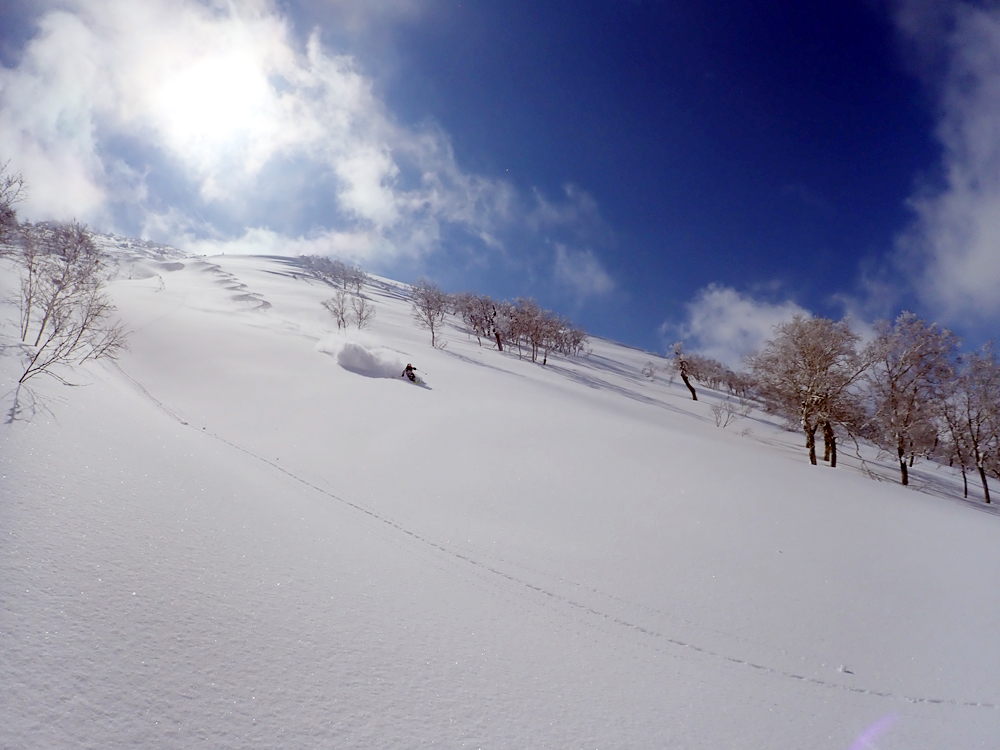 You can climb the north and south slopes to enjoy these dynamic slopes on powder rides only doable in backcountry. You can't find such long runs spanning this much elevation that often, not even in backcountry. These slopes are sure to satisfy even inbound guests accustomed to large-scale backcountry.
When it comes to backcountry accessible from ski resorts, the closest to Sapporo is Sapporo Kokusai Ski Resort. Accessible from the gondola's summit station is the backcountry of Mt. Asari and Mt. Shirai. So, what's it really like? Let's ask a backcountry tour guide, Daichi Terai, for a Mt. Asari tour.
---
Sapporo Powder ski touring to Mt.ASARI
Report by Daichi Terui
The peaks of Sapporo boast some of the best and most plentiful snow in the world. Here, I would like to show you a classic ski tour of Hokkaido that has been held as far back as the 1910s: a one-day backcountry ski and snowboard tour to Mt. Asari.
Mt. Asari is a mountain with a summit elevation of 1,280m located at the border between Sapporo City, Otaru City, and Akaigawa Village. The tour route through backcountry from Sapporo Kokusai Ski Resort to the summit of Mt. Asari spans a little less than 200m of elevation, and although it depends on which slope you take down, it is known as an intermediate course for riders that have are getting the hang of backcountry.
From Sapporo to Mt. Asari backcountry
We will depart from central Sapporo at 7:00 AM. The journey to Sapporo Kokusai Ski Resort takes about 90 minutes, so we will arrive at around 8:30 AM. This is the entrance to the mountain. We check the weather and snow conditions before hopping onto the gondola and making our way to the top of Sapporo Kokusai Ski Resort.
We walk for about a minute from the summit station at an elevation of 1,100m, and put on our skis or snowboards to get to the open space where we get ready to enter the backcountry. After checking our avalanche beacons, putting skins on our skis or splitboards, and putting on snowshoes if we're snowboarding, we head to the slopes of Mt. Asari. Climbing the ridge ahead heading to Mt. Asari gives us a view of the Japanese Sea in the Otaru Bay and Ishikari Bay, and the summit of Mt. Shirai. Instead of going all the way up to the summit, we traverse to skier's left when our view starts opening up.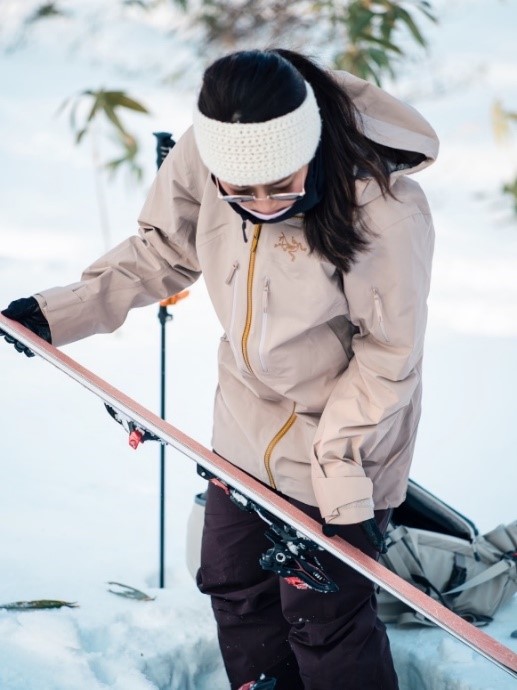 The top of Mt. Asari is a flat and open field of snow. On a sunny day we can look down to get a view of the Japanese Sea, and a panoramic view of Mt. Yoichi and Mt. Shirai around us. If we're lucky, we can even see the Tokachi Mountain Range from this amazing peak that offers a view of the whole island. However, there is also a risk of getting lost in whiteouts induced by windy and snowy weather. In such occasions it is important to be willing to go back, to keep track of your current location, and to adjust your plans accordingly, such as by staying in wooded areas in lower elevations. Make sure that you plans fit your skill level.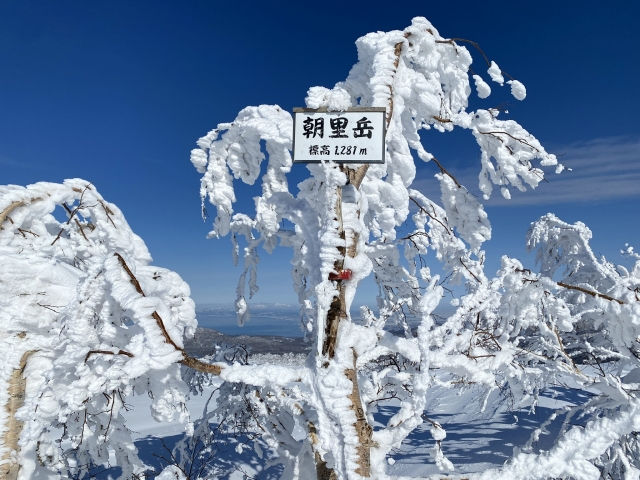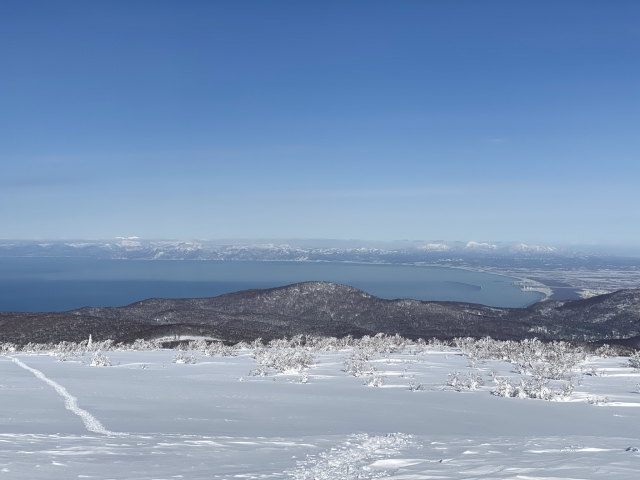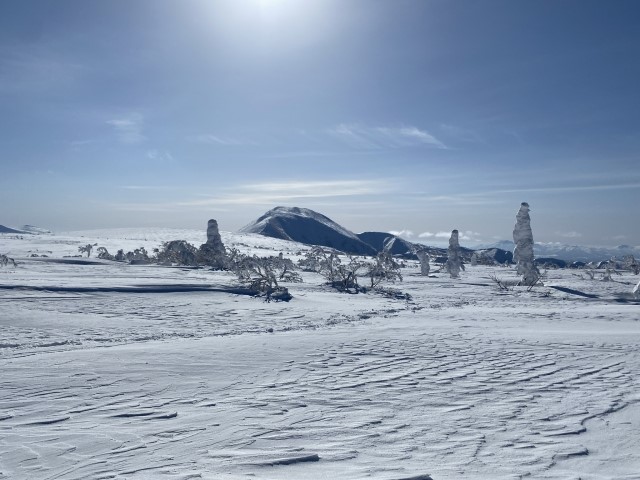 Although it depends on which slope we take, about an hour of hiking up through sparse, gently sloping woods will bring us to our first open berm. Don't forget to stay hydrated and get enough nutrition.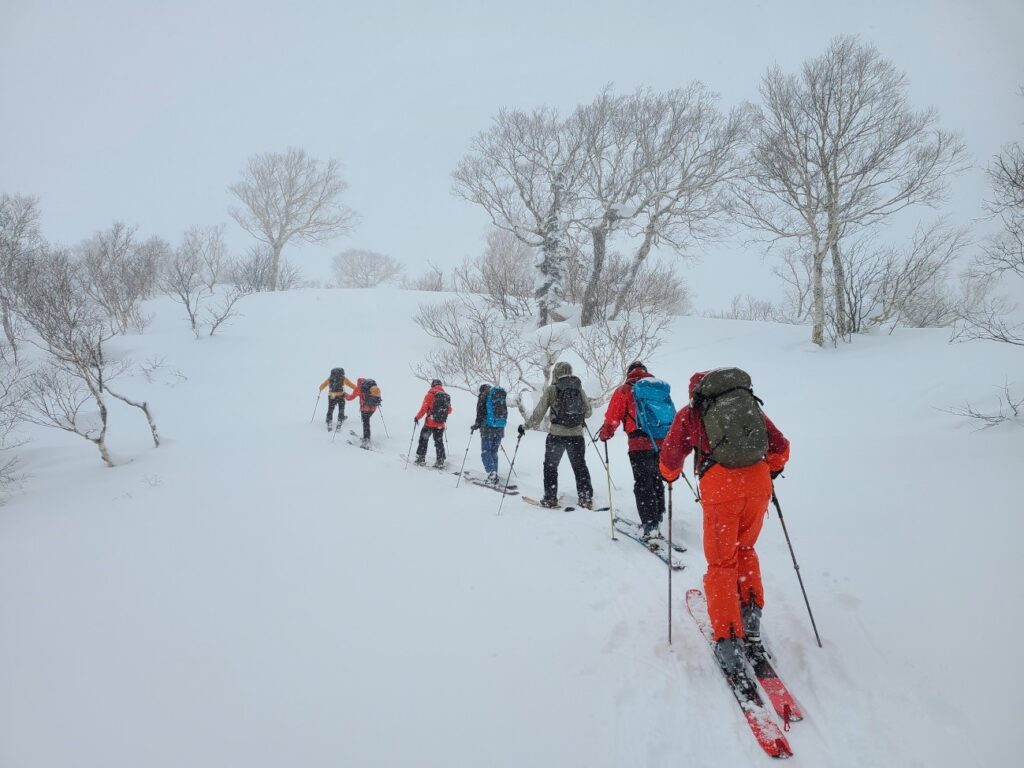 Enjoy zero-gravity runs on deep, smooth powder
The hike brings us to our destination, where we take off our skins and snowshoes and get ready to ride. It's also our chance to enjoy the glimpses of sun through the clouds and the snowy view.
Diving into the north slope covered in fresh powder, the deep and smooth snow engulfs us as we experience near zero-gravity rides with surf-like maneuvers. We can also go down the south and west slopes depending on the day's condition. Kicking up spray on the 30-degree inclines is just exhilarating. The runs are between 200 and 300m if ridden in a straight line.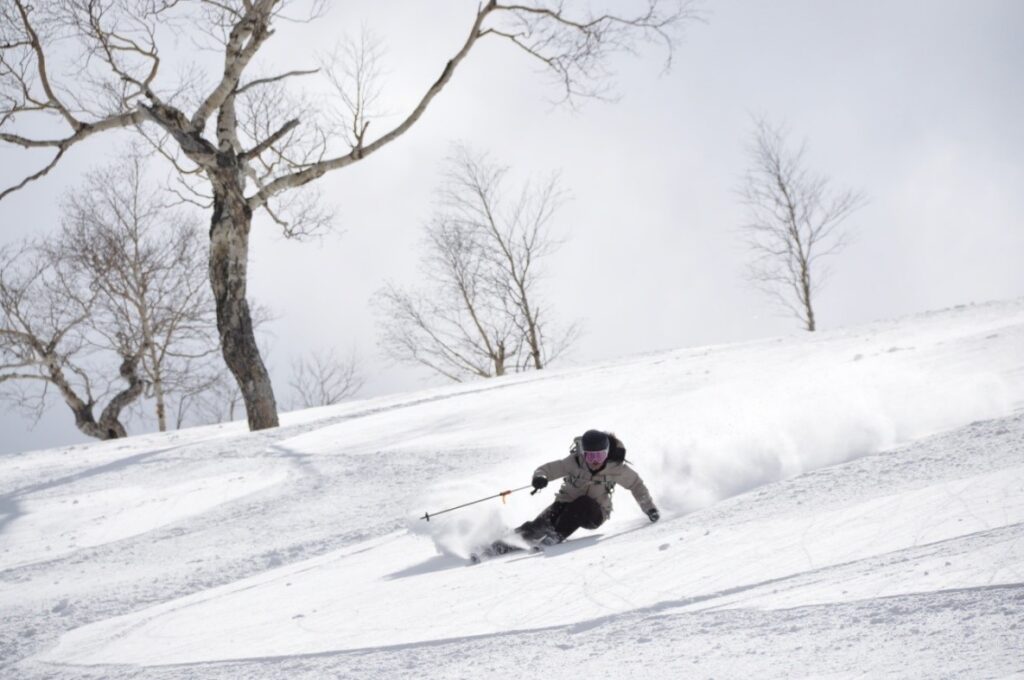 After a few hikes and exciting runs, we put our skins back on and head to the next slope. We walk to discover the views, terrain, and snow of slopes facing different directions. Make sure that you have plenty of time if you're heading back up in the direction of Mt. Shirai.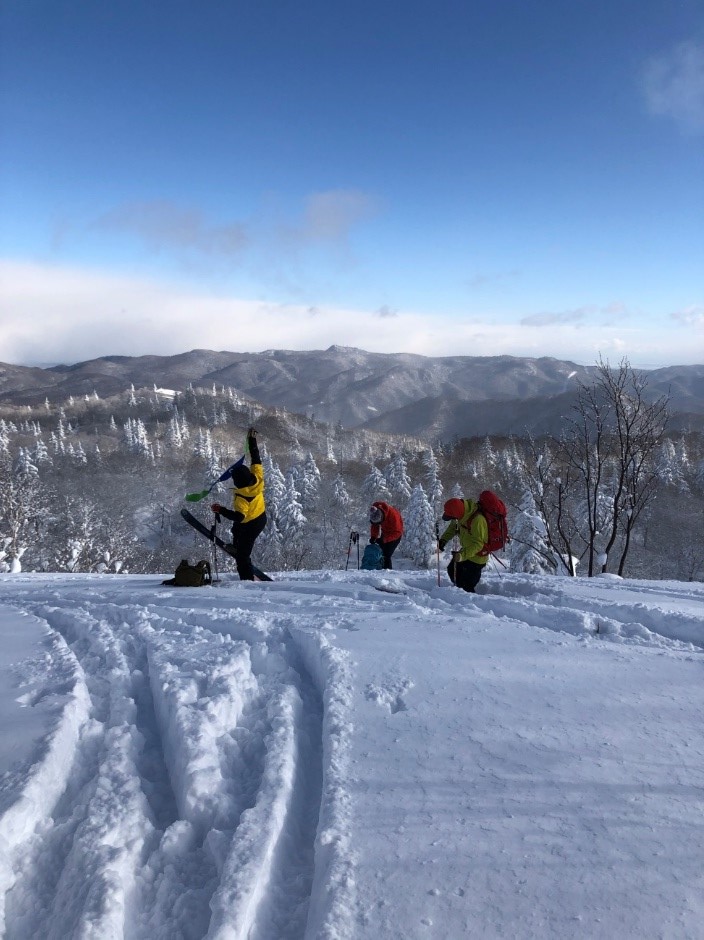 Beautiful tree runs from ridgelines
The climb to the next slope takes somewhere between an hour and an hour and a half. The elevation gain from Asaridakezawa River to the north-facing slope in the direction of Mt. Shirai's peak is 450m! It's a very hard climb, but you can get a look at enormous trees that have been standing from ancient times and maybe even encounter the adorable Hokkaido snowshoe rabbit.
We are approaching the ridgeline. Below us is the Japanese Sea, beside us Mt. Yotei, and before us a slope offering a run through beautiful woods. It is a tree run especially popular among inbound guests. Be careful, since you'll run into a tree if you look at it on a tree run. Remember to look at the spaces between the trees.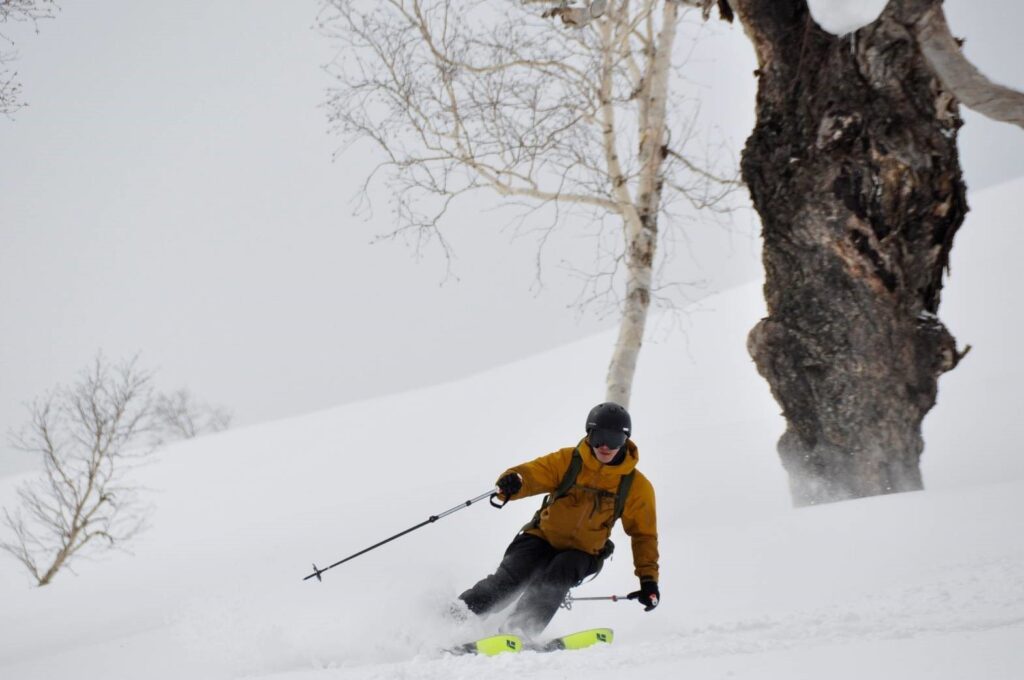 As we ride down the snow covered gullies the trees around us become larger and larger. 20 to 30 minutes through the park-like gullies of Mt. Shirai to those of Mt. Asari brings us back to Sapporo Kokusai Ski Resort.
This backcountry tour is about 5 hours, with 3 to 3.5 hours of hiking. It is a route for riders with skill levels of intermediate and above who can comfortably manage a 3-hour hike and riding powder on 30-degree inclines.
Features and advantages of Mt. Asari backcountry
The elevation gain from Sapporo Kokusai Ski Resort to Mt. Asari is about 300m, and the many slope options allow for riding plans tailored to the day's conditions. The north-facing slope has especially fine snow due to there being little sunlight, but since the gullies on all slopes make it difficult for wind to affect the snow, you can expect good conditions across the mountain. This is no doubt one of the area's biggest strongpoints.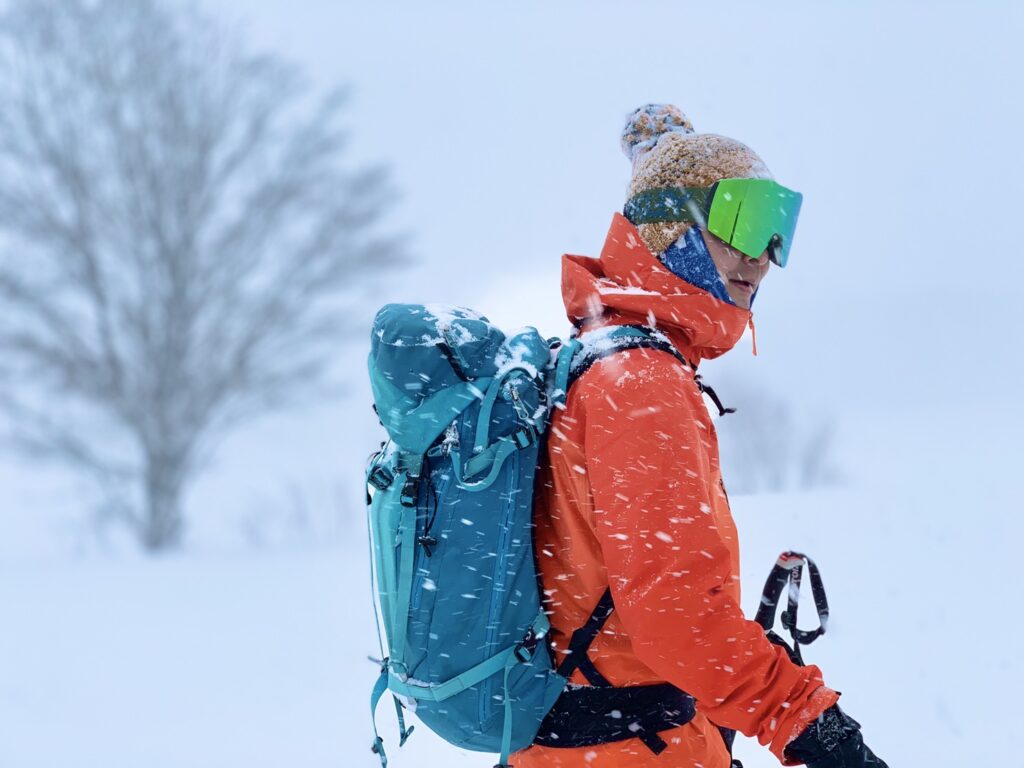 ---
Afterword
Although backcountry has many appeals, it also has its risks. Riding in backcountry requires careful preparation, including proper equipment, knowledge of rules and risks in the mountains, rescue methods and insurance in case of accidents, and taking care of your overall health.
Especially if you're an inbound guest from abroad heading out into the backcountry, be sure to go with a local guide that knows the area well. Hokkaido has multiple backcountry guides and guide clubs that offer tours in English, and other languages depending on the guide service. We strongly recommend using one of these services. In addition, bad weather increases the likelihood of avalanches. Please be sure to decide whether or not to enter the backcountry after obtaining the day's weather and conditions from resort staff.
【Backcountry guide clubs with language accommodations】