Why "JAPOW"
Some of the greatest powder snow on earth: "JAPOW"
Why Hokkaido has JAPOW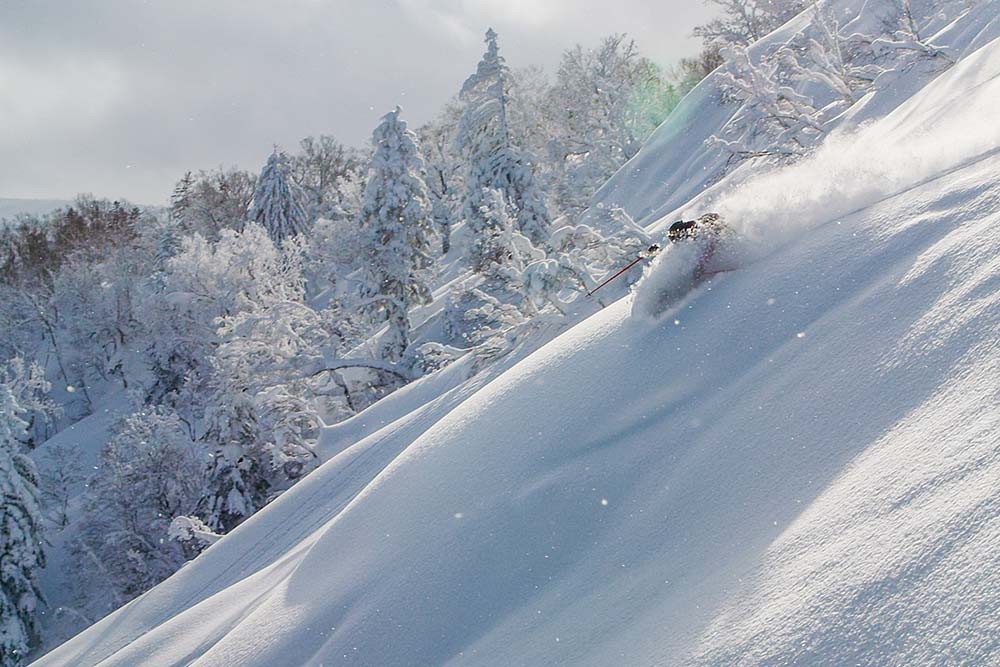 What is "JAPOW?"
JAPOW is an abbreviation for "Japan Powder." To put it simply, it's the iconic great powder of Japan. Fresh snow in Hokkaido is said to be of the finest quality. So fine, in fact, that skiers and snowboarders all over the world insist on riding JAPOW at least once in their lifetime.

Featuring a lot of heavy snowfall, January is the ideal season to enjoy JAPOW. There's even a term, "Japanuary," that core riders use to describe the month.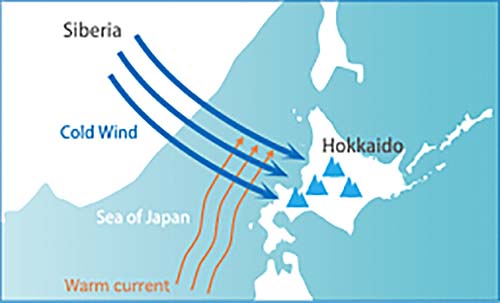 WHY is there JAPOW?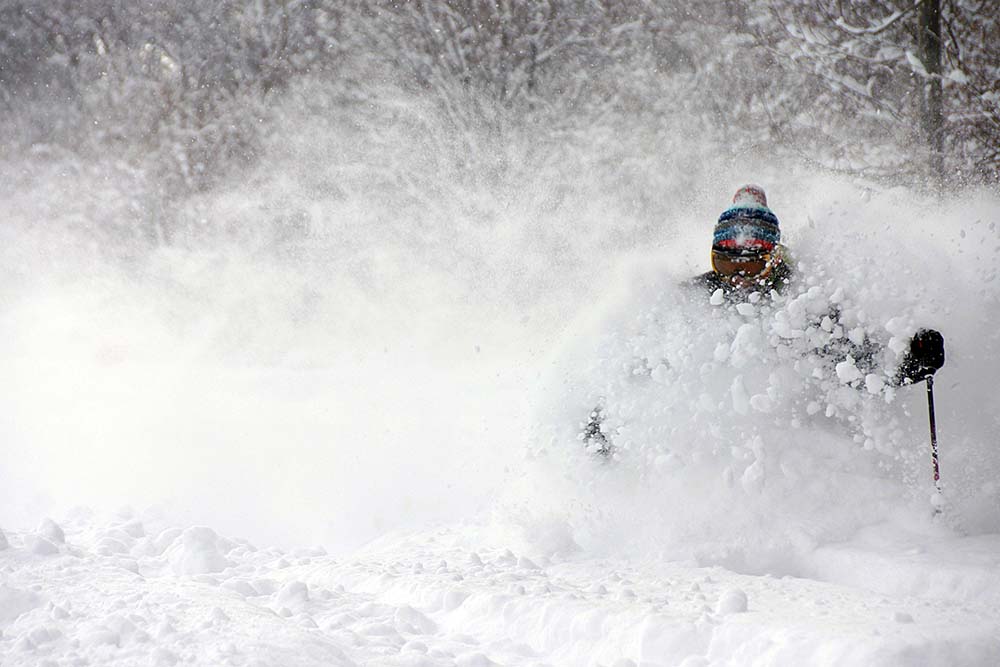 Why exactly does Hokkaido have such amazing powder snow? The secret is this: a warm current runs off the coast of Hokkaido that borders the Sea of Japan, keeping the waters warm even in winter. Above the surface is steam that rises from the water, which, when cooled by cold winds from the Siberia air mass, forms clouds. These clouds are blown inland by the wind, and cause snowfall when they hit the hillsides of the towering peaks.

Different area, different snowfall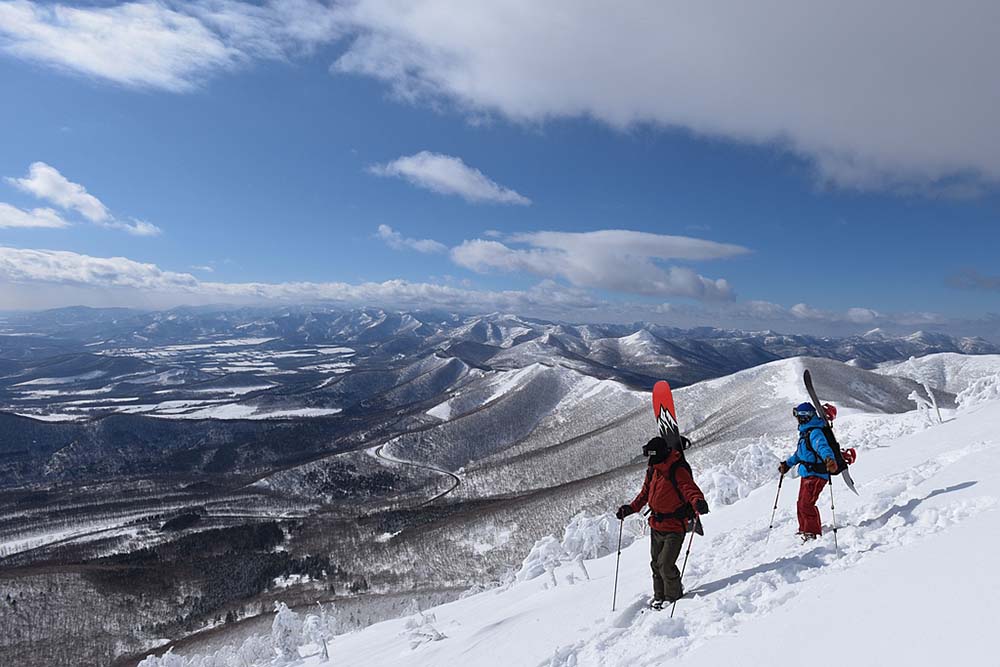 The aforementioned clouds bring snowfall to Sapporo, which faces the Sea of Japan, when passing over the city. The Niseko Mountain Range also receives an enormous amount of snow: approximately 16 meters (around 52.5 feet) of snowfall in-season. The maximum snow accumulation during the '21-22 season was 450cm, recorded in December, with an impressive 100 days of snowfall over the entire season. What does this mean for skiers and snowboarders? Fresh powder, nearly every day!

The Asahikawa area, to the west of the Hidaka Mountains in the middle of Hokkaido, also has a lot of snow thanks to said mountains stopping snow clouds from passing over. The Powder Belt, referring to Asahidake, Kurodake, Kamui, Furano, and Tomamu areas, has extra dry powder that you can only find inland.

On the other hand, the Obihiro and Tokachi areas in central Hokkaido have less snowfall and more sunny
weather since only dry air passes over the Hidaka Mountains. For example, Tokachi Sahoro Resort has a 50 percent chance of fair weather even in high season February- a rate remarkably higher than the Sapporo or Niseko areas.
All about the area
Snow accumulation in-season in ski resorts
The climate in Hokkaido and geographical conditions cause differences in weather and snowfall depending on the area. The following is data on the snowfall major ski resorts in Hokkaido receive.
| | | | | | |
| --- | --- | --- | --- | --- | --- |
| Resort | December | January | February | March | April |
| SAPPRO TEINE | 140cm | 230cm | 300cm | 270cm | 190cm |
| Sapporo BANKEI | 80cm | 100cm | 120cm | 100cm | 60cm |
| Sapporo Kokusai | 115cm | 212cm | 289cm | 316cm | 221cm |
| Niseko Mt.Resort Grand HIRAFU | 450cm | 400cm | 310cm | 110cm | 30cm |
| Rusutsu Resort | 200cm | 250cm | 285cm | 170cm | 80cm |
| Furano Ski Resort | 130cm | 165cm | 230cm | 230cm | 150cm |
| KAMUI SKI LINKS | 51cm | 67cm | 87cm | 81cm | 11cm |
| Hoshino Resorts TOMAMU | 170cm | 170cm | 150cm | 130cm | 70cm |
| SAHORO RESORT | 56cm | 73cm | 94cm | 87cm | 91cm |
From this data, it can be said that:
・The Sapporo area has stable snowfall from the beginning of the season
・Niseko in high season has tremendous snowfall, and stable weather from the beginning of spring
・Although inland areas, such as SAHORO and KAMUI, have less snowfall, they have high fair-weather rates and stable weather
JAPOW isn't the only thing that inbound travelers fall in love with
Tree riding in Hokkaido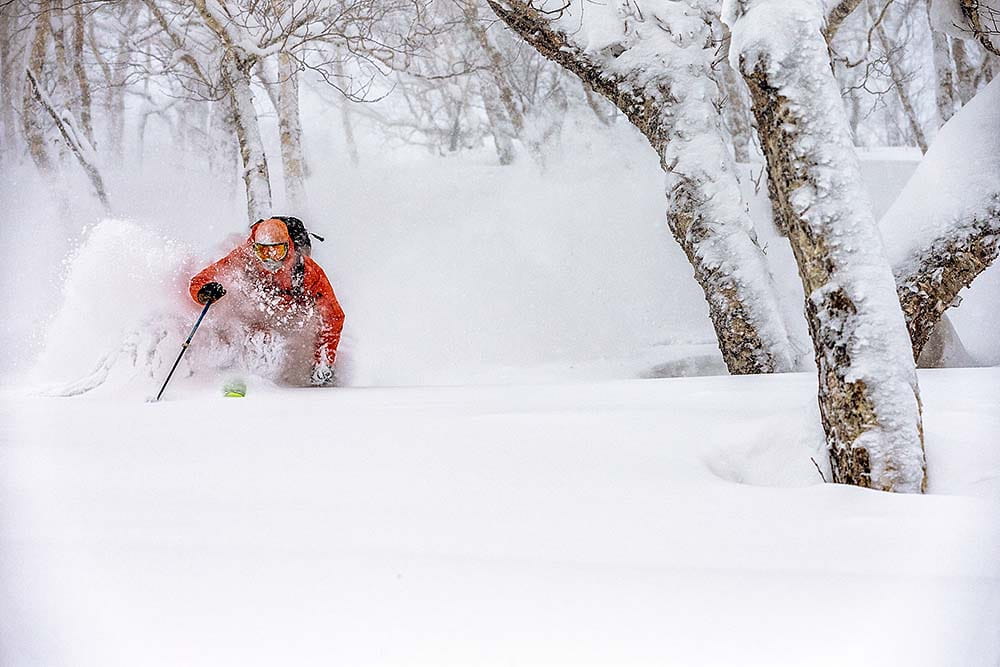 As it turns out, JAPOW isn't the only thing that is hooking inbound skiers and snowboarders. What else could there be? Tree runs through mystical forests, of course.

Thanks to its geography, Japan is blessed with an environment well suited for trees and forests to grow. In Hokkaido, mountain regions with elevations of over 1,500 meters (4921 feet) are home to conifers, such as pines that are resistant to cold, that thrive in the natural woodland there. In highlands closer to sea level, hardwood deciduous trees, such as beeches and gold birches, flourish.

Many resorts overseas, such as those in Europe and New Zealand, house large, open barn that is bare of trees in alpine areas above the timberline. There are places like the state of Utah in the US and Whistler & Blackcomb that have pine forests, but these woods are far too dense to ride in.

Hardwood trees, on the other hand, form more sparsely wooded forests. This is because they branch out as they grow, and sunlight is unable to penetrate their many leaves. Without the sun reaching the earth other trees can't grow between the hardwoods, and this leaves just enough space for riders to pass through. Not having a go at riding through these woods is simply not an option.
Adventure in dreamy, mystical forests
Absolutely magical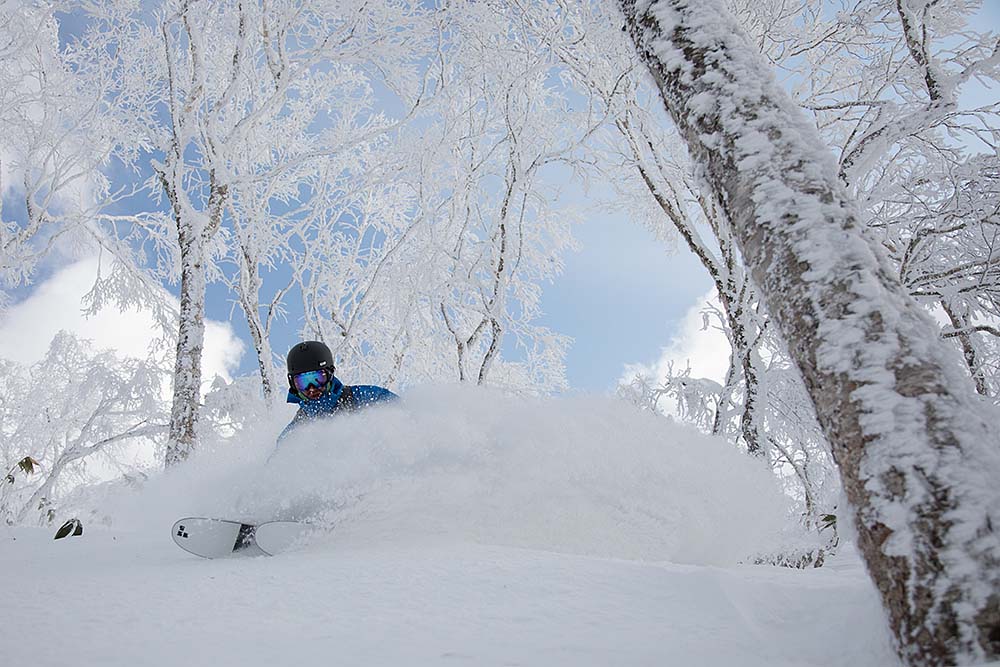 In Hokkaido, there are many hardwood forests, such as those in Niseko, RUSUTSU, and Kiroro. You can ride through beautiful glades, so dreamy and mystical that you might think you have somehow wandered into a storybook. It can't get better than this.

Unlike conifers, which grow upright, hardwoods have an abundancy of water in their trunks and curve as they grow. Many trees are quite old, with thick trunks as well. These characteristics form exciting items and terrain to play around with: pillows, rails, bumps, and powder- everything the playful rider could hope for. Not much can beat a tree run in terms of excitement. Slide, jump, jib, and have a great time!