About Hokkaido
To a dream-like world Never-ending excitement and awe Hokkaido, Japan's "Land of the North"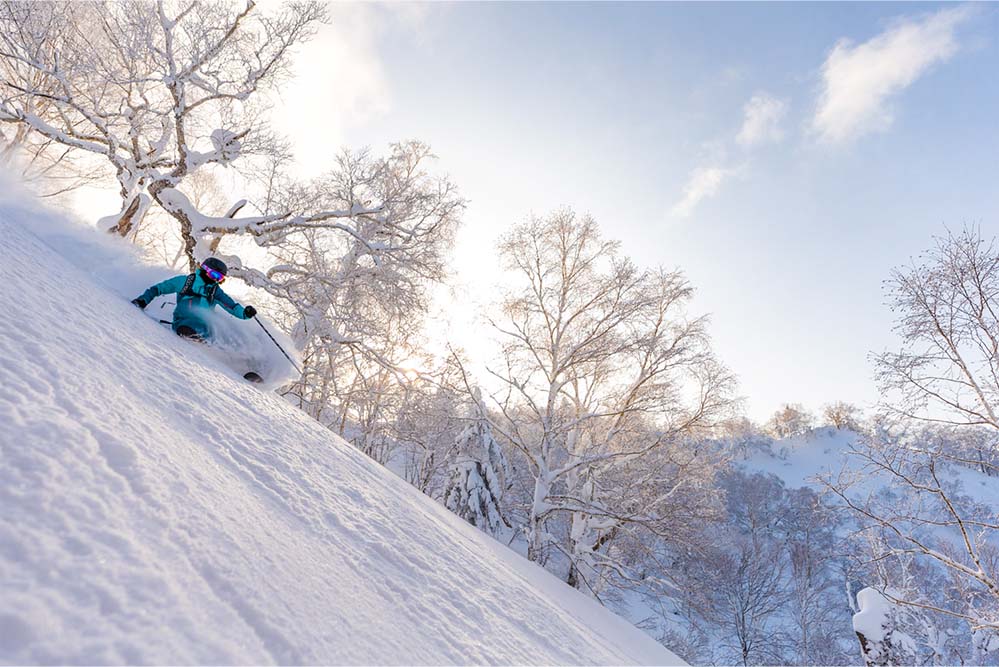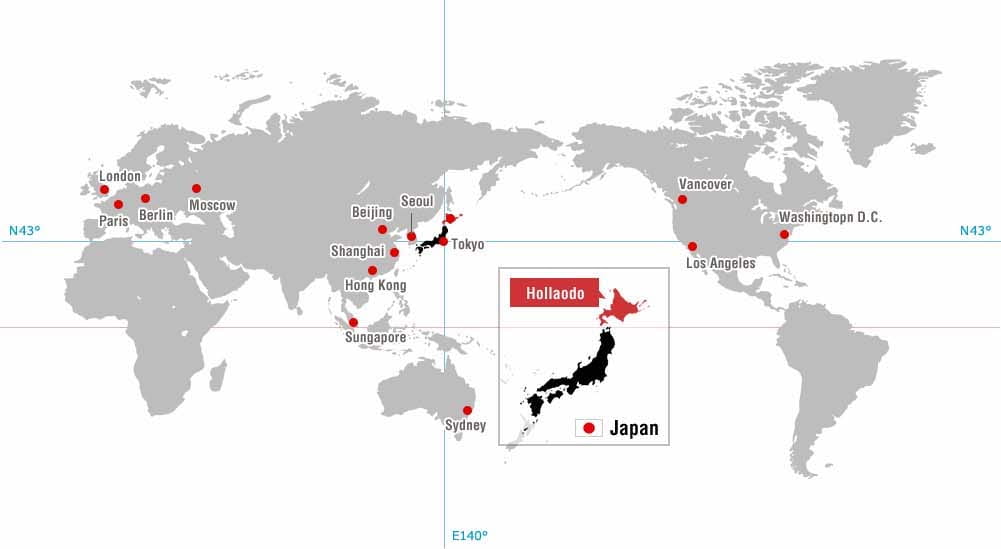 Paradise at the northern end of Japan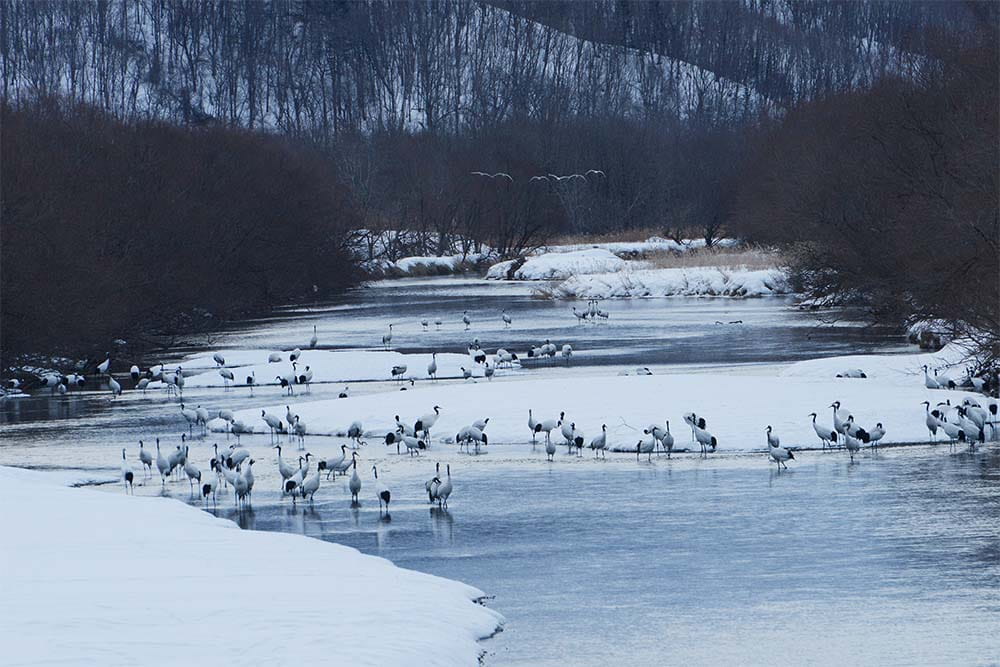 Hokkaido, surrounded on all sides by the Pacific, Sea of Japan, and Sea of Okhotsk, is a beautiful island brimming with nature. With a total land area similar to that of Ireland, it is the 21st largest island on Earth. On a world map, Hokkaido is positioned at around the same latitude as Chicago, in the US, and some major cities in Europe, such as London, Rome, and Munich. An island of wonders, shaped by vast oceans and fertile land, Hokkaido is quite simply a paradise on earth.
Extremely cold, yet extremely beautiful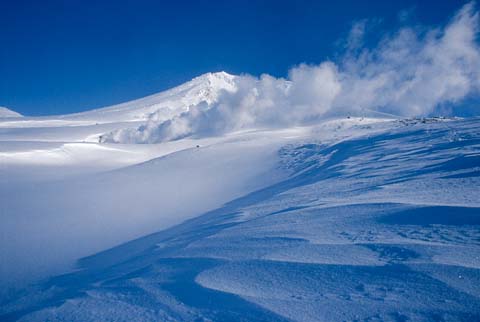 Located at the northernmost tip of Japan, Hokkaido is the coldest region in the country, with temperatures dropping below -30℃ (-22℉) in some areas at the height of winter. The cold is so severe that anything- from towels to your eyelashes- freezes in seconds. Such low temperatures, when combined with vast, mountainous geography with over 1,300 peaks, sees the tops of mountains in the Daisetsu Mountain Range capped with their first snow around late October.
Although there is some regional difference, an enormous amount of snowfall covers the mountains after the first snow, and remains until May. The tranquility and mystical beauty of the white snow-covered landscapes is more than enough to leave you speechless. From the wild animals which thrive within the island's natural landscapes, to the drift ice which stretches out as far as the eye can see across the Sea of Okhotsk, Hokkaido is brimming with once in a lifetime sights.
Dreamlike seasons
Hokkaido has a cool climate throughout the year- very unlike Honshu, which is extremely humid during the summer months. For those travelling from Asian regions with climates similar to Japan, the temperature in Hokkaido can be quite surprising. Fields of flowers, starting with the lavender fields in Shikisai-no-oka, Biei, and the flame-like fall foliage seen in the mountains, paints the scenery in a variety of colors- completely different from the island's iconic mid-winter white. Hokkaido is beautiful in any season, with dreamlike landscapes visible throughout the year.
Things you'll find nowhere else
Countless unique sights and activities await in Hokkaido. Featuring a multitude of vast wetlands and natural marshes, Hokkaido offers a huge range of outdoor activities all year round. Agriculture, fishery, and dairy farming flourish in Hokkaido- so much, in fact, that the region is affectionately known
as the "bread basket of Japan". Fresh, high-quality ingredients are used to create local specialty dishes which are beloved by many.
北海道の基本データ
Area

83,450 ㎢ (Approximately 22 percent of the total area of Japan)
Location

Latitude: 41°21′ – 45°33′ North
Longitude: 139°20′ – 148°53′ East
Population

5,506,419 people (Approximately 4.3 % of the total population of Japan)
(As of March 31 2010)
Climate

Due to the island's vast area, Hokkaido's climate can vary greatly according to region. Wildlife flourishes across all four seasons, making Hokkaido a beautiful, colorful land all year round.
Spring (April- Early June) Early April is still chilly, and it continues to snow not only in the mountains, but sometimes even in the city. Many ski resorts stay open until early May. Corn snow, although very different from powder, is also fun to ride on. Summer (Mid-June- August) Summertime is dry and cool, with only a few days of temperatures above 30℃ (86℉). Early mornings and evenings are often a little chilly in Hokkaido, and the region doesn't have a rainy season. Summertime is the high season for tourism. Autumn (September- November) As winter approaches, the mountainous areas come alive with the colors of fall foliage: stunning reds, oranges, and yellows. Mornings and evenings grow colder, and it starts snowing in most areas by late November. Winter (December- March) The winter months are long and extremely cold. In addition to the mountains, urban areas such as Sapporo and Asahikawa are also shrouded in snow, and roads become covered with a layer of ice. January and February are the coldest months, during which the central and northern parts of Hokkaido experience heavy snowfall. Snowfall can continue until early May.
November
December
January
February
March
April
Temperature
(high/low)
8.2/3.0℃
0.4/-5.4℃
-1.6/-7.6℃
-1.3/-7.8℃
3.4/-3.1℃
11.5/3.4℃
Sunrise
& Sunset
6:33/16:07
7:02/16:02
7:00/16:31
6:25/17:12
5:38/17:47
4:45/18:23
Time difference between Hokkaido and major cities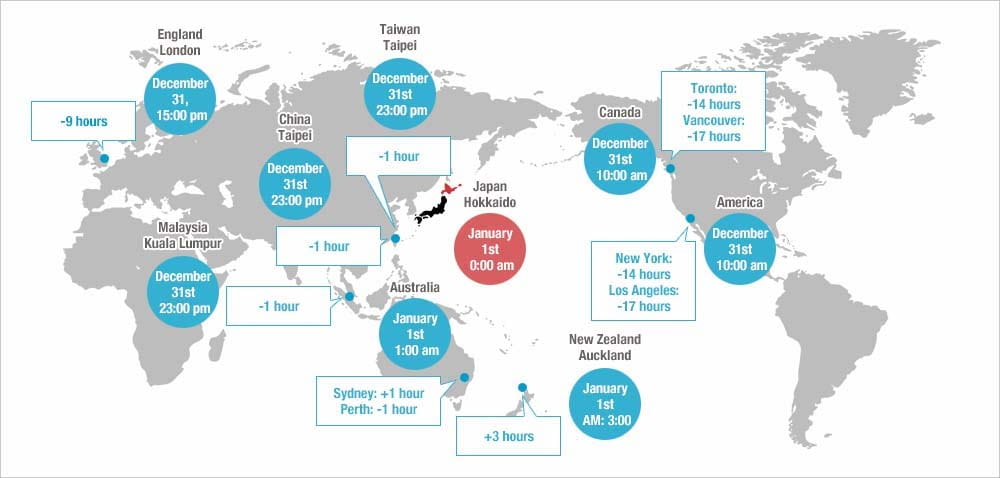 Hokkaido's 3 main areas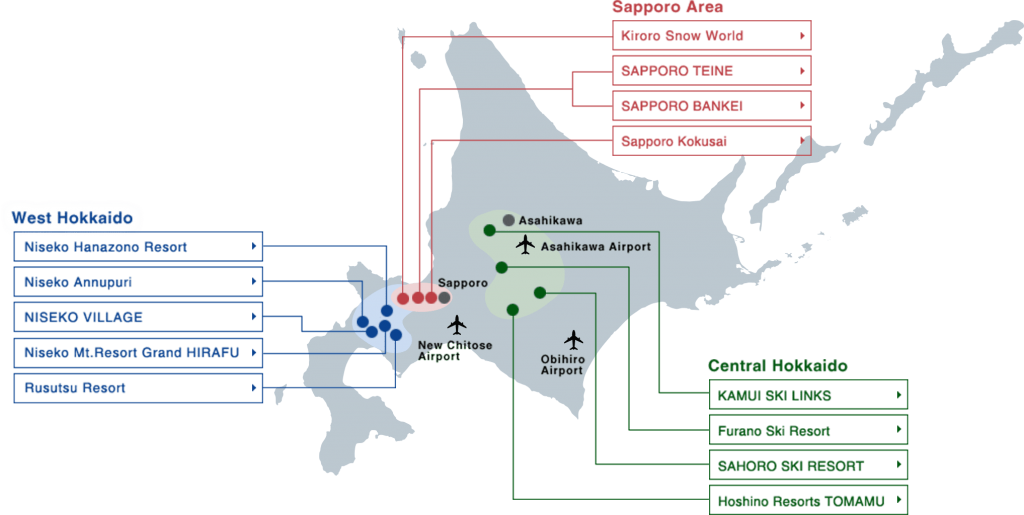 SAPPORO AREA
SAPPRO TEINE, Sapporo BANKEI, Sapporo Kokusai, Kiroro Snow World
An amazing city where it snows 130 days a year
All the JAPOW you can ride from the first day of your stay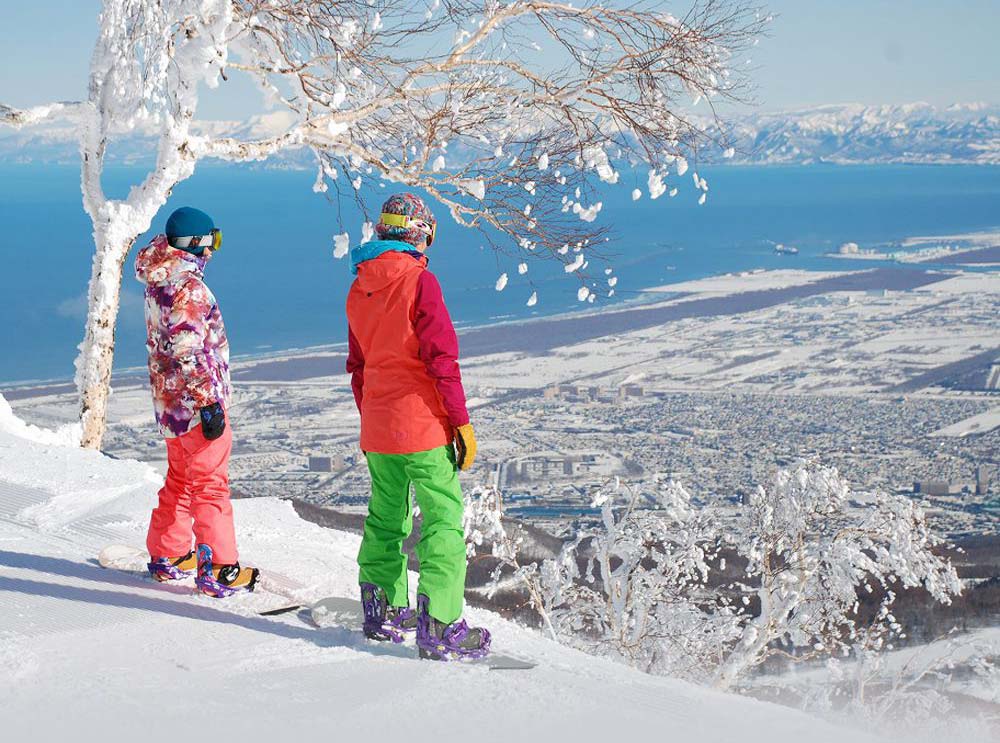 First snow in October, and enough to last the whole season by December- Sapporo, which has 600cm (19feet 8inches) of snowfall annually, is a big name when it comes to snowy cities.

One hour is enough to get to a multitude of ski resorts from Sapporo by bus or car. Forty minutes can get you to SAPPORO TEINE, sixty to Kiroro Snow World, and ninety to Sapporo Kokusai- and all of them have JAPOW. There's also the ocean view you can enjoy as you ride- something you can't get in any other area.

Sapporo encompasses all of the highlights of a trip to Hokkaido: skiing and snowboarding, good food, and culture, topped with the urban convenience that lets you enjoy your travels efficiently.
WEST HOKKAIDO
Niseko Hanazono Resort, Niseko Mt.Resort Grand HIRAFU, Niseko Village, NISEKO ANNUPURI, Rusutsu Resort
A season average of 12- 16 meters (39- 52 feet) of snow and a stunning reset rate
The origin of JAPOW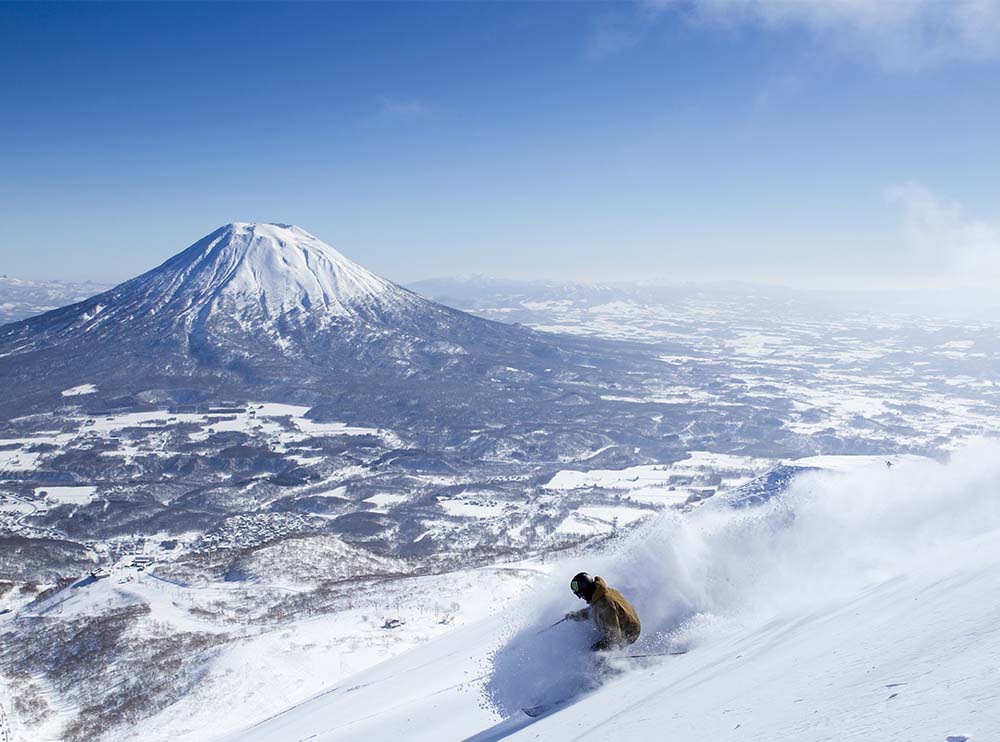 Niseko, the sanctum of JAPOW that made its name known to the world. According to observation data, Niseko has a stunning 80 to 100 days of snow during the winter ski season. At hardly any other place in Japan, let alone Hokkaido, can you ride on such fine powder that is reset every day.

Thanks to the area's plentiful snow with it's perfectly balanced water ratio, Niseko's powder has been dubbed JAPOW by skiers, who consider it to be the snow of their dreams. Snow that is too dry is very light and easily blown away by the wind, but thanks to a moderate amount of water in the snow, the powder in Niseko is perfectly balanced for riding. When it comes to skiing and snowboarding, Niseko's snow is of a fine quality rarely seen, even worldwide.

Niseko Hanazono Resort, Niseko Mt.Resort Grand HIRAFU, Niseko Village, and NISEKO ANNUPURI, located close together at the upper end of the West Hokkaido area, are unmatched by any other Japanese resorts in terms of diverse landforms and scale. Mount Yotei (1,898 meters/ 6227 feet), the area's most symbolic peak, is also known as "Ezo Fuji", and forms part of the picturesque Japanese landscape that skiers from around the world are drawn to.

A visit to Niseko, a land of awesome power riding and deep dives into snow culture, is high up on the to-do-list of riders worldwide who consider the place a sanctum to visit at least once in a lifetime. Let it be said that Niseko will not let you down.
CENTRAL HOKKAIDO
KAMUI SKI LINKS, Furano Ski Resort, Hoshino Resorts TOMAMU, SAHORO RESORT
Extra dry powder- so dry that the wind blows it away
A long stay for powder hunting in the whole area strongly recommended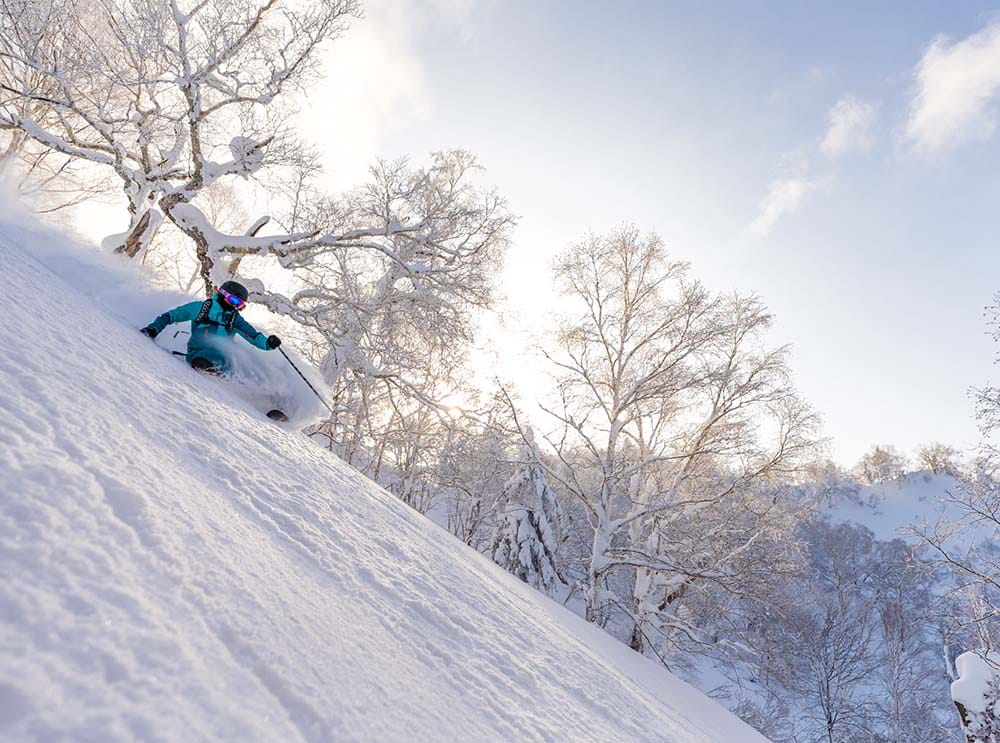 Central Hokkaido is one of the coldest areas in the region, with temperatures often dropping below -30℃ (-22℉). Most of the snow in the clouds that develop above the Sea of Japan falls before the clouds reach the area, resulting in relatively little snowfall and frequent fair weather even in-season. Despite this, the area's inland climate forms extra dry powder snow, which falls straight off your clothing and is easily blown away by the wind.

This area, accessible from Asahikawa, Tokachi Sahoro, and New Chitose airports, is also home to large-scale resorts such as KAMUI SKI LINKS, Furano Ski Resort, Hoshino Resorts TOMAMU, and SAHORO RESORT.

In addition to major resorts, famous backcountry fields that together form the "Powder Belt," such as Asahidake in the Taisetsu Mountain Range and the Tochachidake area, are also located in central Hokkaido. Less-crowded compared to Niseko, it's the perfect place to book a long stay, rent a car, and ride all over the Powder Belt, checking snow and weather conditions on the powder hunt of your dreams.